Students from Liwara will be taking over the airwaves.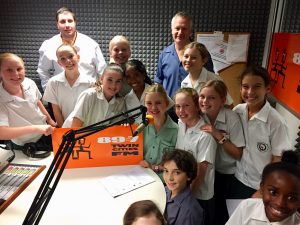 Our students will be hosting a two-hour program broadcast by 89.7FM on Wednesday 21st November, 2018 from noon to 2pm, broadcast live from Liwara Catholic Primary School.
It is part of presenter John Logan's School of Thought program, which he launched three years ago and enables children to research stories, organise interviews, script material and host their own radio show.
We would love you to experience the "School of Thought" 89.7fm live Outdoor Broadcast hosted by our Year 5 students in the Liwara 89.7fm Outdoor Broadcast Studio!
Venue: Sr Leonie O'Brien Resource Centre
Date: Wednesday 21 November
Time: 12.00 -2.00pm