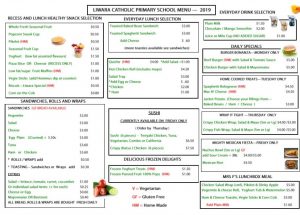 Our new menu is full of healthy choices and daily specials.. Each item on our menu is classified in accordance with the Star Choice Food Registration Program implemented in WA using the 'Traffic Light' coding system, recommended by the Canteen Association of Western Australia and the Department of Health WA.
Orders can be placed online using QuickClik - https://quickcliq.com.au/
Volunteers are always welcome and any assistance you can give would be greatly appreciated. If you are able to assist in our Canteen please contact Deb in the canteen by phone (9448 3129) or contact the office on 9448 3811.