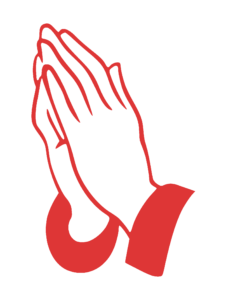 PRAYER FOR PEACE
Lord, make me an instrument of your peace;
Where there is hatred, let me sow love;
Where there is injury, pardon;
Where there is doubt, faith;
Where there is despair, hope;
Where there is darkness, light;
Where there is sadness, joy.
O Divine Master, grant that I may not so much seek
To be consoled as to console;
To be understood as to understand;
To be loved as to love.
For it is in giving that we receive;
It is in pardoning that we are pardoned;
It is in dying that we are born to eternal life.
Amen.

The Liwara Newsletter, Volume 16

  In this week's newsletter:
Term 4 Opening Mass
New Families & Staff
Term 4 Events & Activities
Celebrating our Grandparents
and more...
Dear Parents and Caregivers
I hope this message finds you well and that you've had a relaxing and enjoyable holiday break.  As we gear up for the last term of 2023, we are excited to welcome both familiar faces and new members to our school community.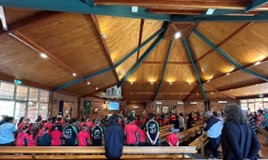 We celebrated our Whole School Mass to welcome the new term this morning and the church was filled with  beautiful singing by our talented students and parish community. Thank you to all our students and staff who prepared our first Mass of the term.  
We are thrilled to welcome our new families and staff members who have joined our school and know they have already felt the warmth and welcome of our Liwara community.   
Mrs Adriana Palmeri has joined Mrs Deb Fraser in the canteen and will be working on Tuesdays and Thursdays; Mrs Jacinta Mariani is taking over the class Music program for the rest of this year; Mrs Celeste Spencer has been in the Pre Kindy program since the end of last term as Mrs Michelle Greene is on leave for the remainder of the year and Mrs Karen Casupanan has joined our OSHC team since the first day of the Vacation Care program.  
Our new staff members bring a wealth of experience, enthusiasm and fresh perspectives to our school and we are confident they will contribute to the continued growth and success of our students. 
TERM 4 EVENTS & ACTIVITIES
We have an exciting lineup of events and activities planned for the rest of the school year.  These events will provide opportunities for both students and families to engage with our school community. Keep an eye on Seesaw and our school Facebook page for announcements and information about the Scholastic Book Fair; Lighthouse Family Mystery Maths Night; Interschool Athletics Carnival and much more.   
I can't believe that the three events I have listed above are occurring in the first two weeks of this term!  And of course, we are all enthused and excited about our up and coming Fair held on Friday 10 November.  Our P&F Fair Committee have been working diligently for the past 12 months and have confidence in our amazing parent body to help out in many ways, so I thank you for all you do each year to make the Fair such a wonderful event! 
The class P&F baskets are overflowing each day and I thank you for your generosity in supporting the raffles and all things 'Fair' by sending in your valued contributions.   Parents, if you haven't yet signed up to help on one of the stalls, please contact the P&F who will be eager to hear from you.  I know they are still looking for a few helpers for the Plant Stall!  
KINDERGARTEN & PRE KINDY ENROLMENTS
We are currently finalising our 2024 Pre Kindy and Kindy enrolments so if you know of anyone in the community who is looking for a school that is vibrant, caring, welcoming, supportive and academically robust, do tell them about Liwara Catholic Primary School!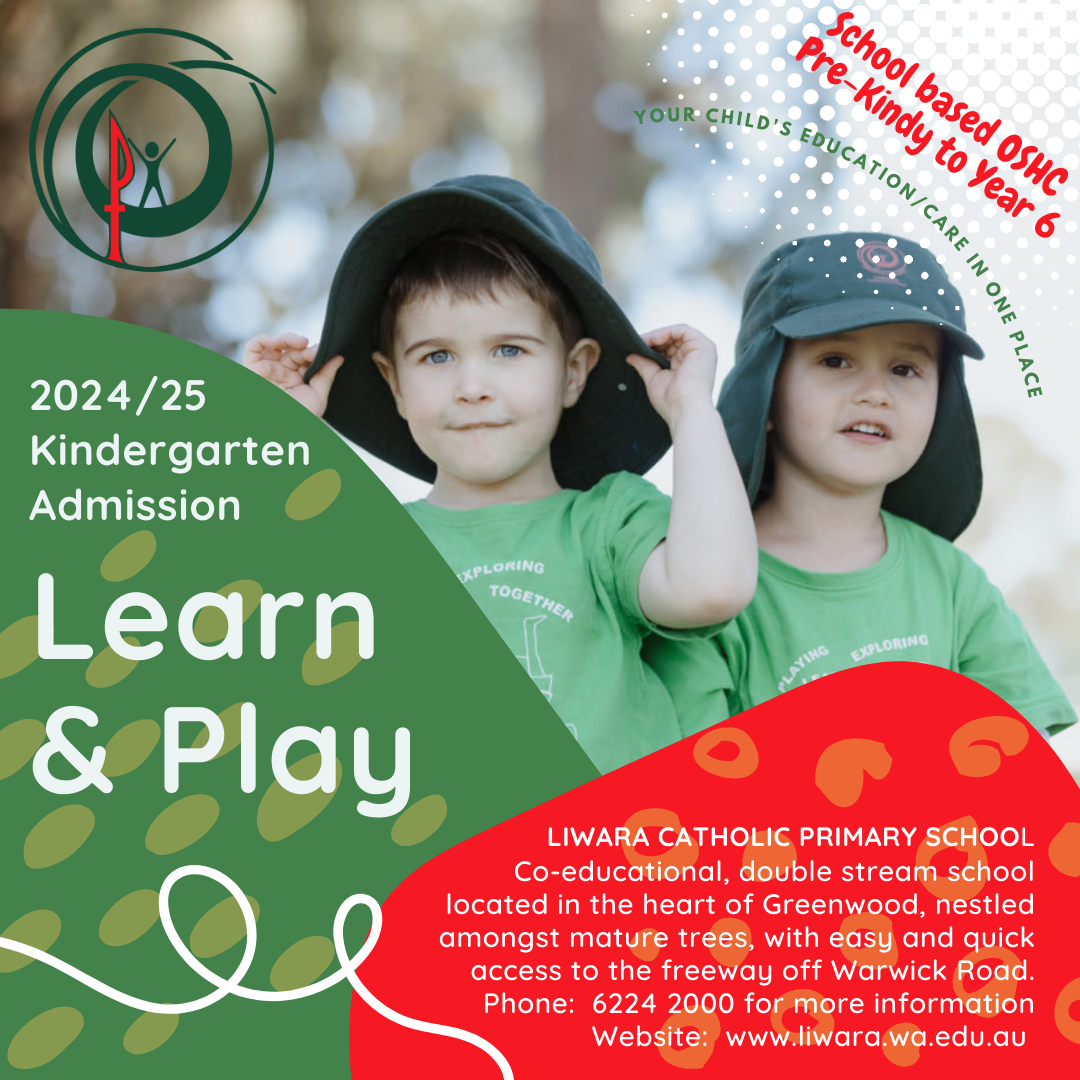 ENROLMENTS FOR CHILDREN IN KINDY 2024/2025
AND PRE KINDY 2024/2025
We currently have a limited number of vacancies for Kindy 2024, I urge you to contact our Enrolment Officer, as soon as possible, to discuss the enrolment process. I am currently meeting with future and current parents for our 2024 Kindy and Pre Kindy placements. Enrolment information and applications can be downloaded from our school website HERE or a paper copy can be collected from the school office.
If you would like to join a tour, registrations are essential and available via our school website.
CELEBRATING OUR GRANDPARENTS
Change of Date - 16 November 2023
Join us in celebrating with all the grandparents of students currently attending Liwara.
We look forward to another fantastic school term, filled with opportunities for growth, learning and memorable experiences.  Thank you for being a part of our Liwara School community.  Together, we can make this term another great success! 
Wishing you God's blessing for the coming week.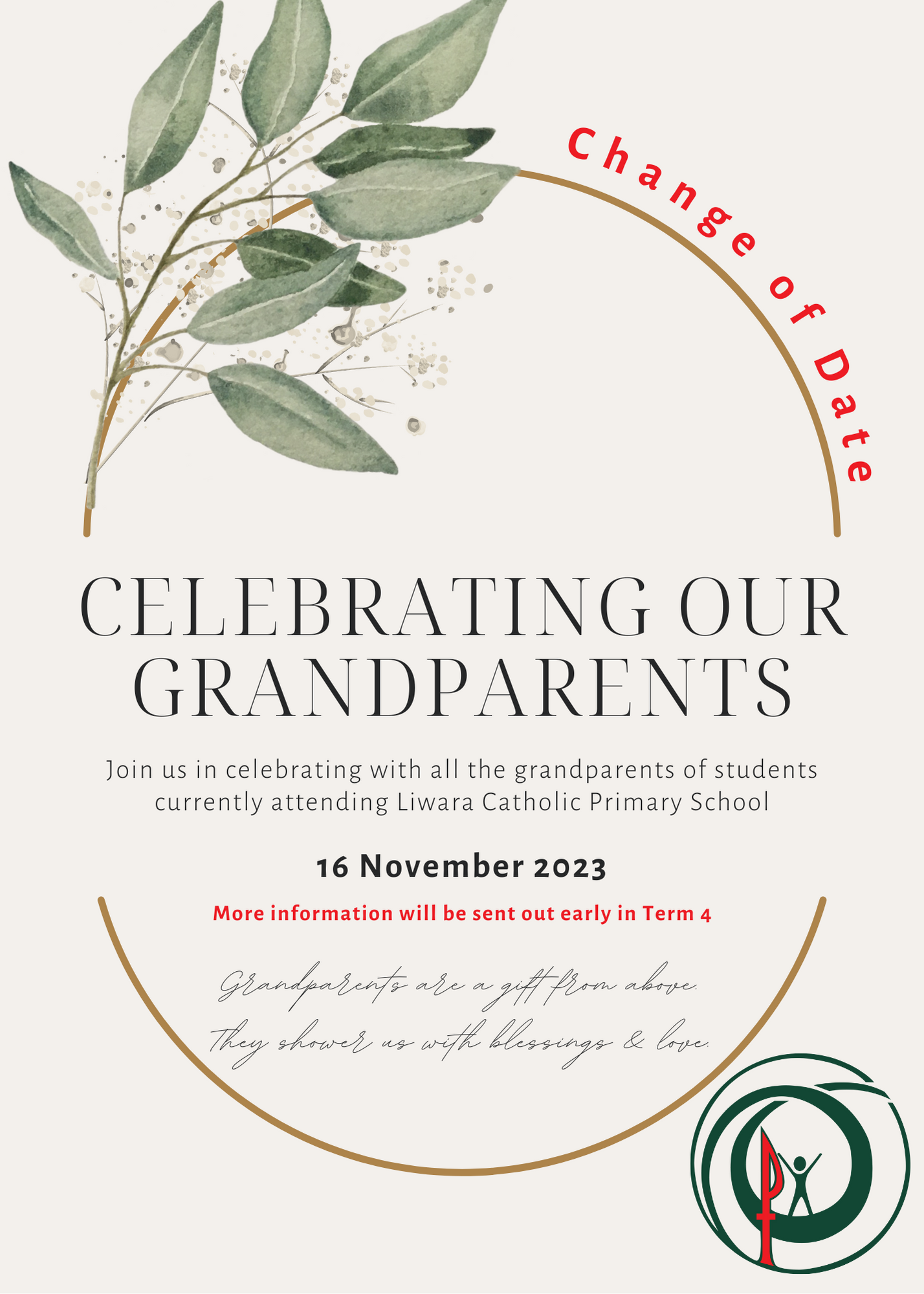 Mrs Andrea Millar
Principal
FROM THE ASSISTANT PRINCIPALS
PARISH MASS
Year 6 will be attending the Parish Mass on Monday,16 October at 9.00am at All Saints Church. 
Year 5 will attend on Tuesday, 24 October at 9.00am at All Saints Church. 
WHOLE SCHOOL PRAYER
Year 3 will be leading the school in Whole School Prayer on Monday, 16 October at 2:40pm at the All Saints Church. All are welcome to join us for prayer.
LIWARA FAMILY MASS
This term's Family Mass will be held in the All Saints Church on Sunday, 5 November (Week 5) commencing at 9:30am. This is the 50th Anniversary of the All Saints Parish celebration. All families are encouraged to attend and those students who attend in school uniform will be encouraged to wear free dress at school the following day (Monday, 6 November).   
NIPSSA INTERSCHOOL ATHLETICS CARNIVAL
The Northern Independent Primary Schools Sports Association (NIPSSA) Interschool Athletics Carnival for Years 3-6 will be held on Friday, 20 October. Students who were selected to participate in the squad were informed last term. Please see the message sent via Seesaw from Mr Sanders for further information about the day. We wish all competitors the best of luck and look forward to hearing about their day. 
P & F MEETING
A P&F meeting will take place on Tuesday, 17 October in the Liwara Hall commencing at 7:00pm. All are invited to attend.

PERFORMANCE ASSEMBLY FOR TERM 4
Year One will have their Performance Assembly on Friday, 27 October at 2:30pm in the Liwara Hall. We welcome all families to join us. 
Ms Angela Leddin & Mrs Jesseca Francis
Assistant Principals
MAKING JESUS REAL
Attitudes are contagious, for example: Winners are Grinners. This value helps remind children to have a positive attitude and try their best in all they do.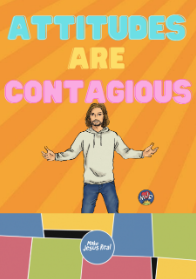 YEAR 2
The Year 2 students have been exploring procedural texts. Procedural texts are everywhere, and some examples include recipes (how to cook something), directions (how to get from one place to another), rules (board games) and craft (how to make a paper chain). The children looked at the features of a procedure, such as the ingredients, numbered instructions, verbs, time phrases and specific vocabulary. We all enjoyed following the procedures on how to make fairy cloud dough and pirate hats. The children even got to design their own board game and write the rules on how to play!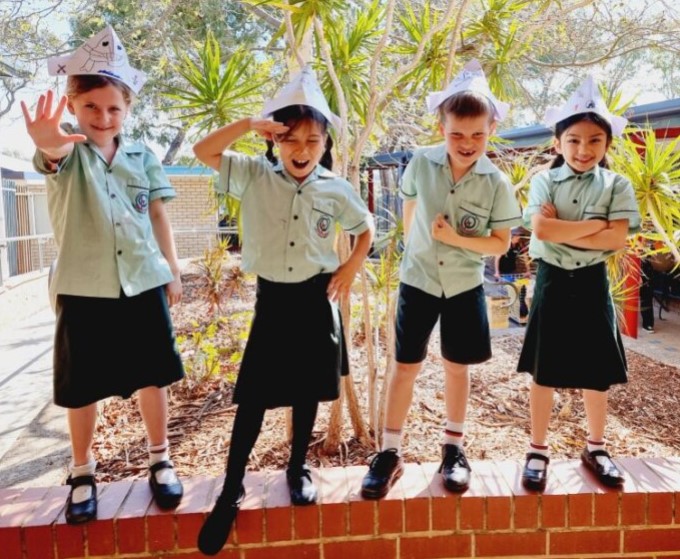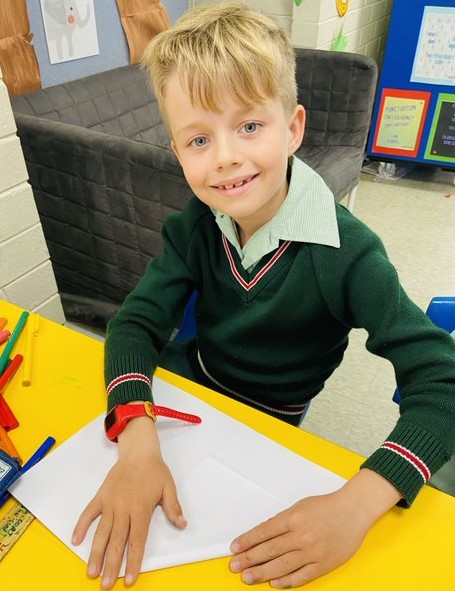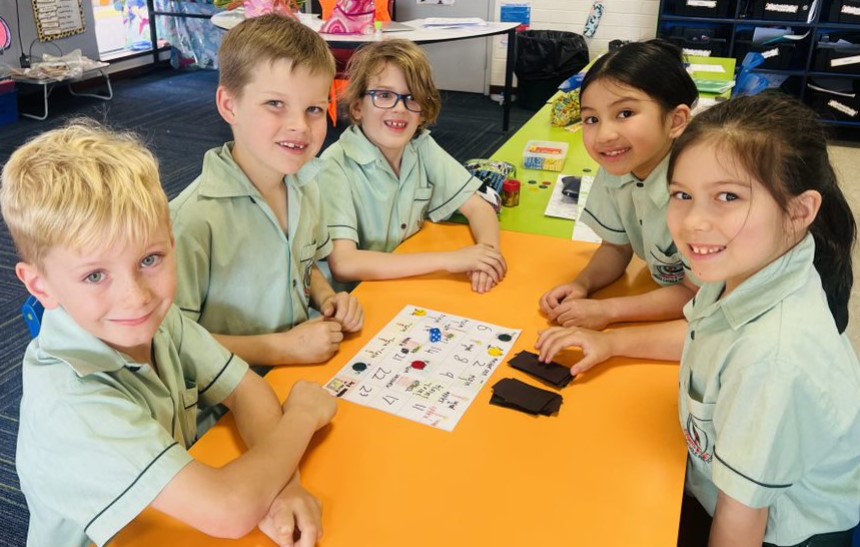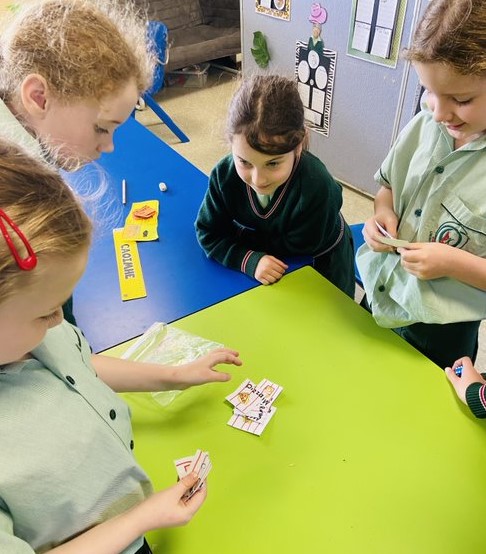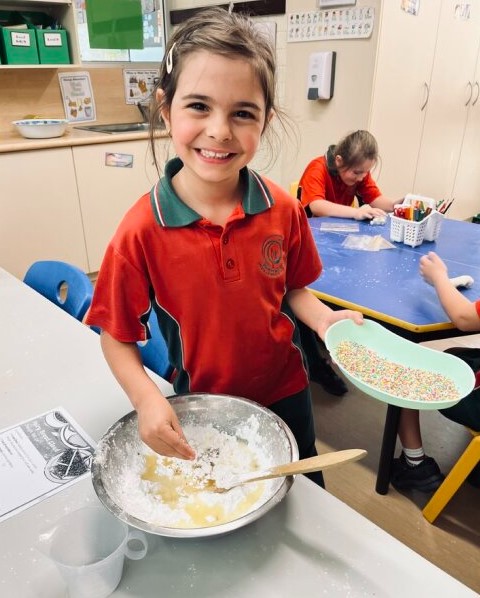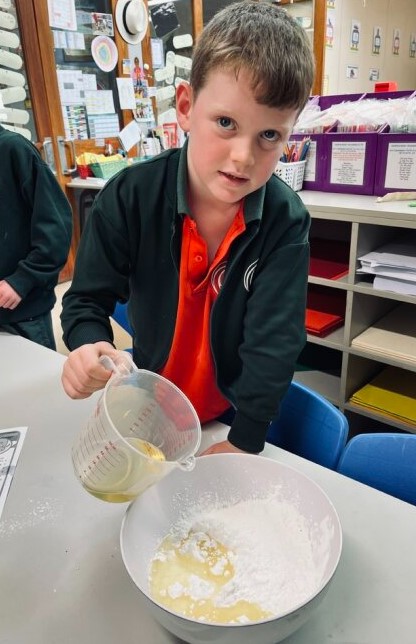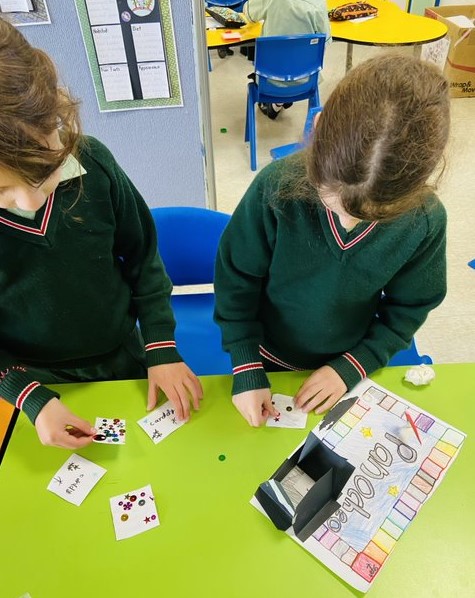 MYSTERY OF THE MATHEMATICAL MENACE - FAMILY EVENT
Come along to enjoy an exciting evening of maths activities, solve some maths puzzles, gather clues and catch the culprit! It can take anywhere from 20 to 80 minutes to solve all the problems; it is ideal that you arrive promptly at the beginning of the session, but you do not need to stay for the whole time.
Families will receive some take home materials, including:
an answer booklet and pencil to record your clues
a booklet of ideas on how to have everyday conversations about maths, with accompanying playing cards and dice
a special prize for all participating children who solve the mystery and catch the culprit.
When:    Thursday 19th October
Time:      4pm – 5:30pm
Where:    Liwara Hall
This event is suitable for children Year 2 and above. Younger children are welcome but will find it difficult to participate in the problems.
Please RSVP to Mrs Sarah Carberry  by Monday 16th October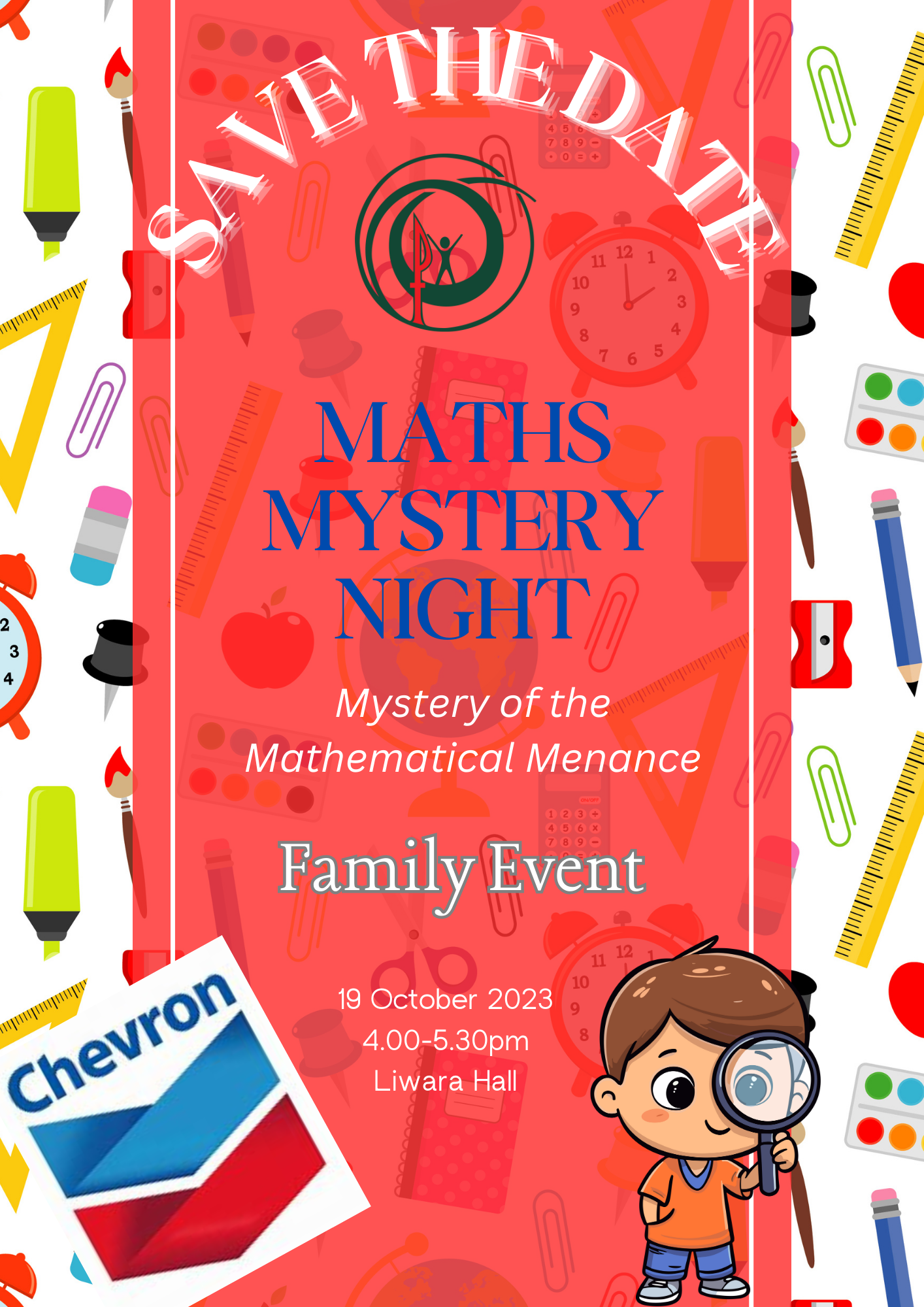 IMPORTANT DATES 2023
TERM  4 DATES: Monday, 9 October – Friday, 8 December
Week 2
October 16 - Yr6 Parish Mass @ 9.00am
October 16 - Whole School Prayer @ 2.40pm
October 17 - Scholastic Book Fair - AM/PM
October 17 - P & F Meeting @ 7.00pm
October 18 - Scholastic Book Fair - AM/PM
October 19 - Scholastic Book Fair - AM/PM
October 19 - Mystery of the Mathematical Menace @ 4.00pm
October 20 - Scholastic Book Fair - AM
October 20 - Interschool Athletics Carnival
Week 3
October 23 - Yr5 Excursion
October 24 - Yr5 Parish Mass @ 9.00am
October 25 - P & F Icy Pole Day
October 25 - Sacred Heart Orientation Day Yr7 2024
October 25 - PP Work Shed Incursion
October 26 - Mercy College Transition Day
October 27 - Yr1 Performance Assembly @ 2.30pm
All students are encouraged to return their borrowed books before school from 8.15am to go into the weekly raffle draw. 
Library Days 
Tuesday – Years 3 & 4 
Wednesday – Years 2, 5 & 6 
Thursday – Kindy, Pre-Primary & Year 1
Library Bags for Sale
The Liwara Craft Group have made Library bags.  They are selling them for $10.00 a bag and all profits go towards the craft stall for the school fair.
If you are interested in purchasing one or more of these beautiful bags, they can be purchased through trybookings:
https://www.trybooking.com/events/landing/524560
Then bring their receipt to the Library and select a bag.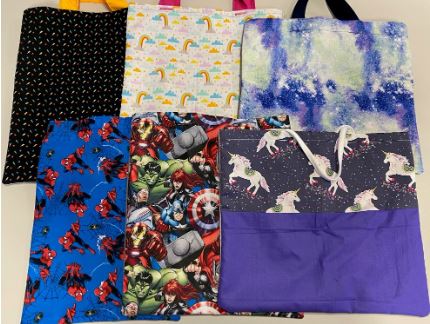 SCHOLASTIC BOOK FAIR
Book Fair is coming to Liwara! Join us in the library:
Tuesday 17th - Thursday 19th October
8.15am - 8.45am & 3pm - 3.45pm
Friday 20th October 8.15am - 8.45am
Stationary prices start at $1 & books from $5.  Payment via EFTPOS, cash and online pre-payment.
Every sale will benefit our school library so come down and find your next favourite read!
Welcome back to Term 4 and a big welcome to Adriana our new Canteen Manager who will be working on Tuesdays and Thursdays.  She has settled in nicely and we have managed to stock up on most of our healthy and delicious menu items this week.
Please note we cannot change the toppings on the Foccacia or change the make up of the sushi as we order these in fresh for us.
Thank you for supporting the Canteen.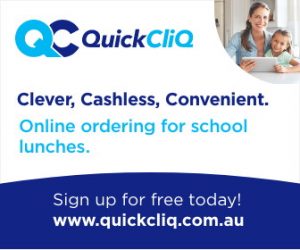 The Uniform Shop is open Thursdays from 8.15am - 9am for all your uniform needs!  Doors will not open outside of these hours. 
Please note that students are required to wear their summer uniform for Term 4 2023 & Term 1 2024..
JFE Details
Phone: 9204 1701
Email: saes@jfe.net.au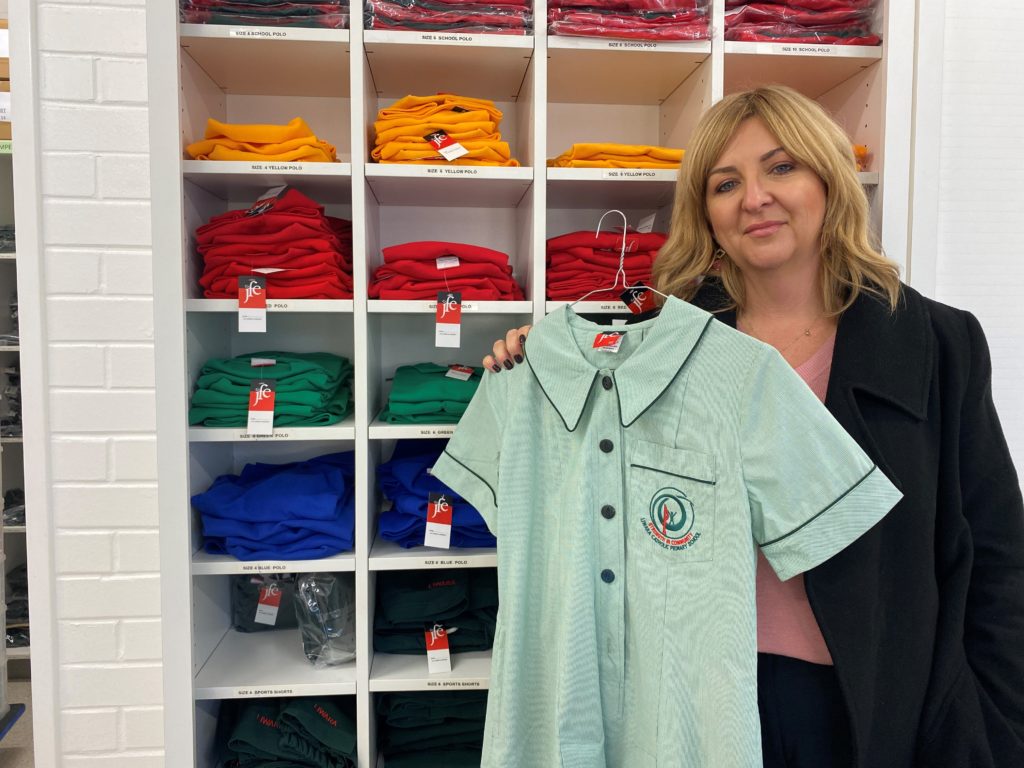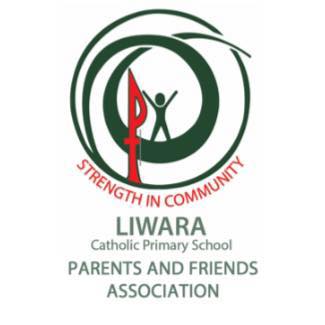 To read this weeks P & F Newsletter, click here.
Please see our current Try Bookings Form and Reimbursement Form below:
To keep up to date, head to our private Facebook page by clicking here.
ALL SAINTS GREENWOOD
7 Liwara Place
Greenwood, WA
6024
PARISH PRIEST
Father Elver Delicano
REGULAR MASS TIMES
Monday – Friday 6am & 9am
Saturdays 6pm
Sundays 7:30am, 9:30am & 5:30pm
Anointing every 2nd Saturday of the month
OFFICE OPEN TIMES
Monday, Wednesday and Friday 10am - 3pm
CONTACT
m: 0466604754
e: greenwood@perthcatholic.org.au
PERTH ARCHDIOCESE WEBSITE
www.perthcatholic.org.au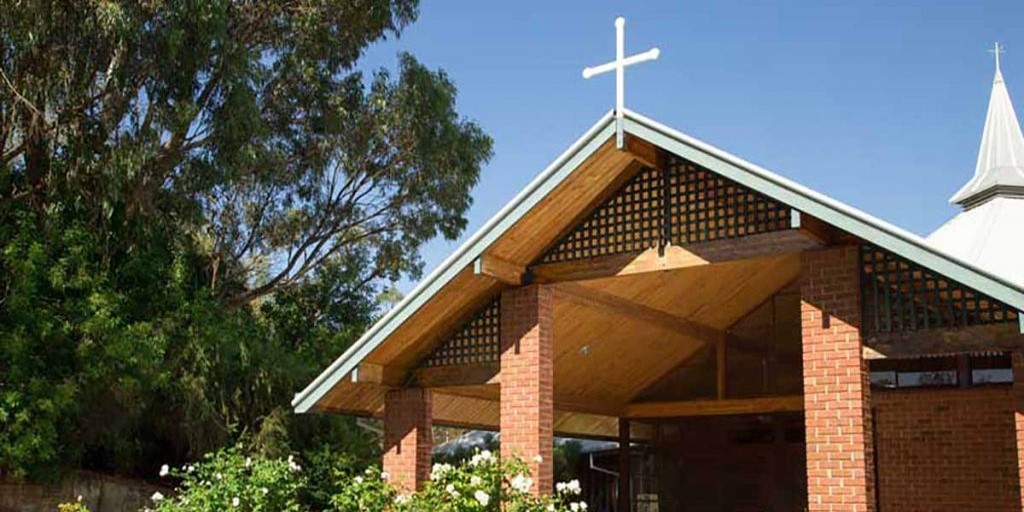 PARISH YOUTH MINISTRY NEWS
YOUTH GROUP REPORT
The first week of the holidays we had a games night for the youth to enjoy over the holiday period. It was a big night with a huge cohort of youth joining us to play some fun games. It was especially exciting to see some new faces - friends and cousins of the youth! We played a youth group favourite: continuous dodgeball, which was a hit! We also played Blindman's Bluff, as well as a name guessing game which was good for the youth to get to know each other better. We finished the night with warm food and fellowship, as well as ice-cream which a youth's family kindly donated!
Last week at 24:7 Greenwood we had an amazing games night full of fun, and music. We started our night off with a game of Red Light Green Light before putting everyone's blind drawing skills to the test with a game of Blindfold Pictionary. Our third game for the night was Handball but with a twist as instead of playing with 4 squares we decided to try it out with 8 squares instead. We were also lucky enough to have two very special guests, Myles and Sam, who are apart of our 24:7 team in Tasmania and it was a blessing to have them join us for the night.
It was a big week as we also had the network wide iStand Camp with over 60 teenagers at it and our Faith on Fire Leadership day.
NEXT YOUTH GROUP
This Sunday's youth group we will be opening our new term theme of the virtues and exploring how we can apply them to our everyday life.
SACRED HEART COLLEGE - EXPRESSIONS OF INTEREST, YEAR 7 2025
Dear Year 4 2023 Parents and Guardians,
Sacred Heart College would like to remind you that Expressions of Interest for their Year 7 2025 cohort are due by end of month December 2023. Expressions of Interest can be submitted through their College website and incurs a non-refundable $85 expression of interest fee on completion. Expression of Interest families will be emailed mid-January 2024 communicating the commencement of the application process and next steps.
For more information, please feel free to contact the Sacred Heart College Registrar on 08 9246 8283 or registrar@sacredheart.wa.edu.au before December 14.
Dental Health Services
Greenwood Dental Therapy Centre 
Greenwood Primary School | Merivale Way, Greenwood,Wa,6024
Ph: (08) 92035611 |  
E: GreenwoodDTC@health.wa.gov.au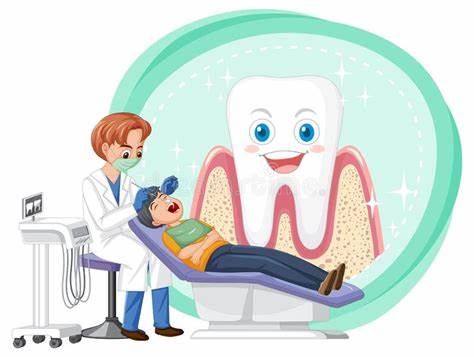 VOLUNTEERS WANTED TO ASSIST THE HOMELESS AND DISADVANTAGED AT GRACE CAFE IN JOONDALUP
The Anglican Grace Chapel in Joondalup and St Vincent De Paul Northern Conferences jointly open a drop-in centre for the homeless and disadvantaged each Monday and Friday at the Grace Chapel.  Volunteers offer and serve a heated meal, tea and coffee and hampers of donated food for the guests.
More volunteers are desperately needed.  If you would like to volunteer, please contact Peter on 0491 048 207 or email:  ryansite@tpg.com.au.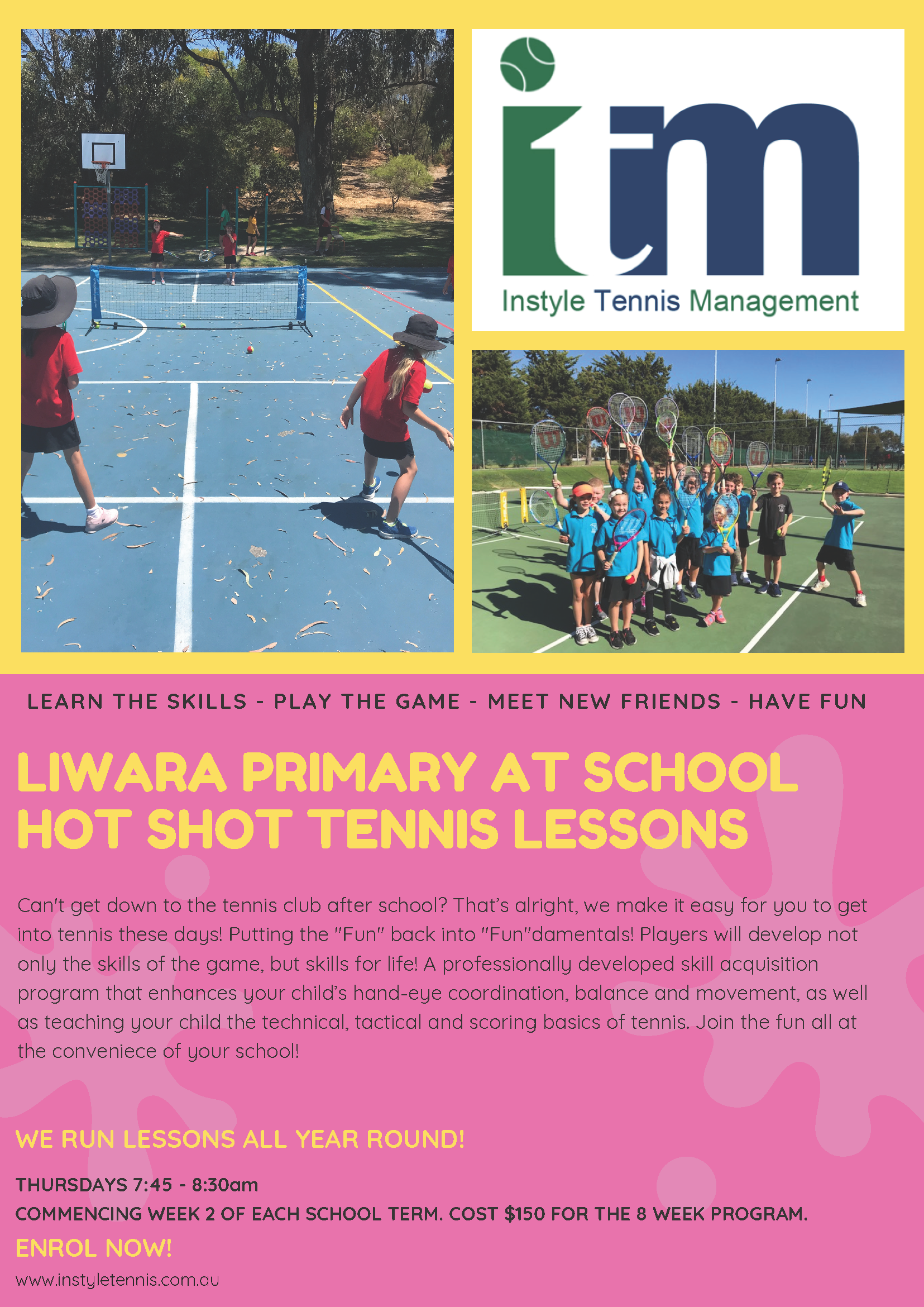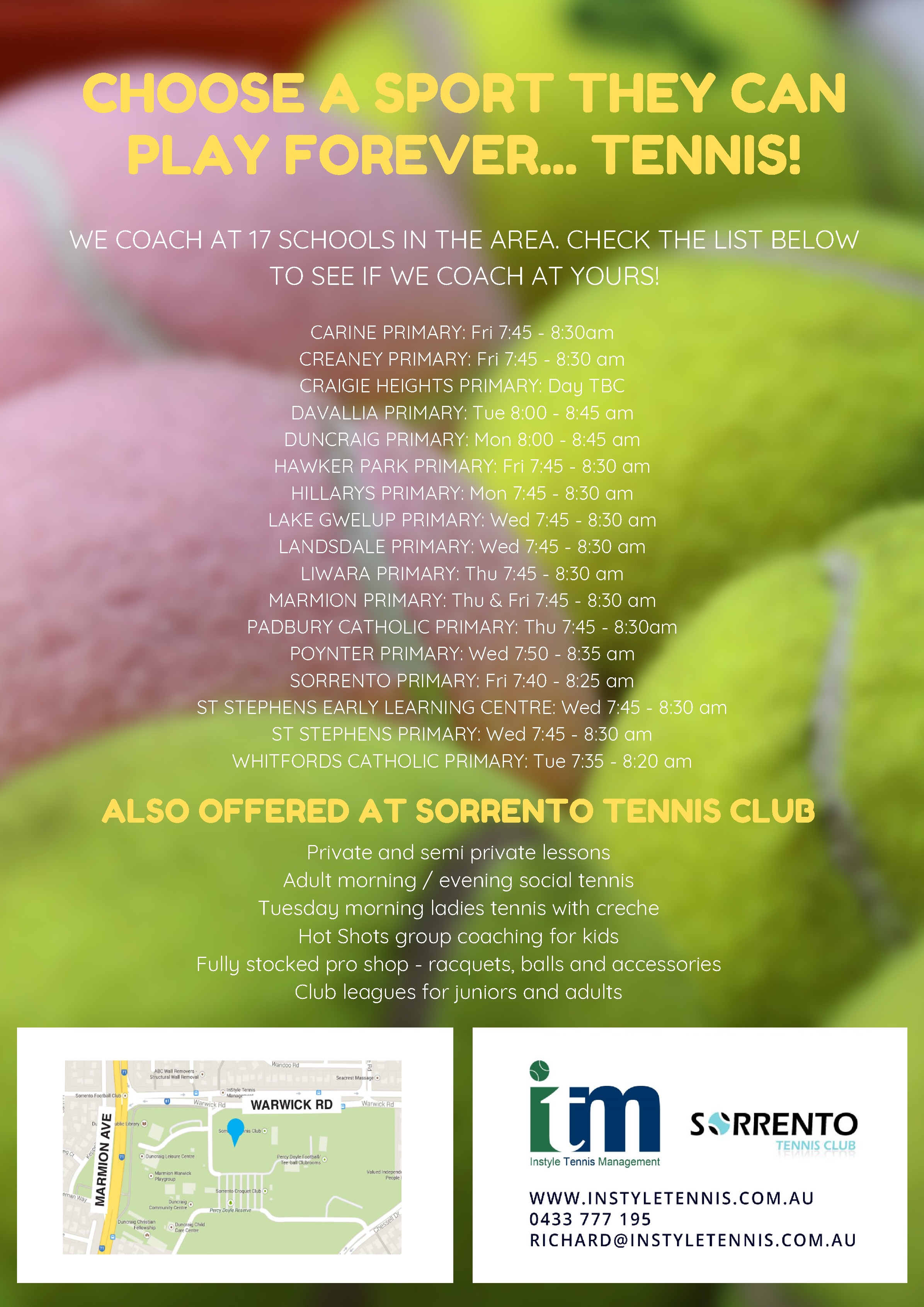 Hot-Shots Tennis lessons with InStyle Tennis are back on again in term 4 at school! Tennis lessons at school will be held each Thursday 7.45-8.30am, starting week 2 of term (Oct 19). Cost is ($150/ 8 weeks). Excellent for skill progression & learning the basics of tennis, and great fun.
All ages/levels welcome! Registration link mob 0433 777 195. All kids enrolled receive free Hot-Shots t-shirt! www.instyletennis.com.au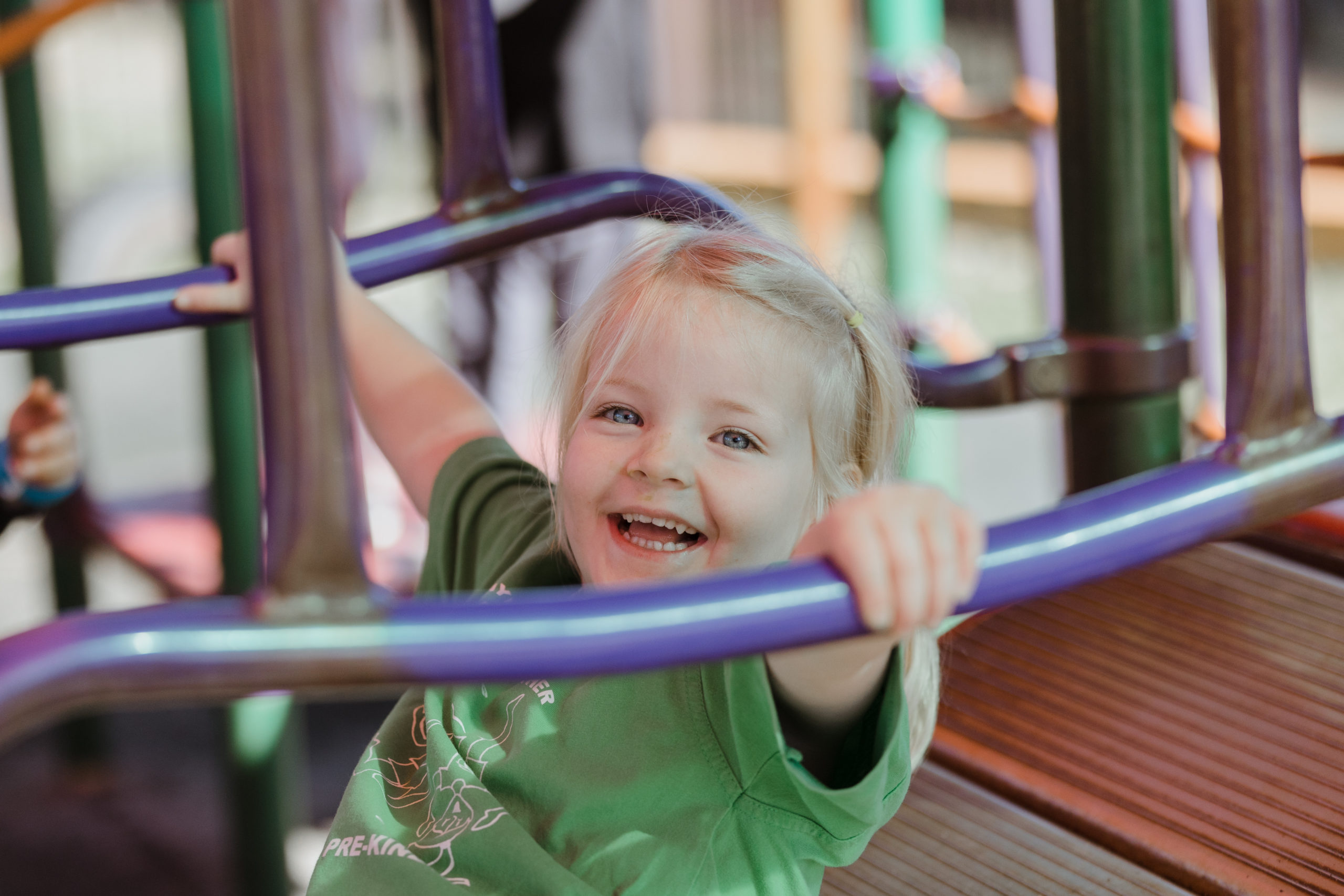 We are now accepting Pre Kindy - Year 6 enrolments for 2024 as well as 2025 & 2026.  Please contact  the school if you have any questions or for  more information.