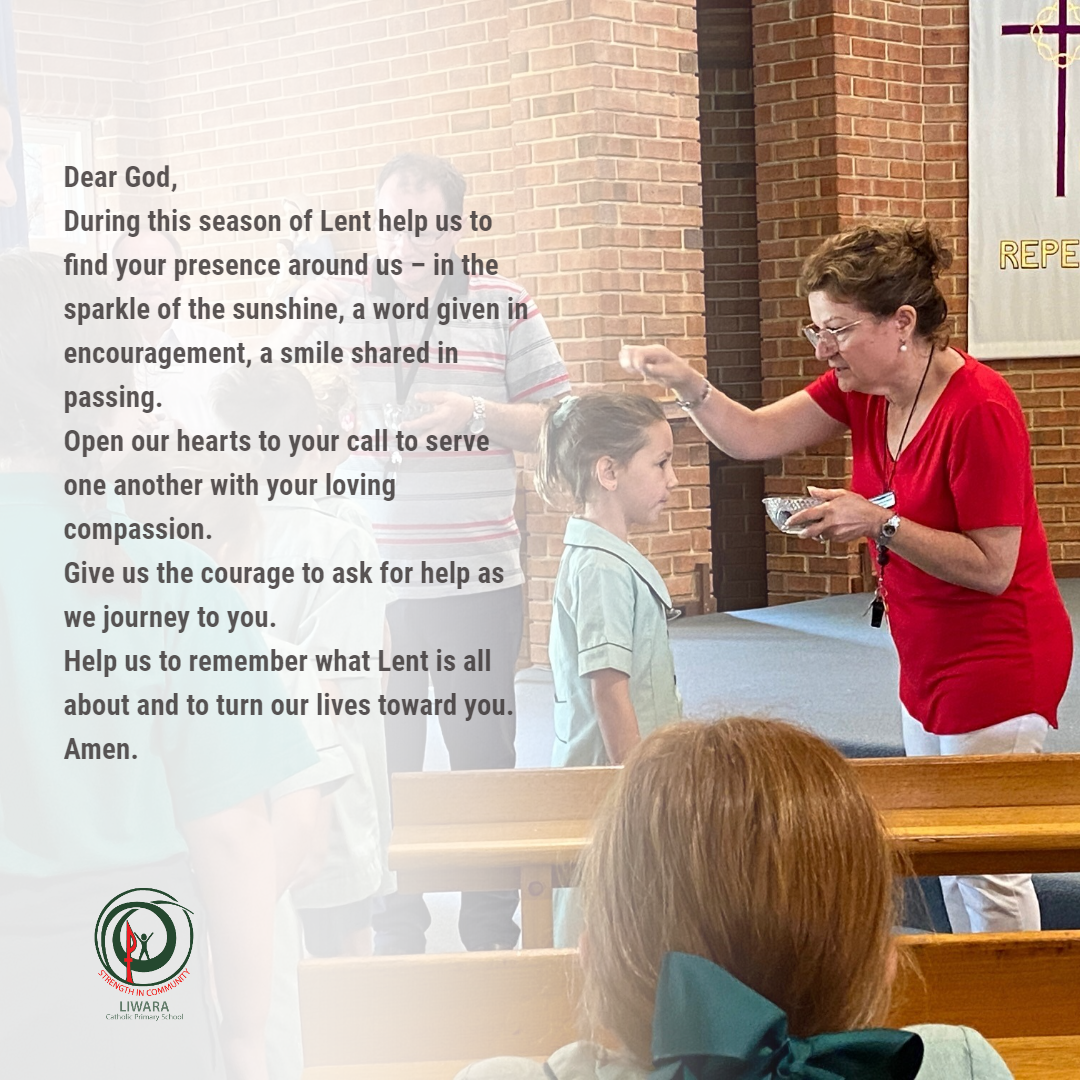 FAITH          TRUST          RESPECT          MERCY
From the Principal's Desk
Dear Parents and Caregivers,
It has been wonderful to see the joy on our students faces as they arrived at school this week with such enthusiasm and hope for all that the new school year holds for them. There has been a definite 'buzz' around the school as the children settle into the year rekindling friendships and making new ones.
The joy with which the students greeted their teachers and classmates captured all that we hold so dear about our school. The students warmly welcomed new students and greeted new staff with courtesy and kindness. I am certain that we are in for an excellent year of positive relationships and excellent outcomes for our students across all domains of school life.
Sincerest thanks to our staff for their dedication in preparing their classrooms to welcome the students last week. The classrooms look inviting and attractive and are testament to the care and devotion our staff have towards ensuring school is an exciting place for our students.  The teachers are just as happy to be back with their new groups of students as they use the first few weeks to develop confidence in students and to gradually introduce them to the new experiences and expectations for the year. At this early stage, class teachers are working together to design programs that allow students to experience success as well as revisiting and revising concepts already taught.
As Principal, my number one priority is the happiness and safety of every child. Children who are feeling happy and safe are receptive learners. From the moment you enrol your child at Liwara Catholic Primary School you are encouraged to develop a strong partnership with us. When parent's express confidence in the school and teachers, and are involved in some way, their children are more likely to be happier and perform better academically so as soon as the current restrictions are eased we look forward to seeing many of you around the school grounds and in and around the classrooms.
A warm Liwara welcome to all our new families who have joined us this year and we hope that you are already feeling a part of our beautiful school community. We have already held our first P&F and Advisory Council (formerly School Board) meetings and our enthusiastic P&F committee are in the midst of planning our New Parents' Night so that we can officially welcome all new families.  More details will be sent out soon.  A creche, coordinated by Mrs Margetic will be available for children in the OSHC building.
Even though we are still in Phase 4 of the WA Government COVID-19 Roadmap, the Liwara staff have voted unanimously to slowly and safely welcome our community back into the school whilst the children are present,  so we are re-introducing our Kindy Parent Roster which is one parent a day; our Support A Reader volunteer program which entails one adult working with one student; our Library volunteers (who work in the Library with no students present) and of course our invaluable canteen volunteers who work with Deb or Kathy.  If your child is in Kindy or part of the Support A Reader program and you would prefer not to have other parents in the room with them at this stage, please inform your class teacher.  Early next week you will be invited to add your name to rosters and volunteer lists that will be sent out via Seesaw by members of the staff who coordinate these areas.  All parents entering the school grounds must continue to scan the SafeWA App and adhere to health and  hygiene requirements.  Pre-arranged parent/caregiver meetings can proceed,  adhering to physical distancing and hygiene protocols.  I thank you, once again, for your patience, understanding and cooperation.
The Uniform Shop will be re-opening in the next few weeks and I will keep the community informed as soon as this is in place.   All adults other than staff must maintain physical distancing of one person per 2 square metres at all times when visiting the uniform shop.
Our students are looking fantastic in their uniforms and it is testament to the pride our parents place in the school, in ensuring the children are always in their correct attire. There are enormous benefits in ensuring all students wear our full school uniform.
These include:
Defining our school identity.
Developing within our students a sense of belonging to our school community.
Providing an opportunity to build and enhance 'school spirit'.
Promoting a sense of inclusiveness, non-discrimination and equal opportunity.
Enhancing the health and safety of students when involved in school activities and excursions.
Promoting positive community perceptions of our school.
I ask that you also take careful note of your child's school shoes and please check they are wearing formal black shoes , lace ups or strapped (not black joggers/sports shoes) to school. This requirement is for students in Year One to Year Six or brown school sandals in term 1 and 4, when not in their sports uniform.  Black joggers are to be worn only on Physical Education and Class Sports days.
We continue this year with our whole school focus on student wellbeing and resilience. We acknowledge that students experience a tremendous amount of physical and mental growth on a daily basis, and face lots of new experiences and challenges. Being resilient gives our students the ability to tackle these head-on, bounce back from any setbacks and have the best chance at success. It allows them to learn and grow in all situations – two skills that are crucial to positive wellbeing and development. Resilience will also help them to approach new situations, people or experiences with confidence and a positive mindset, which will make them more likely to succeed. Teachers will introduce a number of strategies across the school, to foster positive wellbeing and resilience.  I look forward to providing parents with opportunities to assist with our focus from time to time throughout the year.
Wishing you God's blessing.
Andrea Millar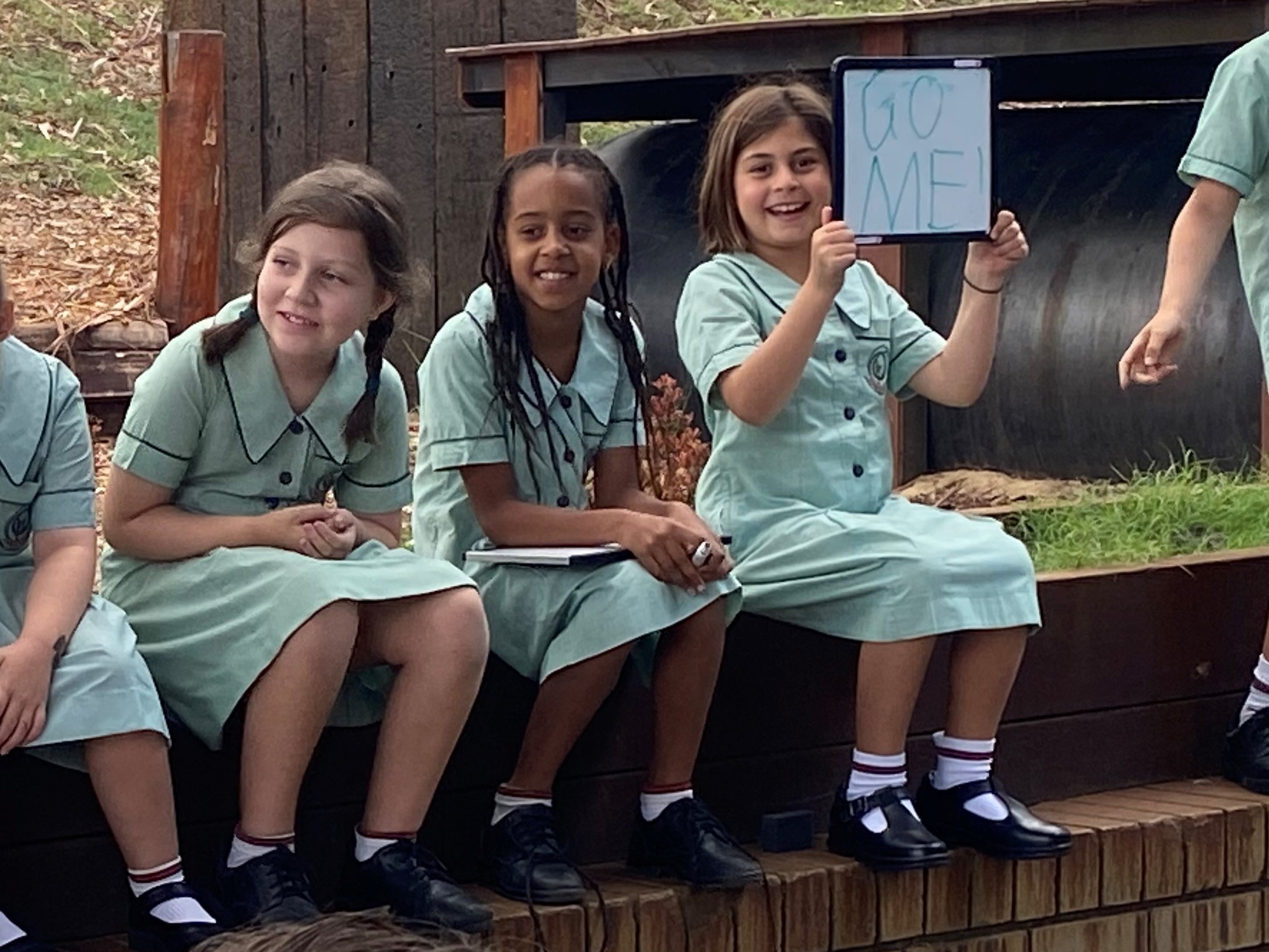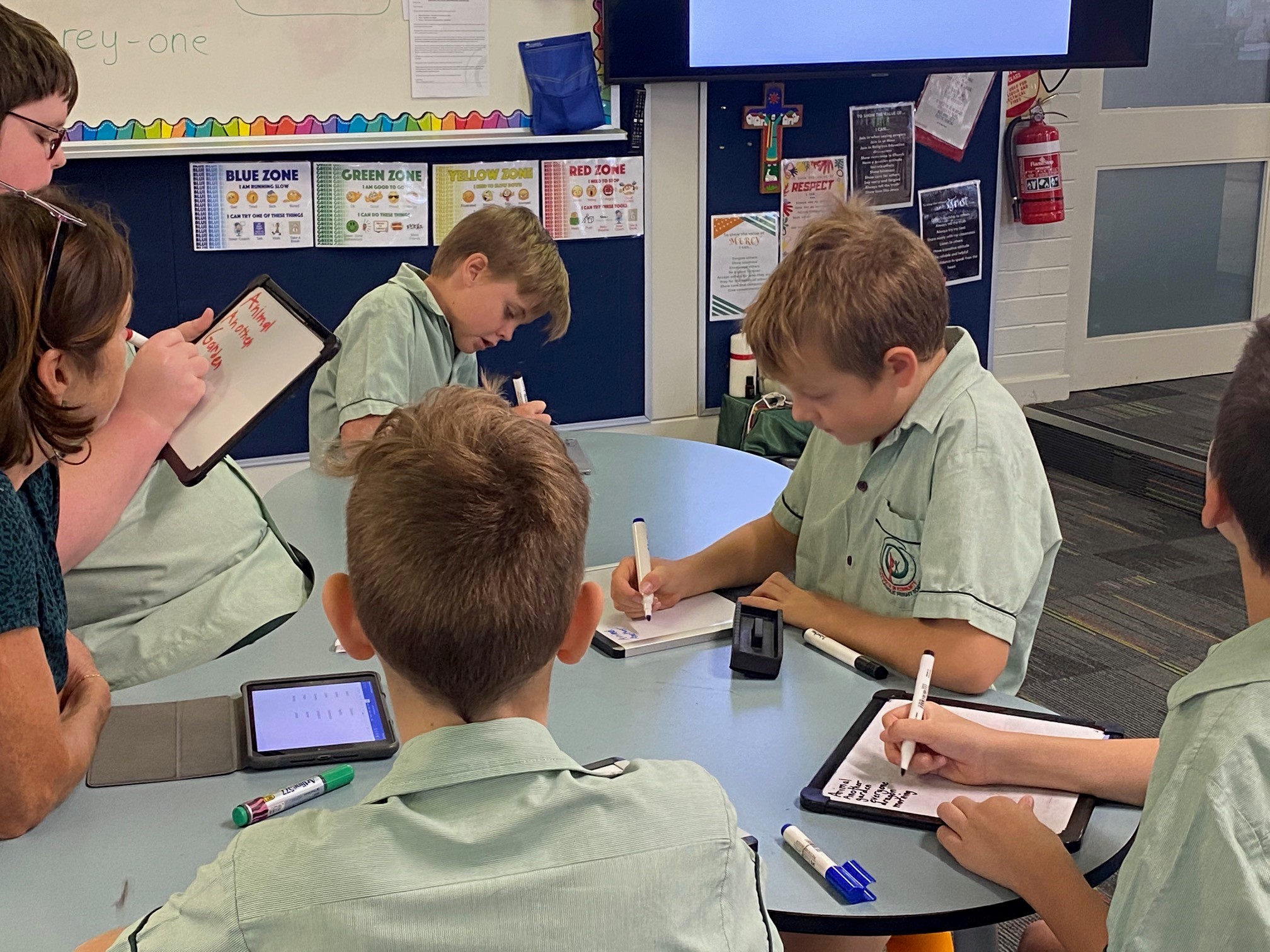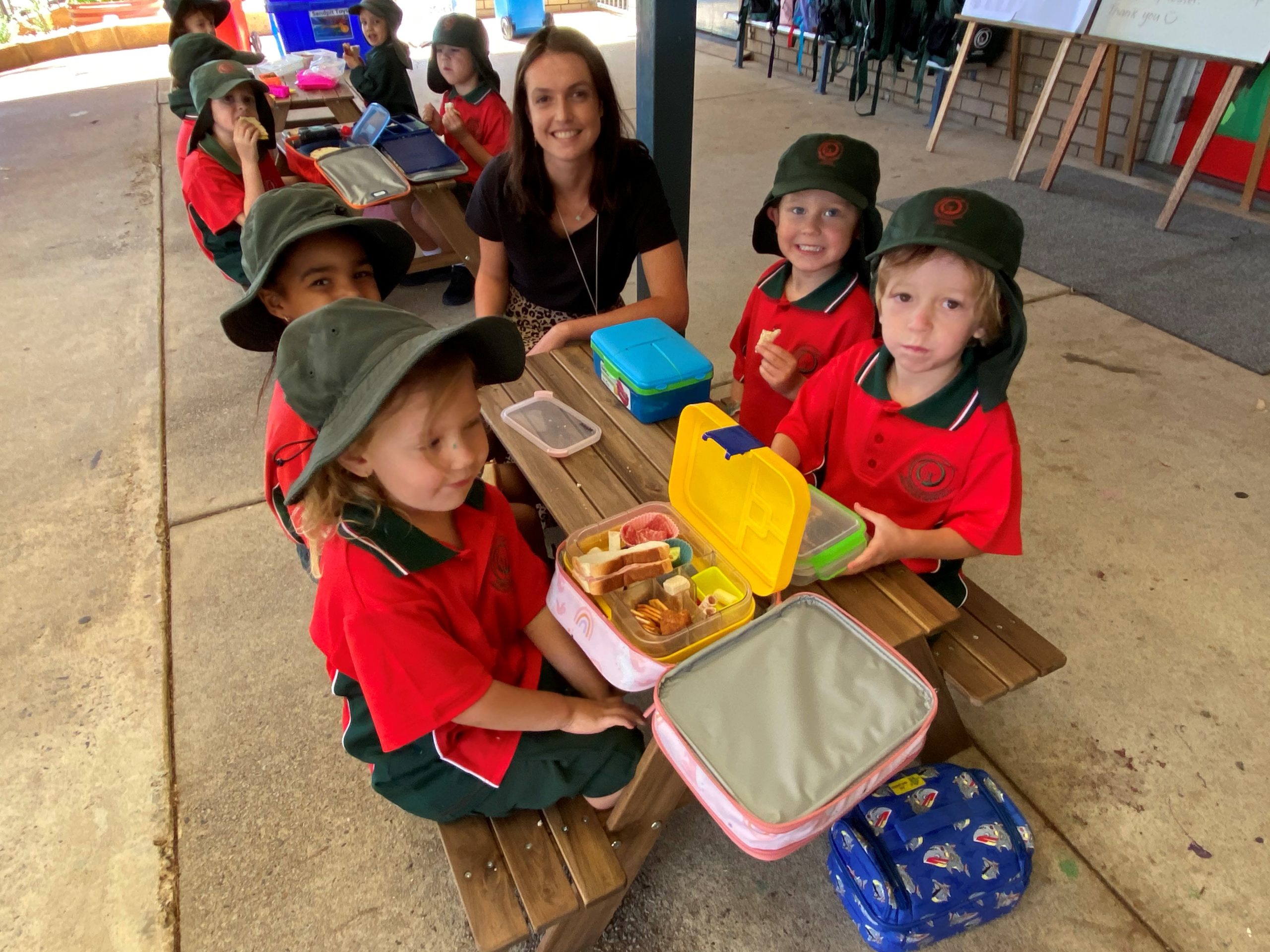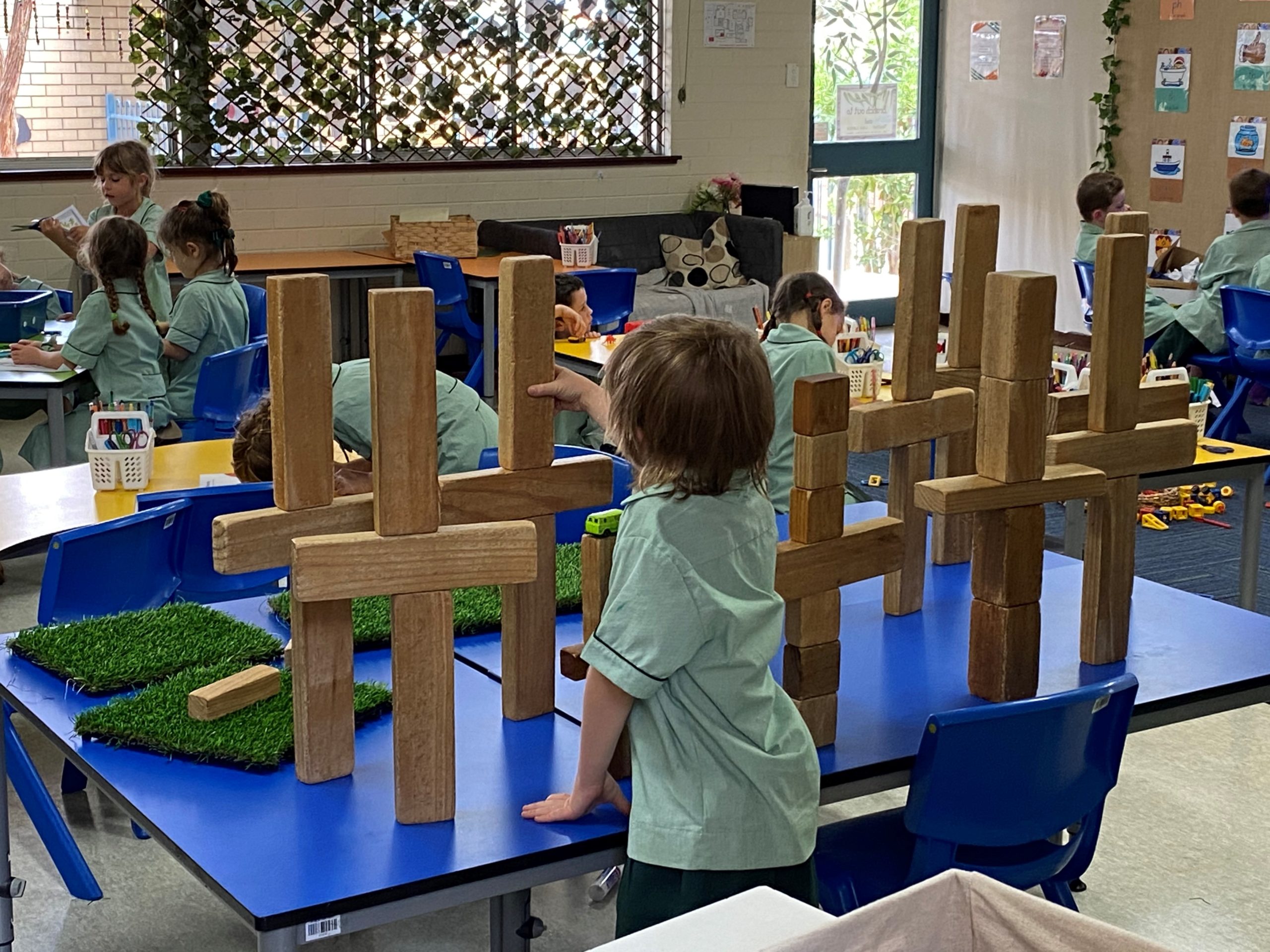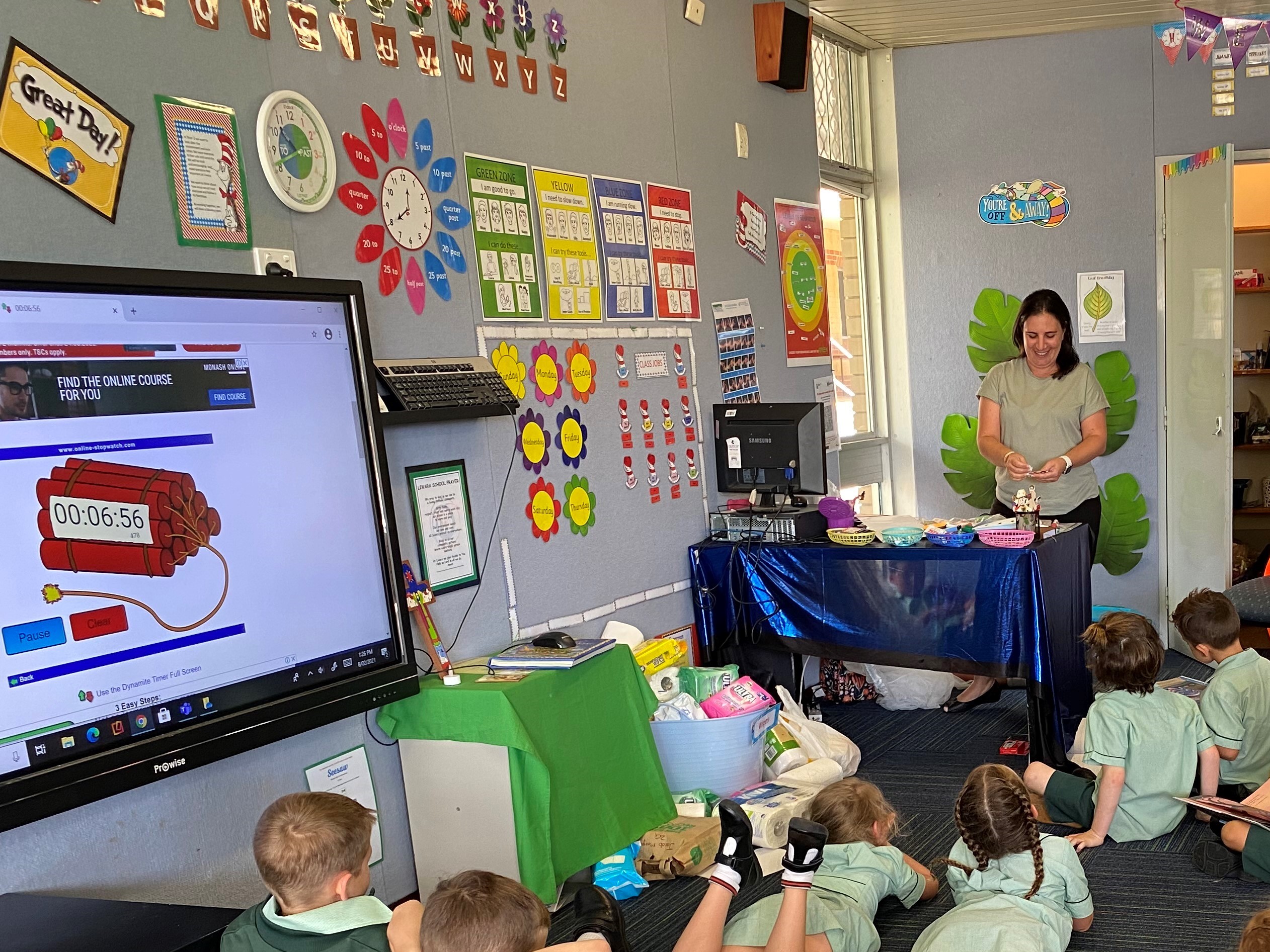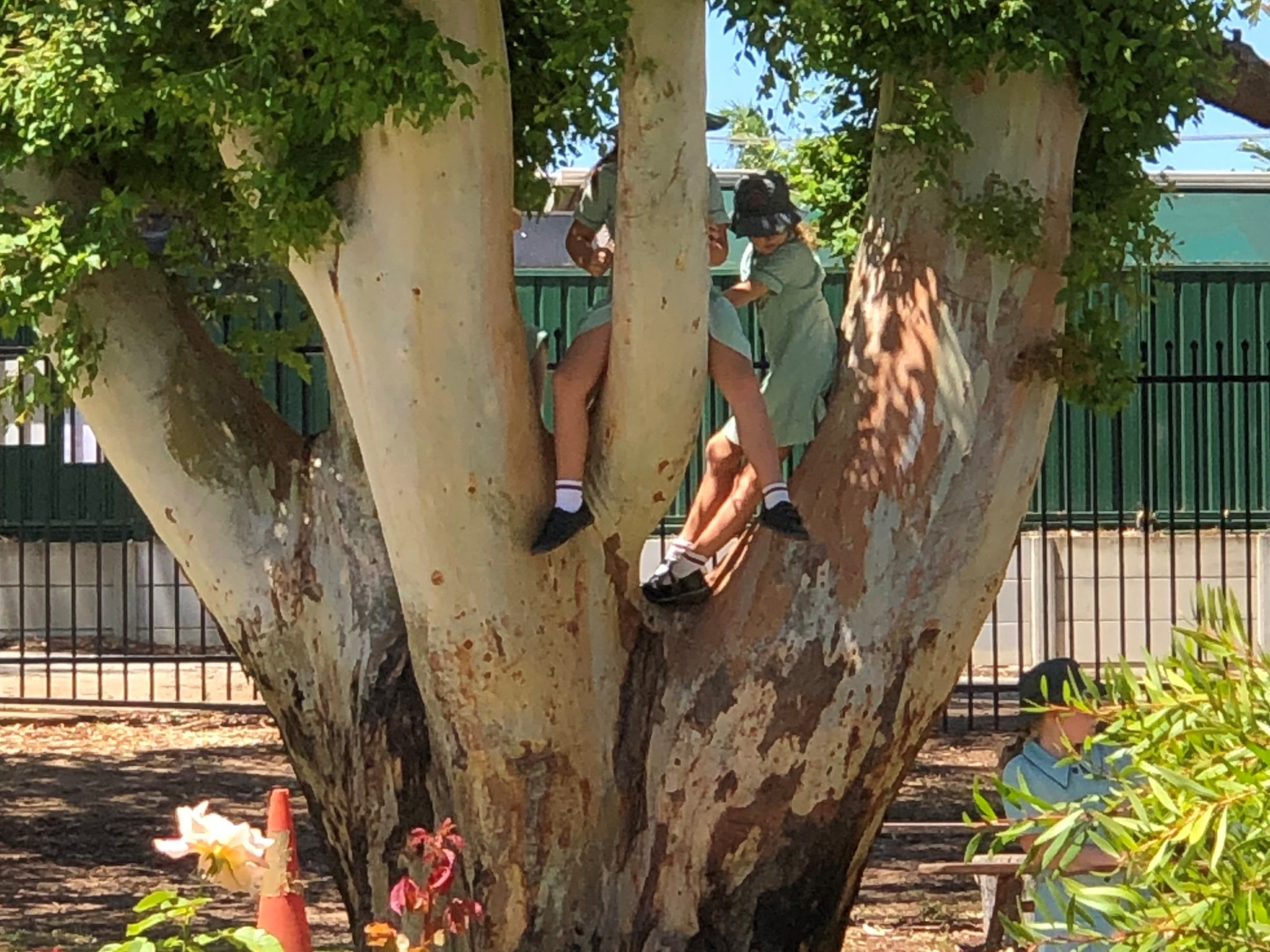 From The Assistant Principals' Desk
Theology of Sacraments Meeting
The annual Theology of Sacraments Meeting is for all parents (only) of children who are receiving a Sacrament this year (i.e. Year 3 Reconciliation, Year 4 First Eucharist and Year 6 Confirmation). The meeting will commence at 7pm in the Ahern Centre on Tuesday 9 March 2021. This year's presenter is Stephen Harris.
Sacrament Enrolment Weekend
Any Liwara student who will be receiving a Sacrament this year (i.e. Year 3 Reconciliation, Year 4 First Eucharist and Year 6 Confirmation) is expected to enrol for that Sacrament at any of the All Saints Parish Masses on the weekend of March 6 and 7 and at the 9.00am & 10.30am on Sunday 14 March .
Caritas Project Compassion
Now that the liturgical season of Lent is upon us, it is time to focus on those less fortunate than ourselves and donate to Caritas' Charity - Project Compassion. Project Compassion boxes will be sent home to each family to be able to make contributions to this charity. The boxes will be collected in the last week of the term by class teachers.
Class Visits and Parish Masses
Next week we return to the routine of classes visiting Father Elver on a Tuesday morning and attending a Parish Mass during the week. Over the next two weeks Year 4 and Year 6 will attend a Parish Mass and the Year 6 classes will visit Father Elver and have the opportunity to attend Reconciliation at this time.
Liwara Swimming Carnival
The Liwara Swimming Carnival will be held at HBF Arena Joondalup on Thursday 11 March. All Year 4 to 6 students will be participating. Parents are permitted to attend however, due to Covid restrictions, parents are unable to assist at this carnival and must remain in the allocated grandstand area at a distance from all the students at all times. A letter with further details will be sent home to relevant classes next week.
  From Year 6
We have had an action packed Leadership Day! The Year 6 team worked on the strength of their body, mind and heart. We started the day with a visit from IamFit Gym, where Coach Christian tired us out by pushing our body strength to our limits.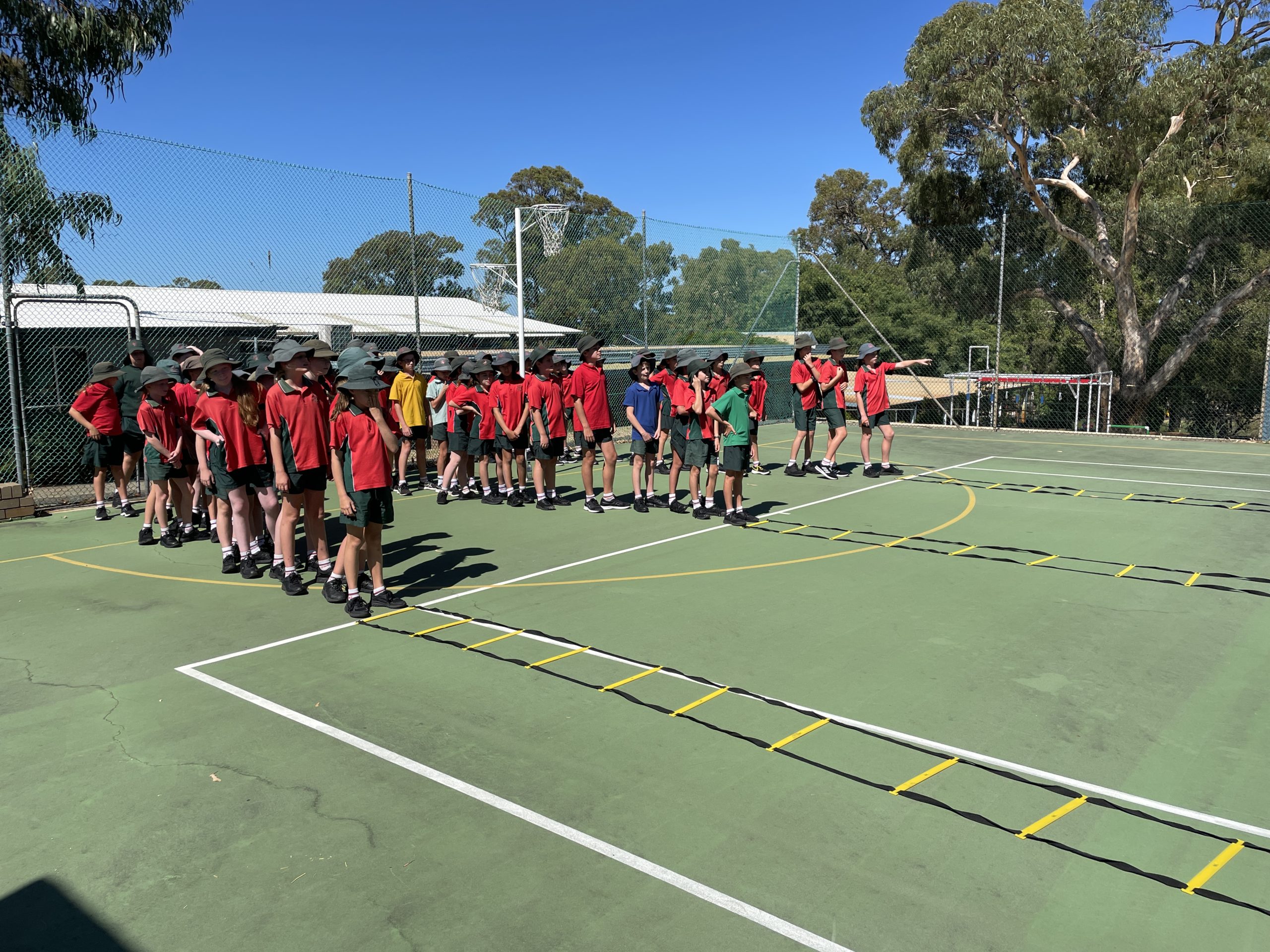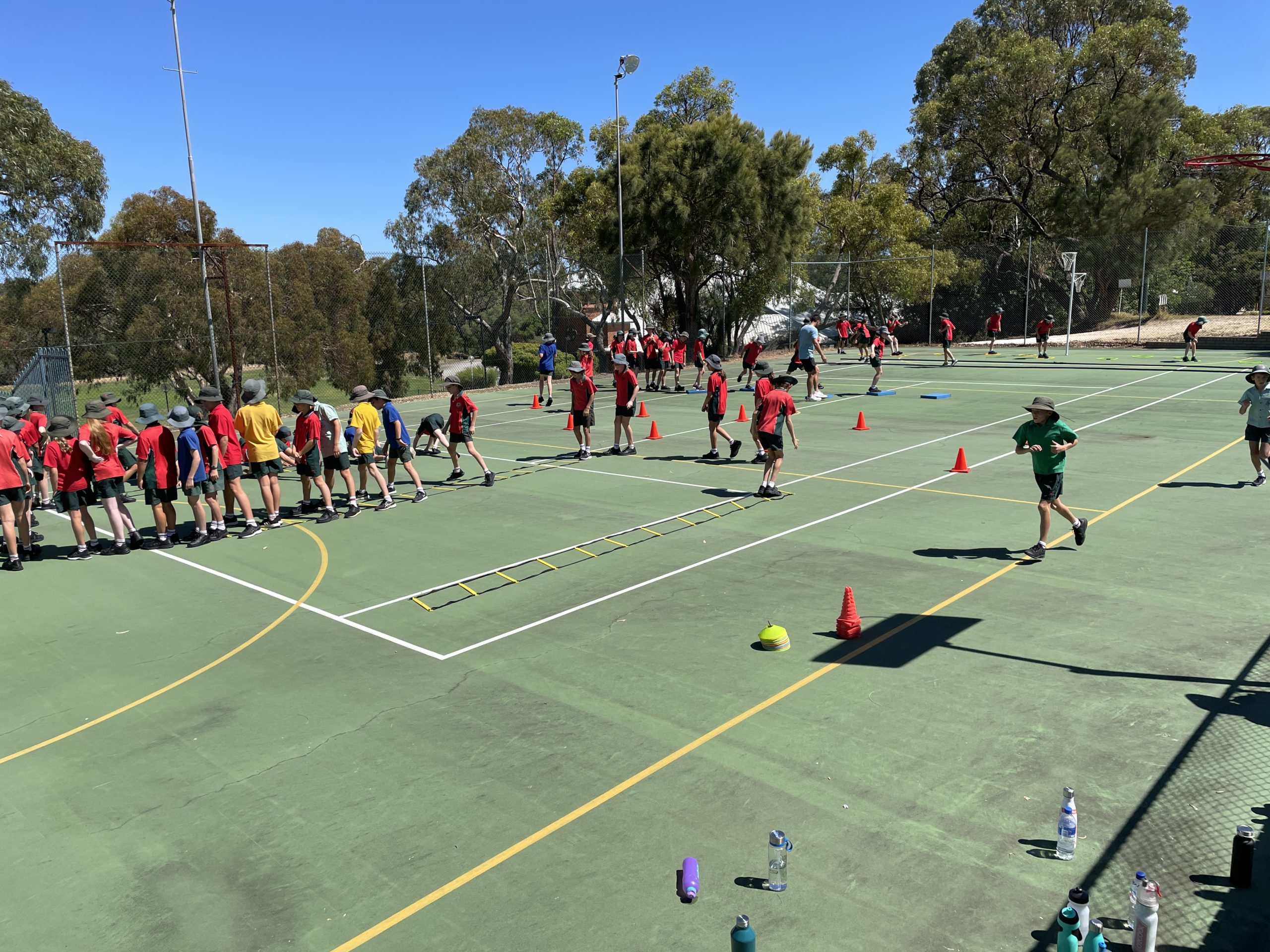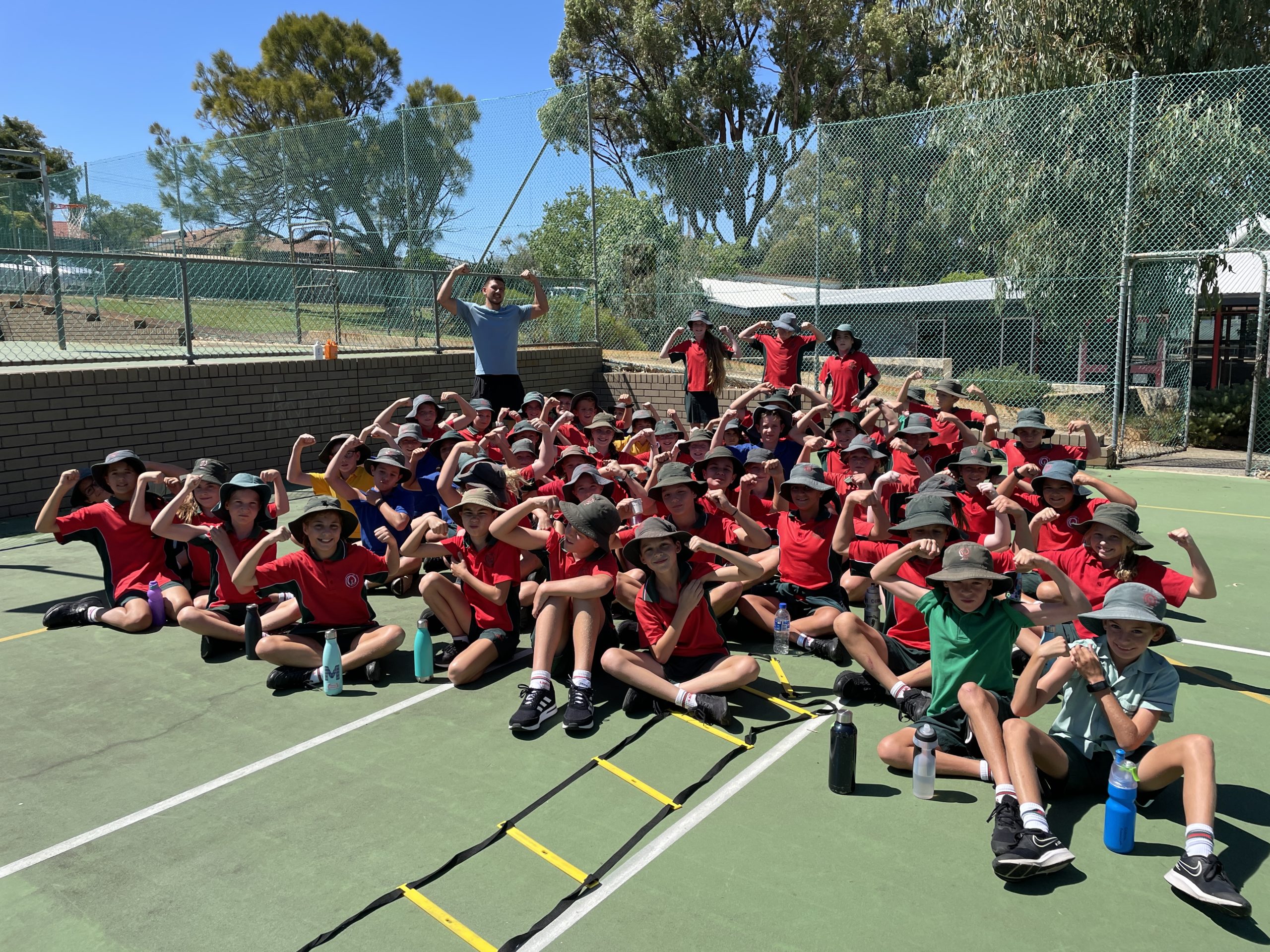 After recess, we enjoyed a visit from David, our Strong Mind coach, who spoke about leadership, positive attitude and responsibility.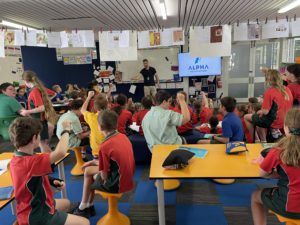 Finally, our day come to a close by reflecting on how we can be leaders in our school, using Jesus as our prime example. What a fun day!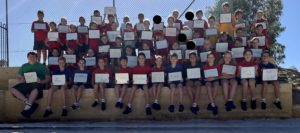 Welcome back to the new 2021 school year! We thank you for your continued support of the school through Greenbatch recycling of Container Deposit Scheme (CDS) containers. We have now raised $116.80 with your donations. That's amazing Liwara!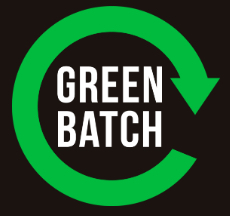 Sustainability continues to be an active focus at our school. Our garden beds on the southern side of our school have been emptied, ready to plant more vegetables. Our Year 2 planters are still growing parsley from which this year's seed will be collected. New seedlings will also be put into those planters soon for our Year 1 and 2 students to monitor.
Handy Hints for Sustainability
This week's handy hint is "Save your Container Deposit Scheme (CDS) recycling for Liwara!"
It's been fantastic to see the Greenbatch bins are still being used. Please keep bringing in your rinsed Type 1 and 2 plastics and aluminium cans for our Greenbatch recycling. We now accept CDS containers in our Greenbatch bins. We will label the bags with our CDS scheme ID C10339478.
Should you have a stockpile of these containers at home you are also welcome to drop them at RE.TURN IT (WA CDS) PTY LTD, 2/20 Abrams St Balcatta WA 6021, as long as the bags are labelled with Liwara's scheme ID shown above. Below is a picture of the containers we recycle through Greenbatch and the CDS.
Please keep collecting CDS eligible containers for our school fundraising!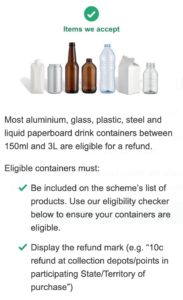 Stay safe, thanks for your continued patience and support. Have a wonderful Term 1!
Mr Greenhill and the Sustainability Team
Our Vacation Care program in January was full of fun and busy-ness!  We are currently planning for our  Vacation Care Program for the next school holidays.  Our ideas based on children's interests include woodworking, a Cha, Cha, Cha Latin America Day, Discovery Day and a Full S.T.E.A.M. Ahead Day. We would love to include any interests you or your children have so please let us know if you have any great ideas for activities or themes.
The children enjoyed many themed days including -
Pyjama party
Water splash
Prehistoric creatures
Camp mania
Harry Potter
Al Kazam the magic man
Hippie day
Little Inventors day
Super Hero Day
OSHC Boundaries
Just a reminder to parents that while OSHC is in session the area surrounding the OSHC room is for the exclusive use of OSHC.  This means that parents and children not attending the session cannot play in the area or use it as a thoroughfare.  It is a legislative requirement that areas licensed for OSHC use can only be used for OSHC purposes between the hours of 6:30am - 8:45am & 2:45pm - 6:00pm.  We thank you for your co-operation with this requirement.
Change in Hours of Operation
As a result of parent requests and the results of a subsequent survey our Before School Care service now opens at 6:30am.  Already the uptake to this initiative has been positive with many children now arriving before 7:00am.
A huge thank you to the dedicated OSHC staff who were so willing to support our parents needs.
OSHC will always support parents by providing a place where children can play, relax and pursue their interests in a safe, caring and stimulating environment.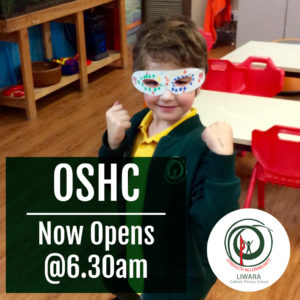 As well as learning about the history and traditions associated with Shrove Tuesday, our students had the opportunity enjoy a pikelet at recess. Thanks to the canteen ladies who made and sold over 60 pikelets to very enthusiastic children.  Well done Deb & Cathy!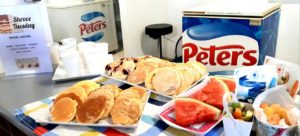 Ordering Details
Uniform order forms can be found on the school website https://www.liwara.wa.edu.au/school-uniform/. Full payment is required when you order and items will be delivered to your child's class on delivery.  If you have any questions about uniforms please send them via email to sales@jfe.net.au or call 9204 1701.
MERCEDES COLLEGE ENROLMENTS  
Victoria Square
PERTH  WA  6000
Mercedes College is currently interviewing Year 4 students who are due to start Year 7 in 2024.  If you are considering enrolling your daughter at Mercedes, please visit the Mercedes College website at www.mercedes.wa.edu.au to request a prospectus or to enrol online.  Applications for Year 7, 2022 and 2023 are also welcomed.  Please contact Mrs Julie Lamb on 9323 1340 if you require further information.
Open Morning - Tuesday 16 March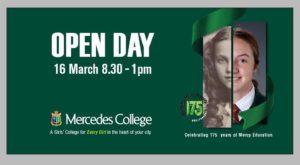 Located in the heart of Perth's beautiful heritage precinct, Mercedes College are proud to be celebrating 175 years of Mercy education, which makes the 2021 Open Day special! The Tour provides an opportunity for parents to hear from the Senior Leadership Team and enjoy a tour of College facilities led by some of our Student Representative Leaders.
There are two sessions: 8:30am or 11am. The 8:30am session offers families a morning tea, where you will have the opportunity to speak with some of our Teachers. Please register via the College website; www.mercedes.wa.edu.au/open-morning/
Catholic Church Insurance

All of our students are covered for 24 Hour Accident Insurance through Catholic Church Insurance Ltd. Students are covered even if the injury occurs out of school hours. Claims can be made online using the link - https://ccinsurance.org.au/Client-Centre/Claims/Pages/SchoolCare-Claim-Form.aspx OR download and complete the PDF and return it to the School Office. CCI School Care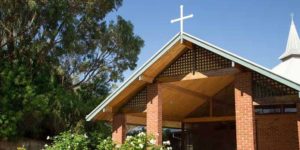 ​
All Saints' Catholic Church

​

PARISH PRIEST: FR ELVER DELICANO​
ADDRESS: 7 Liwara Place, GREENWOOD WA 6024​
TELEPHONE: 9447 6225      FAX: 9246 2692​
MOB: 0435 173 454 (for URGENT pastoral needs only)​

EMAIL: greenwood@perthcatholic.org.au​
PARISH OFFICE OPENING TIMES: Monday, Wednesday ​& Friday - 10.00am to 3.00pm​

MASSES: Monday – Friday 9.00am​

Saturday – 9.00am & Vigil -6.00pm​
Sunday – 7.30am, 9.30am & 5.30pm​
(Anointing every 2nd Saturday of the month)​

Reconciliation: Saturday 9.30am – 10.00am & ​5.00pm – 5.30pm or by request​
24:7 Greenwood Youth Group
For all youth in Years 6-12
This Sunday 6:30pm-8:00pm at the Church meeting room
Click on the links to download the latest newsletter.
Call Anthony on 0455 108 885 or Georgia on 0458 197 685 for more information
God bless,
Anthony and Georgia
24:7 Greenwood Youth Ministers