Prayer for Harmony Day
You created all people in your image.
We thank you for the astonishing variety of races and cultures in Australia and in our community.
Enrich our lives by ever-widening circles of friendship, and show us your presence in those who differ most from us.
Grant that we may always promote the justice and acceptance that ensures lasting peace and racial harmony.
Grant that we may show equal respect to all persons of different cultures that we may come across.
And help us to remember and appreciate that we are one country, with many stories.
Amen
FAITH          TRUST          RESPECT          MERCY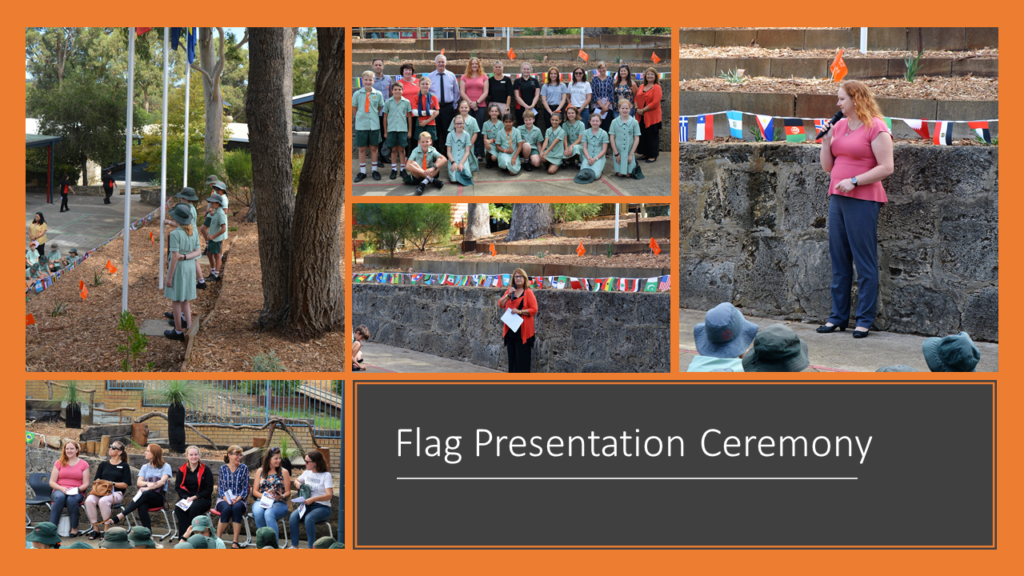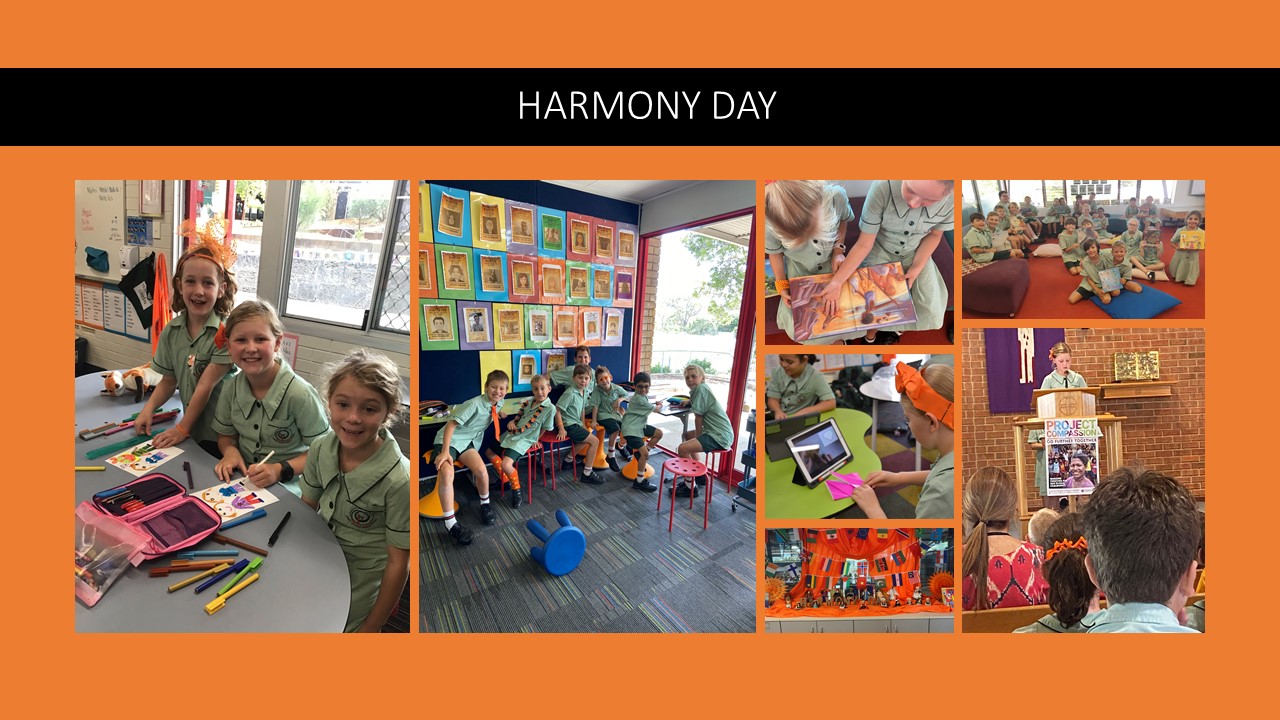 From The Principal's Desk
Dear Families                                
We celebrated Harmony Day this Monday along with our Flag Presentation Ceremony when Jessica Stojkovski, Member for Kingsley, presented the National, Western Australian and Aboriginal flags to our community. Our invited guests included Councillor John Logan from the City of Joondalup, Ian Bradshaw from the Wanneroo Rotary and Isobel Bevis a member of the Catholic Education Aboriginal Education Team.   In recognition of Harmony Day, our students were invited to wear an orange accessory to acknowledge multiculturalism in our school and celebrate the importance of PEACE and to spread the message that EVERYONE BELONGS! Harmony Day is a celebration of our cultural diversity and reminds us that as a country, many cultures call Australia home.  Australia is the most successful multicultural country on earth and we should celebrate this and work to maintain it.
Our Parent-Teacher Interviews, scheduled to begin next week, will still be going ahead, but parents have the option to  change it to a phone interview.  If this is more suited to your needs,  please contact your child's class teacher.  A Skoolbag notice went out to all families earlier today containing more detailed information.
PARENT-TEACHER INTERVIEWS - EARLY CLOSURE
On Tuesday 24 March, the school will be closing early so parents can engage with the teachers to go through their children's Interim Reports. The students are expected to be collected at 12.00pm, to allow teachers time to have their lunch before beginning the interviews.
Parent-teacher Interviews are a great way to find out about your child's progress at school.  By engaging in a parent-teacher interview, you also show your interest in your child's learning and school life.
Throughout your child's time in primary school, you'll be invited to attend parent-teacher interviews, twice a year.  These are usually just short meetings – about 10 - 15 minutes—between you and your child's teacher or teachers.  Every parent is invited to attend at least one interview a year.  Being  invited to a parent-teacher interview doesn't mean there's a problem with your child's progress.  Interviews might be held during school hours, before or after school, or in the evening.  It's good to make a time when both parents can go along, if you can.
Parent-teacher interviews give you a great opportunity to:
Learn more about your child's academic, emotional and social development
Meet and get to know your child's teachers
Help your child's teachers understand more about your child
Make plans with the teacher about how you can both support your child
Build a relationship with your child's school
If you don't have any particular concerns, you might wonder whether it's worth scheduling a parent-teacher interview.  But engaging with the teacher during an interview is one way to show your child that you're interested in his/her learning and what's happening for them at school.   Of course if you do have concerns, it's a chance for you to raise them with your child's teacher, if you haven't done that already.
It's useful to have a few other questions in mind too.  For example:
What are my child's strengths?
What does my child struggle with?
What can I do at home to help my child with schoolwork?
What can you tell me about my child's behaviour in class?
How is my child getting along with other students?
If you don't get through everything you want to discuss, you might need to arrange another meeting with your child's teacher.  Being open and friendly will set you up for positive communication with the teacher.
The creche from 12.00 - 3.00pm is still taking place.  However, the planned incursion has been cancelled in keeping with the notification sent out via Skoolbag on Tuesday March 17th with regard to outside presenters.
End of term Citizenship Awards
The end of term Citizenship Awards will still be awarded as planned. On Thursday 9th April, Mrs Millar will congratulate all individual recipients over the school public address system and will then go to each class to hand out the medal and certificate, personally. Class teachers will be taking photos of each student receiving their certificate and medal and the photos will be sent out to the proud parents.
PRE KINDY PROGRAM 2020
We currently have 15 students enrolled for our Wednesday program and can take at least 5 more, so if you have a child who has already turned three and are interested in enrolling them in our Pre Kindy please ring the Enrolment Officer, Karen Rosser.
Our Friday Pre Kindy session currently has a list of 6 students but to make it financially viable we can only start once we have at least 12 students enrolled.  If you are interested in your child joining the Friday program, who has already turned three or will be turning three soon,  please contact the front office as we will run the second session once our number increase.
KINDY 2021
If you have a child who turns four before the 30 June 2020, and you haven't yet filled in an enrolment form, please contact the Enrolment Officer, Karen Rosser and add their name to our Kindy 2021 interview list.
NAIDOC WEEK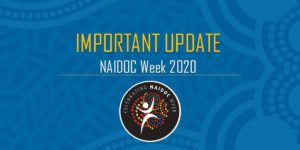 The National NAIDOC Committee has decided to postpone NAIDOC Week 2020 (5 July - 12 July) in the interest of safety for our communities. This decision was not taken lightly.
We have taken on-board the advice from the Federal Government, health experts, our key partners and from leading national Aboriginal and Torres Strait Islander health organisations.
We all believe that an escalating COVID-19 (Coronavirus) crisis as we head into winter would have disastrous impacts on our mob - especially for our elders and those in our communities with chronic health issues.
The National NAIDOC Awards scheduled for Saturday 11 July in Alice Springs will not go ahead as planned.
We have suspended the nomination process for the National NAIDOC Awards 2020 and announcement of the winner of the poster competition until further notice. The 2020 NAIDOC Local Grants Round has also been closed until further notice.
We are in the process of finalising a new date for NAIDOC Week 2020  - towards the end of the year  - and we'll continue to work closely with the National Indigenous Australians Agency and our partners for NAIDOC Week 2020.
From The Assistant Principals' Desk
School Assemblies 
All school assemblies, Whole School Prayer Services and Class Visits have been cancelled till further notice due to the current advice from the Health Department WA. 
Caritas Project Compassion 
Please be considerate of those less fortunate than us this Lent and make every effort to make donations into the Project Compassion Box that your family (or your child's class) were given at the beginning of Lent. These will be collected towards the end of Term.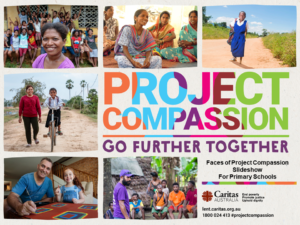 Liwara 
Swimming Carnival
A very big congratulations to all our Year 4, 5 and 6 students who competed in the Liwara Swimming Carnival last week. The outstanding level of sportsmanship was, once again, something of which to be proud. All competitors did their best in their efforts to achieve well for their faction with impressive support from their cheerleading team in the bay. A very big thank you to all the parents who volunteered their time to assist with the running of the Carnival. Congratulations to Aroona on their third win in a row, in a very tightly fought competition. The results of the carnival are detailed below:

1st Aroona 255
2nd Rawlinna 228
3rd Teangi 224
4th Boree 218

Champion Swimmers

 

 

 

Boy

 

Girl

 

Year 4

 

 

 

 

 

 

Champion

 

Flynn Hayter

 

Mia Willoughby

 

 

 

Runner up

 

Aiden Nelligan

 

Abigail Allison

 

 

 

2

nd

 runner up

 

Kobe Pope

 

Isabelle Moala

 

Year 5

 

 

 

 

 

 

Champion

 

Zac Carmignani

 

Caitlin Portwood

 

 

 

Runner up

 

Ryan Taylor

 

Mackenzie Gilford

 

 

 

2

nd

 runner up

 

Sam O'Brien

 

Ashleigh Thorsen/Mia Leather

 

Year 6

 

 

 

 

 

 

Champion

 

George Hemmingway

 

Christina Edwards

 

 

 

Runner up

 

Harrison Gilford

 

Zadie Torkington

 

 

 

2

nd

 runner up

 

Smith Mak

 

Jalyn Klijn-Francesconi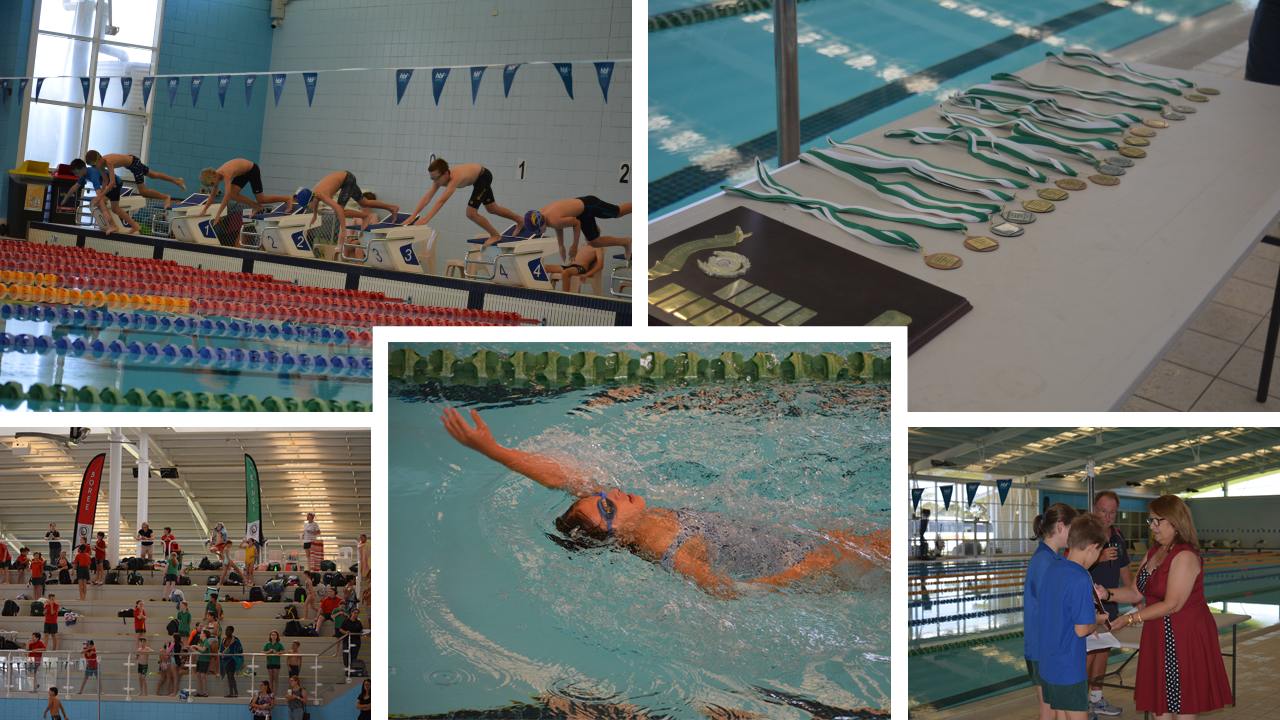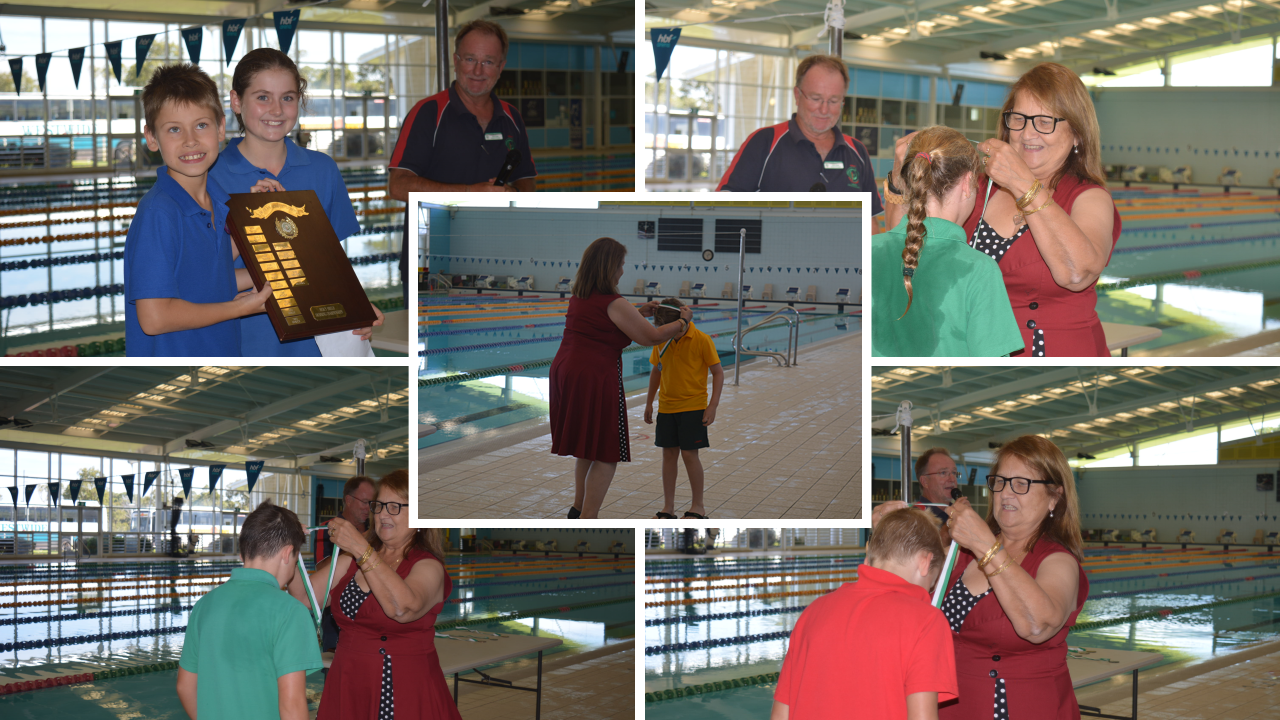 Friendology
Friendology has been adopted by our school and supports our teachers to create a school culture that promotes positive mental health, wellbeing, and kindness. Using children's language for children's problems and a practical, step-by-step approach.  Friendology teaches children how to work through challenges independently and make decisions that support happy, healthy relationships.
URSTRONG, the website responsible for Friendology resources is now giving parents free membership which allows them to access the Friendology resources. Year 1 & 2 children will take part in the Friendology program in Term 2. Please see your Seesaw notice for access details.
Please refer to the school calendar on this website for more information
22nd  - 28th March - Week 8
Sunday -
Monday -
Tuesday - Parent/Teacher interviews - Half Day Closure
Wednesday -
Thursday -
Friday -
Saturday -
29th March - 4th April - Week 9
Sunday -
Monday - Year 5 Prayer
Tuesday -
Wednesday -
Thursday -
Friday -
Saturday -
Pre-Primary News
We cannot believe it is already Week Seven! They do say time flies when you are having fun. Week Six was an exciting week for Pre-Primary! We started The Perceptual Motor Program, which runs on both Monday and Friday. PMP allows the students to work through a sequence of experiences to develop perception and motor outcomes, along with memory training, which is essential in the learning of reading and writing. Parents and other family members have been invited to help us with our balancing, throwing, catching and to have fun with us. 
Thank you to Mr Dols, Mrs Bywater, Mrs Pearce and our PP families for ensuring our Program runs smoothly and is enjoyable for all.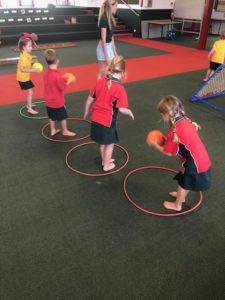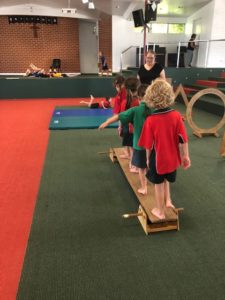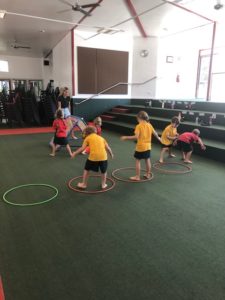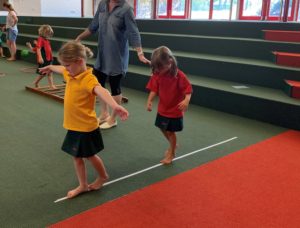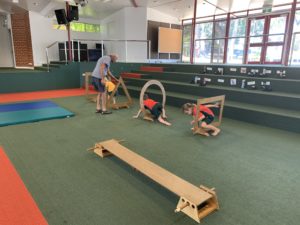 Harmony Week
In the library we shared books for children about cultural diversity which was our way to start a conversation about identity.  As a school we celebrated Harmony Day on Monday and children took part in activities in their classrooms and with their buddy classes based on the theme 'Everyone Belongs'. Picture books have a special way of delivering messages that encourage sharing and inclusion.
Children in Years 4-6 enjoyed a selection of 'Harmony Week' themed picture books.  They then joined with a buddy to explore the themes presented in the books and were asked to 'be the blurb' when retelling the story presented in the book!  Their recall and confidence in retelling the stories was both moving and impressive.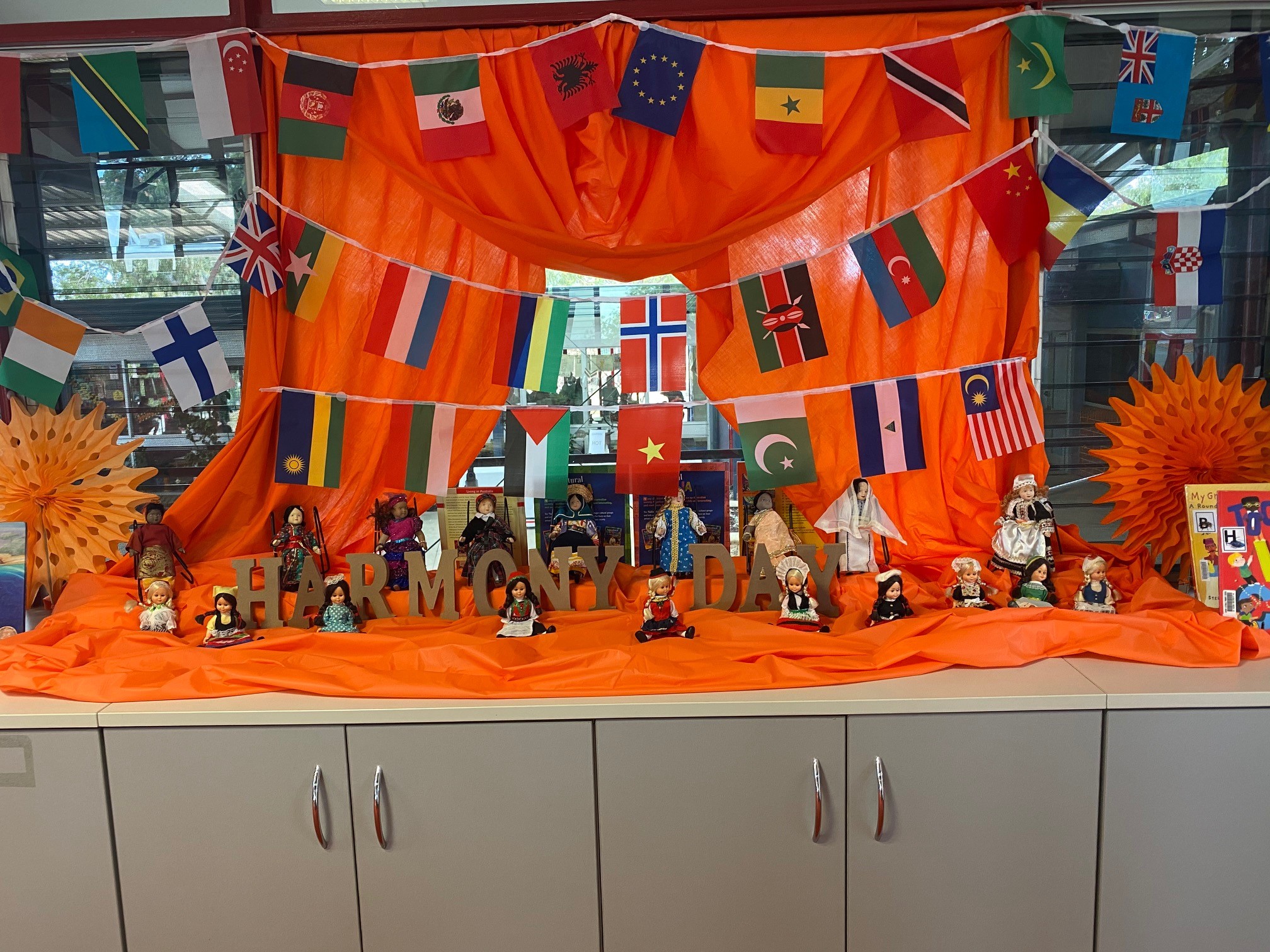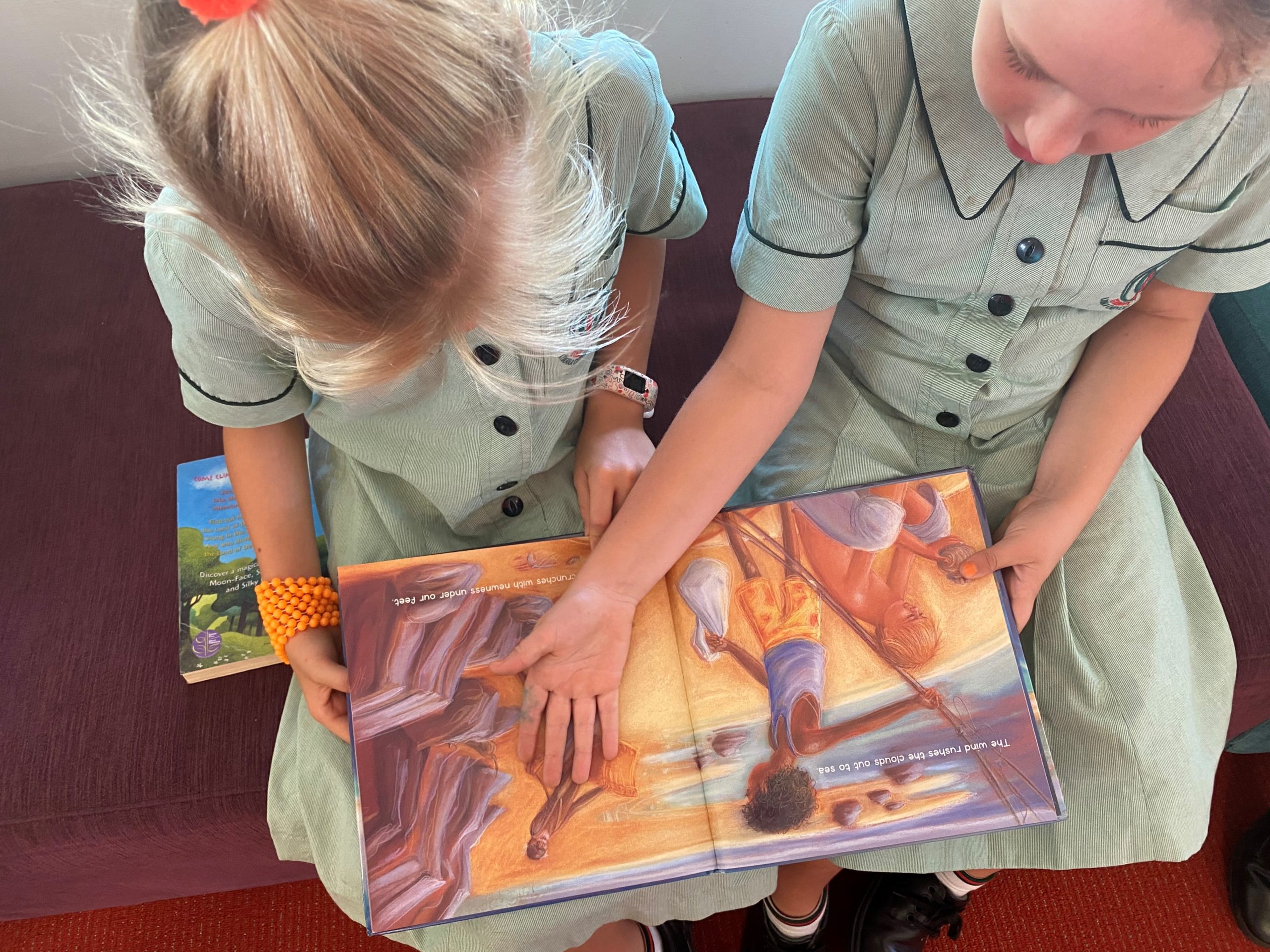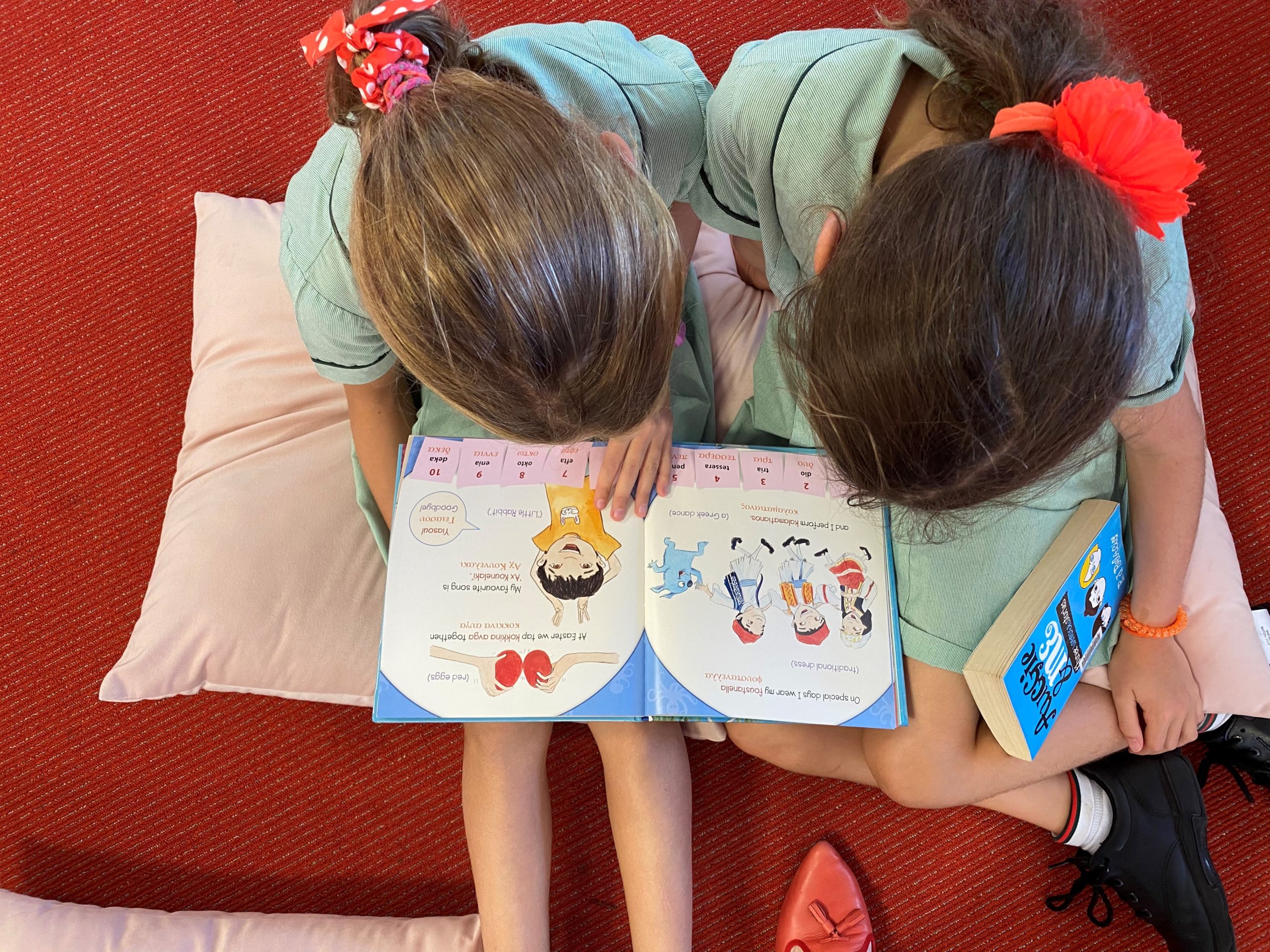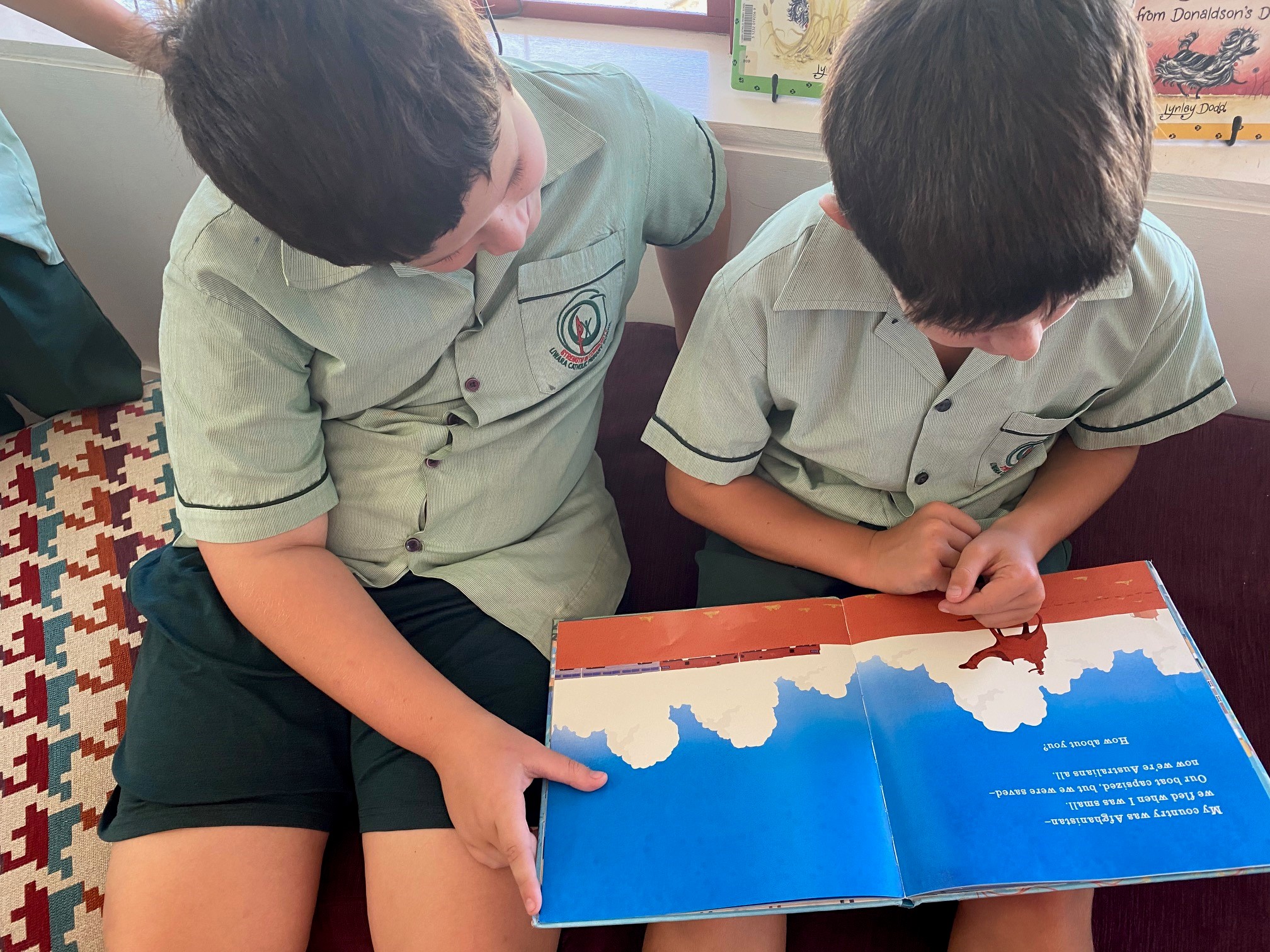 Sustanability
It has been another fantastic week with our sustainability focus at Liwara. Students are actively sorting their waste into food scraps, clean soft plastics (for redcycle), clean paper waste, clean aluminium foil, cans,  hard plastics, and popsticks. Wow! That is a LOT of recycling. All of our other waste goes into our general waste bin located on the right-hand side next to the canteen in the undercover area. Together we are making a difference to our waste footprint. 
Our Liwara Green team have been busy out in the school gardens planting seeds. Soon we shall plant seedlings to transplant into the new Junior Primary Sustainable Gardens which have now been filled with a healthy soil mix of sand, Liwara mulch and horse manure. We look forward to seeing these gardens flourish over the year. 
Handy hints for Sustainability
If you and your Liwara family want to live more sustainably in 2020, here is another thing you can do. This week's tip is to "Install a water efficient showerhead". If you have not done this already, it is a great way to save money and energy with a water-efficient showerhead because they use up to forty per cent less water. Replacement of old showerheads with water saving showerheads is the way to go. You can find water saving service providers recommended by Water Corporation at https://www.watercorporation.com.au/save-water/search-for-waterwise-services 
Let's all do our best to live more sustainably and have a great week Liwara! 
CANTEEN NEWS
We have had the students asking when the pies would be available for ordering, and we are pleased to advise that the beef pies were finally added to the menu last week and are available on Tuesdays at this stage.  
We have used good quality ingredients and they are delicious.  
Our new Thermomix has done a great job in helping us prepare this new item for the menu.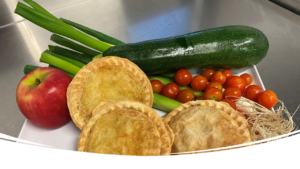 THU 2 & FRI 3 APRIL CHANGE IN CANTEEN MENU
Please note the usual canteen menu will not be available for ordering on Thursday and Friday the 2nd & 3rd of April.  
However, a Subway Special on Thursday and Sushi on Friday will be available on these days only.  
Ordering will be via Quickcliq as normal, remember to choose your options. 
We have been asked to send in your orders prior, so please PRE-ORDER BY CUT OFF 9am TUESDAY 31st MARCH for both days. 
The menu with options will be online and available for pre-ordering this week under "Subway Thursday" up to Tuesday 31st, once details are finalised.  
Thank you for supporting the Canteen and to all of our wonderful new and past helpers we really do appreciate you giving your time to us.  Thank you Deb & Cathy
TRINITY COLLEGE MUSICAL: THE MIKADO
Trinity College is proud to present 'The Mikado', a musical comedy written by Gilbert and Sullivan (arranged by David Spicer Productions, Essgee Entertainment) and is set in the fictitious town of Titipu, Japan. Nanki-Poo, the son of the Mikado (the Japanese emperor), has fled in disguise to avoid his arranged marriage to Katisha, to find his beloved, Yum-Yum. He soon discovers that Yum-Yum is already engaged to Ko-Ko, the Lord High Executioner and thus, a love triangle begins. As usual in Gilbert's imaginative plots, the tangled web unravels, nothing is as it seems and everyone lives happily ever after! This musical is characterised by the clever wordplay, memorable tunes, and unforgettable characters. Tickets for the performances on the 7,8 and 9 of May are now on sale and can be purchased via this link:http://www.trybooking.com/BGSTC.
TRINITY COLLEGE OPEN DAY – WEDNESDAY, 13 MAY 2020
Discover Trinity College at our Open Day on Wednesday, 13 May 2020 to learn more about the unique TC Spirit and the vast curricular and co-curricular opportunities that the College has to offer. Each of our College Open Day sessions will include an address from the Principal and Junior/Senior Head Prefects, student-led tours, light refreshments and a Q&A with key staff, teachers and the admissions team. We look forward to meeting you! Please note that your son is welcome to attend the Open Day. Further details can be found via www.trinity.wa.edu.au or you can register directly through https://www.trybooking.com/BILZB. You can also email registrar@trinity.wa.edu.au or call 9223 8120.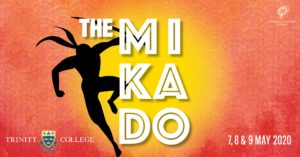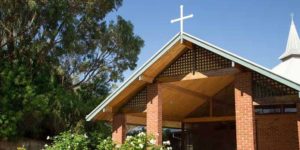 ​
All Saints' Catholic Church

​

PARISH PRIEST: FR ELVER DELICANO​
ADDRESS: 7 Liwara Place, GREENWOOD WA 6024​
TELEPHONE: 9447 6225      FAX: 9246 2692​
MOB: 0435 173 454 (for URGENT pastoral needs only)​

EMAIL: greenwood@perthcatholic.org.au​
PARISH OFFICE OPENING TIMES: Monday, Wednesday ​

& Friday - 10.00am to 3.00pm​

MASSES: Monday – Friday 9.00am​

Saturday – 9.00am & Vigil -6.00pm​
Sunday – 7.30am, 9.30am & 5.30pm​
(Anointing every 2nd Saturday of the month)​

Reconciliation: Saturday 9.30am – 10.00am & ​

5.00pm – 5.30pm or by request​
24:7 Greenwood Youth Group
Youth Group Goal 
For the Youth to gain an understanding of the importance of the Sacrament of the Anointing of the Sick, both in their own lives and in the Church.
For the Youth to connect with the Youth Mission Team.
Goal Status 
This was achieved, as through the talk and activities during the night, the youth were able to connect to and learn about the Sacrament of Anointing of the Sick.
This was achieved as during the free time and night, the Youth Mission Team was able to build relationships with the Youth.
Youth Group Attendance  - 34
Youth Group Talk / Focus  - Anointing of the Sick by Carlos  
Anointing of the Sick is a sacrament of healing which we can receive multiple times.
It can bring both a physical healing as well as spiritual readiness for our death.
We get the sacrament from Jesus' healing ministry and when he told the 72 disciples to go out and anoint the sick.
Next Youth Group Theme   - Holy Orders 
Ministry Activities / Mass Parish/Newsletter Promotion 
24:7 Greenwood Youth Group
For all youth in Years 6-12
Every Sunday 6:30pm-8:00pm at the Ahern Centre in Liwara Catholic Primary School
Coming Up: Confirmation fire night
Call Anthony on 0481 737 771 or Georgia on 0458 197 685 for more information
God bless,
Anthony and Georgia
24:7 Greenwood Youth Ministers