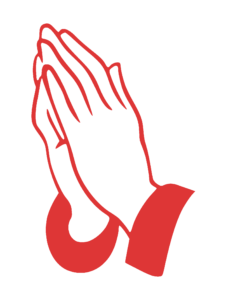 SORRY DAY PRAYER
Almighty and loving God, you who created ALL people in your image,
Lead us to seek your compassion as we listen to the stories of our past. You gave your only Son, Jesus, who died and rose again so that sins will be forgiven.
We place before you the pain and anguish of dispossession of land, language, lore, culture and family kinship that Aboriginal and Torres Strait Islander peoples have experienced. We live in faith that all people will rise from the depths of despair and hopelessness. Aboriginal and Torres Strait Islander families have endured the pain and loss of loved ones, through the separation of children from their families.
We are sorry and ask God's forgiveness.
Touch the hearts of the broken, homeless and inflicted and heal their spirits. In your mercy and compassion walk with us as we continue our journey of healing to create a future that is just and equitable.
Lord, you are our hope. 
Amen.

The Liwara Newsletter, Volume 8

  In this week's newsletter:
Sorry Day
P & F Lapathon
Ramp Leading to Oval
Cross Country
Classroom Activities
and more...
Dear Parents and Caregivers
SORRY DAY
Friday 26th May is National Sorry Day. On this day, let us all reflect on the need for genuine reconciliation- not just in word, but in deed and action. As a school we acknowledge the importance of this day. We are making an artwork in the garden bed leading up to the flagpoles titled "Walking towards Reconciliation".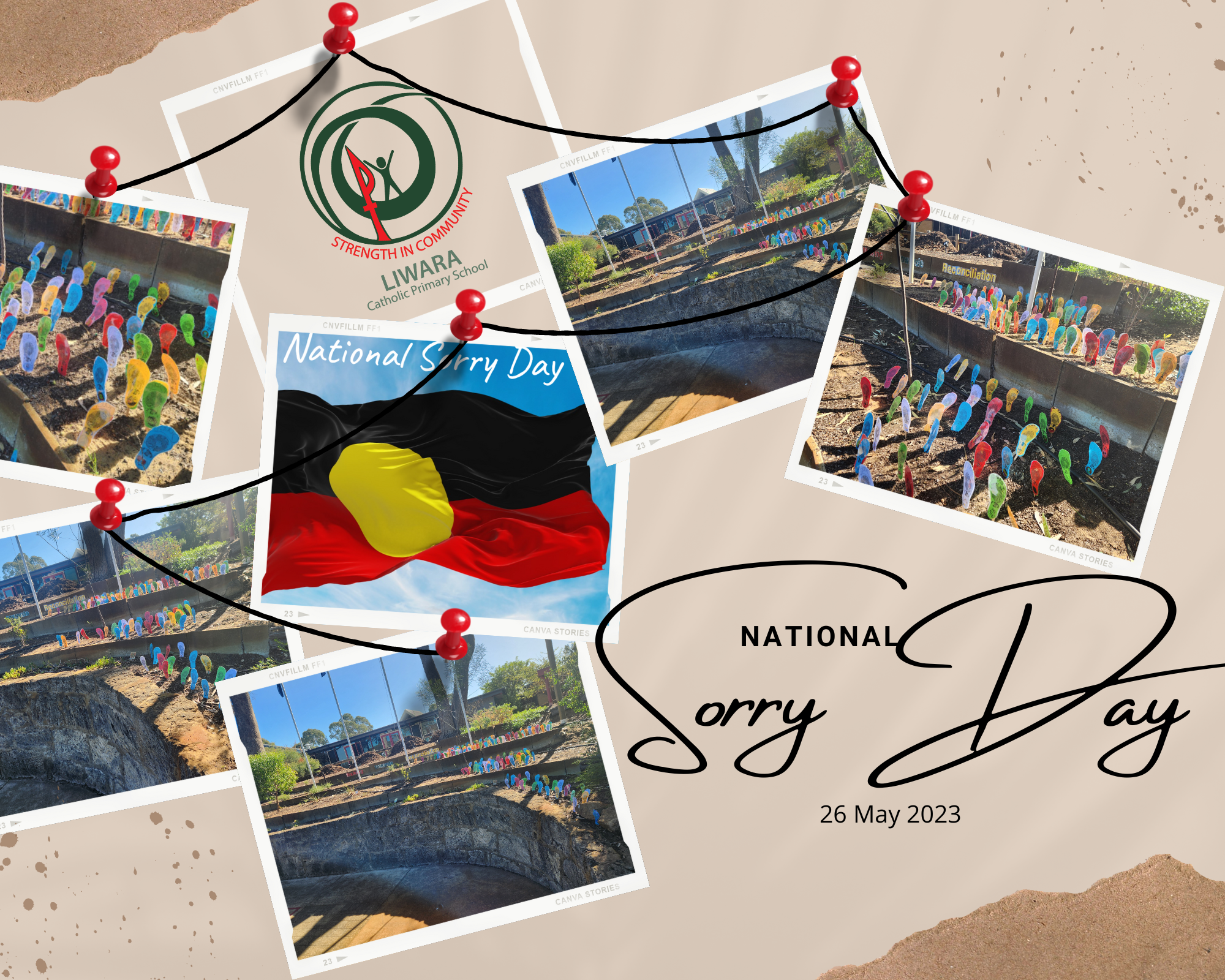 P & F LAPATHON
The P&F Lapathon was held last Friday 19th May. It was a beautiful sunny day! The students were very excited and the music added to the wonderful atmosphere. The students certainly tried very hard and ran MANY laps.  
Thank you to our wonderful P&F volunteers who set up and ran the event. Everyone had lots of fun, especially during the colour run part of the Lapathon. 
Thank you to our generous families for fundraising and collecting the donations. The money raised will go towards important projects to improve the school for our students.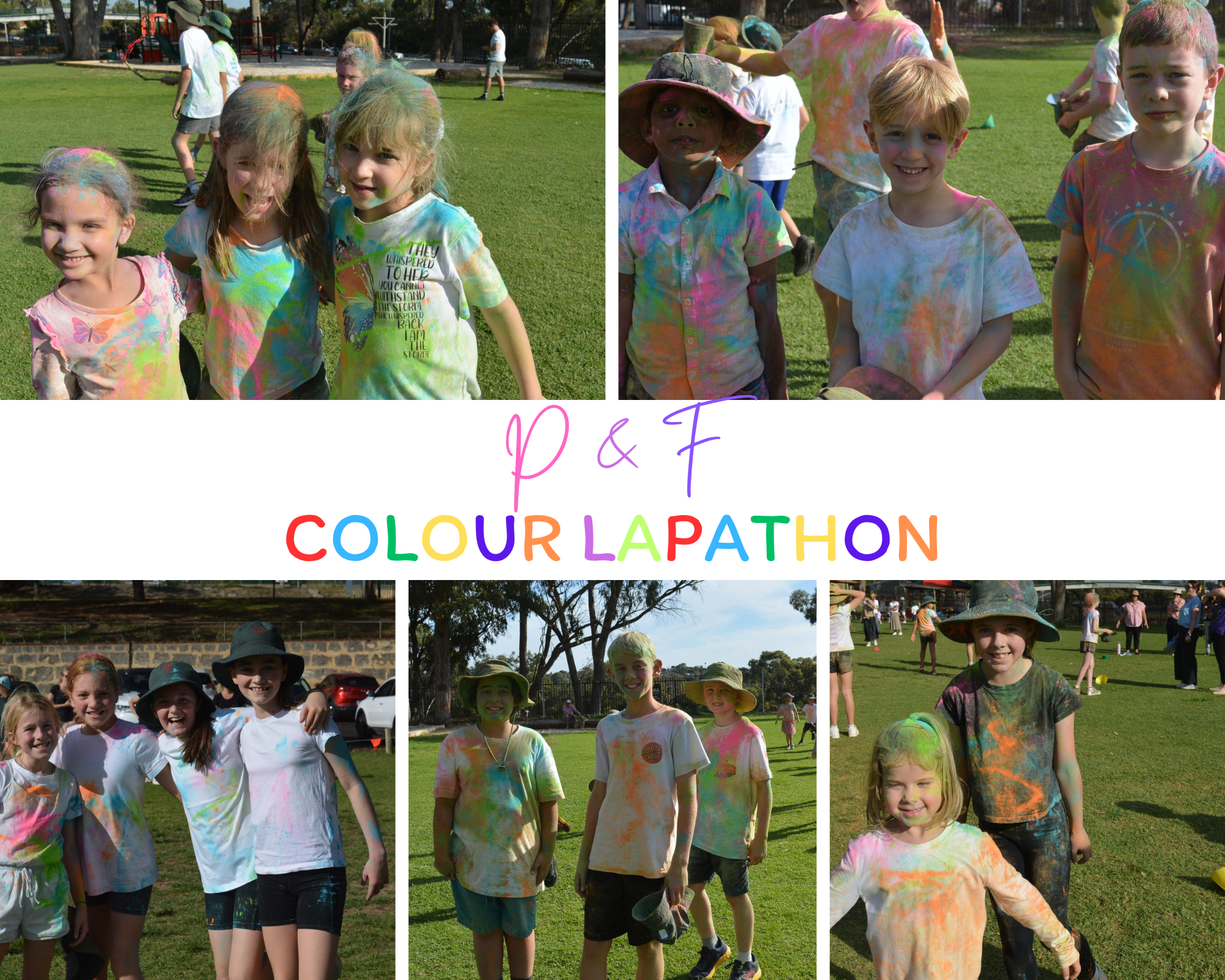 RAMP LEADING TO OVAL
The ramp leading to the Oval has undergone some maintenance upgrades which include more tactiles and 2 handrails. Thank you to Mr Graffin for completing this work so that there was minimal disruption to drop off and pick up times.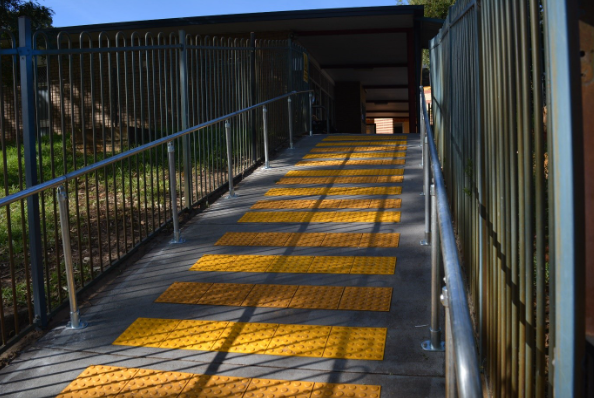 CROSS COUNTRY
The students competed in the Liwara Cross Country on Friday 26th May. Many students have been training hard for this event by attending Running Club on a Tuesday and Thursday morning. They had lots of fun and tried hard to achieve their personal best. Thank you to Mr Sanders for coordinating this event. 
CLASSROOM ACTIVITIES
I have been fortunate to attend many wonderful activities and events going on in our classrooms over the last two weeks. These include Pre Kindy Mother's Day pamper session, Year 6 sewing lessons, Year 2 Reading rotations, Year 5 oral reading, Italian lesson on ordering a hot chocolate (and a hot chocolate for me too), Year 1 guest speaker to learn what life was like in the past and many more examples of all the wonderful work going on in our classrooms and a reflection on our dedicated hard working staff. Even just walking around the school, the students are engaged in lessons using the outdoor learning environment, working in small groups with the teacher and Education Assistant and participating in our Specialist classes. Liwara is a vibrant place to learn!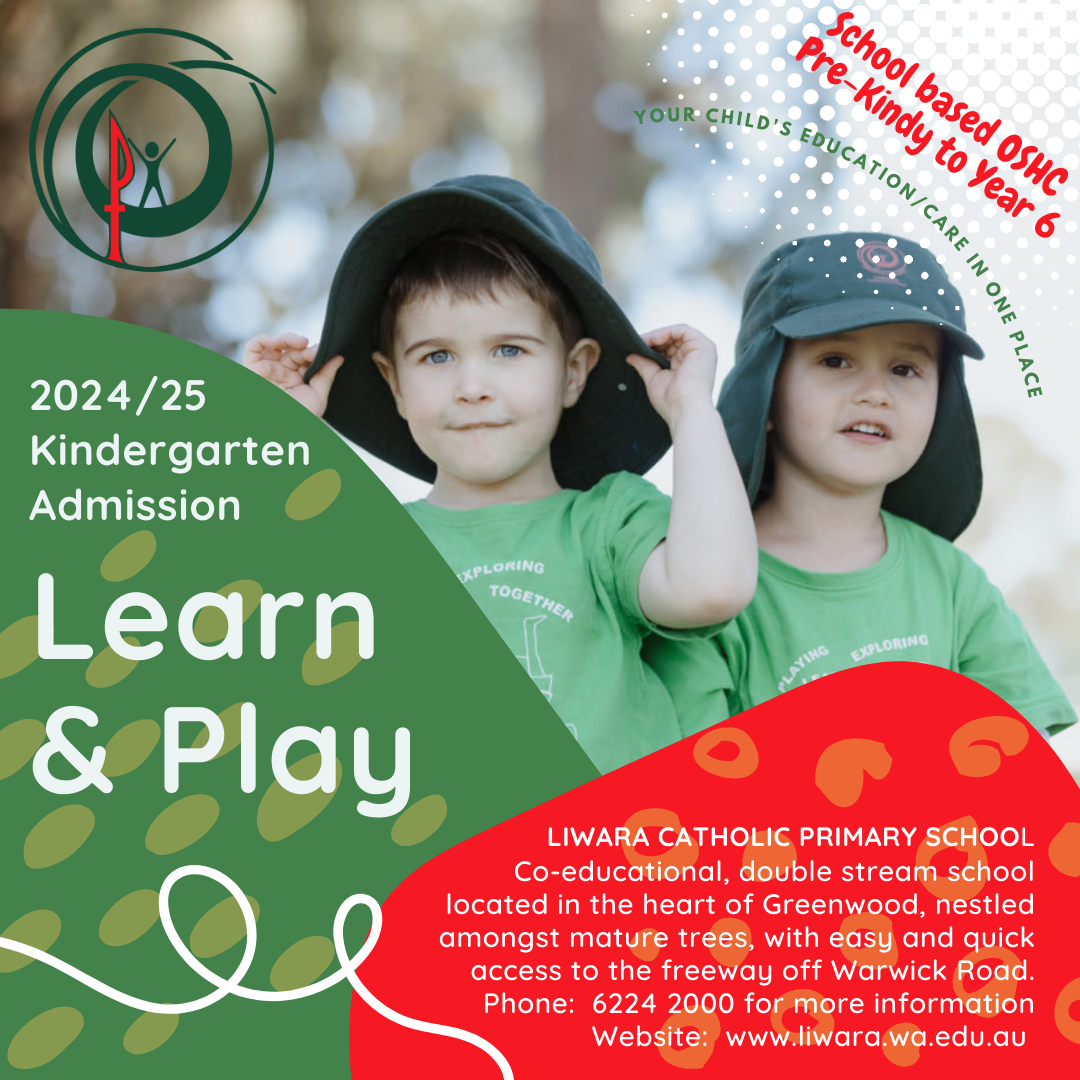 ENROLMENTS FOR CHILDREN STARTING SCHOOL IN KINDY 2023/2024/2025 AND PRE KINDY 2023/2024
We currently have a limited number of vacancies for Kindy 2023, I urge you to contact our enrolment officer, Mrs Karen Rosser as soon as possible, to discuss the enrolment process. I am currently meeting with future and current parents for our 2024 Kindy and Pre Kindy placements. Enrolment information and applications can be downloaded from our school website HERE or a paper copy can be collected from the school office.
If you would like to join a tour, registrations are essential and available via our school website.
Wishing you God's blessings and a wonderful weekend!
Miss Angela Leddin
Short Term Principal
FROM THE ASSISTANT PRINCIPALS
PERFORMANCE ASSEMBLY FOR TERM 2
Year Five will present a Performance Assembly on Friday the 9th of June at 2.15pm in the Liwara Hall.   All families are welcome to attend.
WINTER CARNIVAL
On Thursday 1st June, Year Five and Six students will participate in the NIPSSA Winter Carnival.  Students will participate in the sports of AFL, Soccer and Netball.  Please check the link sent on Seesaw for further information shared by Mr Sanders.
FIRST HOLY COMMUNION
Please keep our First Holy Communion candidates in your prayers as they prepare to make their sacrament. The celebration Masses will take place on:  
Saturday the 10th of June at 6pm 
Sunday the 11th of June at 9:30am and 5:30pm 
Saturday the 17th of June at 6pm 
Sunday the 18th of June at 9:30am 
UNIFORM
Thank you to the families who ensure their child/ren wear our Liwara school uniform correctly and with pride. A reminder that hair longer than a child's collar must be tied up and uniforms should be neat, clean, tidy and in good repair. The uniform requirements can be found on the school website here -> https://www.liwara.wa.edu.au/school-uniform/ Students without a parent note who are not in correct uniform will be issued a uniform infringement. 
LIFELINK DAY
Our Year Six Environment Ministry will travel to Newman College on Wednesday the 7th of June for LifeLink Day. LifeLink support those in our community who are doing it tough. To fundraise for this wonderful cause, we will have a free dress day with a gold coin donation on Friday the 9th of June. Buddy classes will also work together to write prayers that will be displayed on a LifeLink Prayer Tree in the Breezeway. 
Mrs Jesseca Francis & Mrs Remy McGavigan
Assistant Principals
MAKING JESUS REAL
Our current MJR focus is 'Be a Giver' and not a taker in life – this does not refer to presents at Christmas but rather giving of yourself to help others (E.g. a smile, a hand to pick up dropped pencils, opening the door for someone etc). Being a giver will cost you nothing!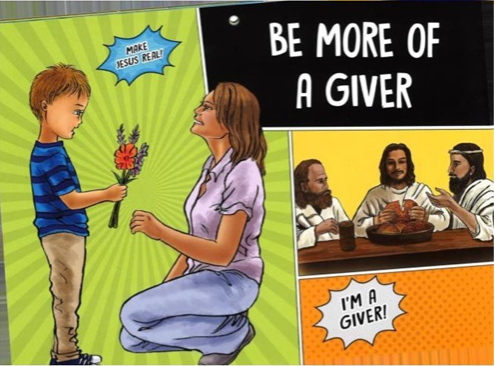 IMPORTANT DATES 2023
TERM  2 DATES: Wednesday, 26 April – Thursday, 29 June
Week 6
May 29 Year 4 Communion Retreat
May 29 Year 3 Parish Mass @ 9.00am
May 29 Year 5 Excursion
June 1 Year 5 & 6 Winter Carnival
June 2 Certificate Assembly
Week 7
June 5 Western Australia Day Public Holiday
June 6 P & F Meeting @ 7.00pm
June 9 Year 2 Parish Mass @ 9.00am
June 9 Free Dress Day - Lifelink Day
June 9 Performance Assembly Year 5 @ 2.30pm
June 10 First Communion Mass @ 6.00pm
June 11 First Communion Masses @ 9.30am & 5.30pm
The Social Justice Ministry would like to say thank you for your efforts in donating to Wheel Chairs for Kids. Your stuffed toys will put a smile on the face of the child who receives them. We are very appreciative and we hope that you are proud of yourself, let's keep being givers!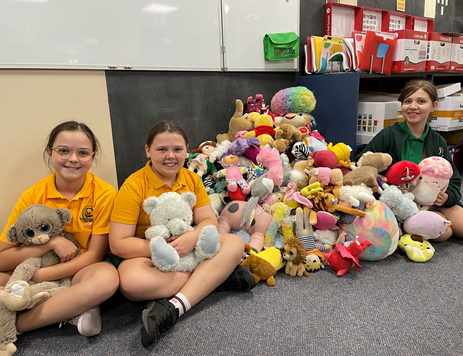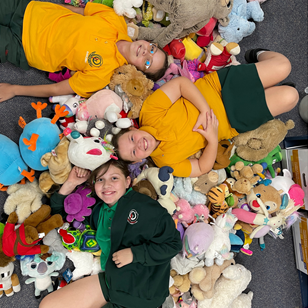 All students are encouraged to return their borrowed books before school from 8.15am to go into the weekly raffle draw. 
Library Days 
Tuesday – Years 3 & 4 
Wednesday – Years 2, 5 & 6 
Thursday – Kindy, Pre-Primary & Year 1
Library Bags for Sale
The Liwara Craft Group have made Library bags.  They are selling them for $10.00 a bag and all profits go towards the craft stall for the school fair.
If you are interested in purchasing one or more of these beautiful bags, they can be purchased through trybookings:
https://www.trybooking.com/events/landing/524560
Then bring their receipt to the Library and select a bag.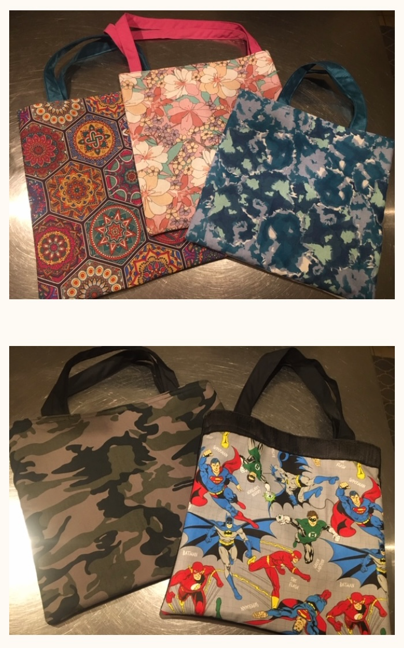 NATIONAL SIMULTANEOUS STORYTIME
We had a great time at National Simultaneous Storytime on Wednesday, 24 May. More than 4,000 schools across Australia joined in, with a shared goal of promoting reading and literacy in children.  This year's book 'The Speedy Sloth' was read by the author Rebecca Young via livestream. Students then enjoyed various games and craft activities in the library.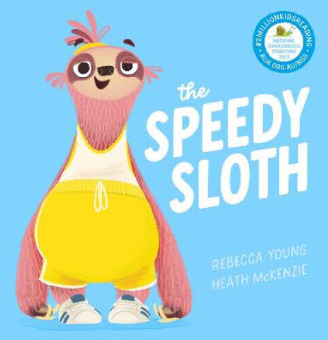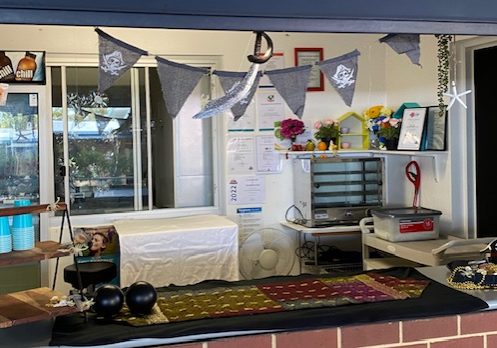 On 13th June, the West Australian School Canteen Association will be holding a finance meeting at our school.     We are pleased that they have chosen our school to hold one of their important educational meetings for any canteen staff able to attend.   Coming up also are the new Food Safety Standards which will be in effect by the end of 2023.   WASCA have answered many questions from Canteen staff, parents and volunteers and more information will be made available to us as the year progresses with regard to training.
The new menu item of GF Fried Rice, available for winter, is selling well.   This is a coded green item with plenty of fresh vegetables added, a nice warm lunch for a cold day.  Focaccia pizza slabs are one of our most popular items now, which was added onto our menu initially for a trial period, along with the ever-popular macaroni cheese and spaghetti bolognaise.
We included the canteen in the Pirate Day to raise awareness and funds for childhood brain cancer research.   We hope you purchased a tasty recess from the canteen and enjoyed our display and the pirate stickers on your lunch bags.   This is a worthy cause to support.
Please note that sushi orders cannot be changed as we order this item in advance.
Thank you for supporting the Canteen.
The Uniform Shop is open Thursdays from 8.15am - 9am for all your uniform needs!  Doors will not open outside of these hours.
JFE Details
Phone: 9204 1701
Email: saes@jfe.net.au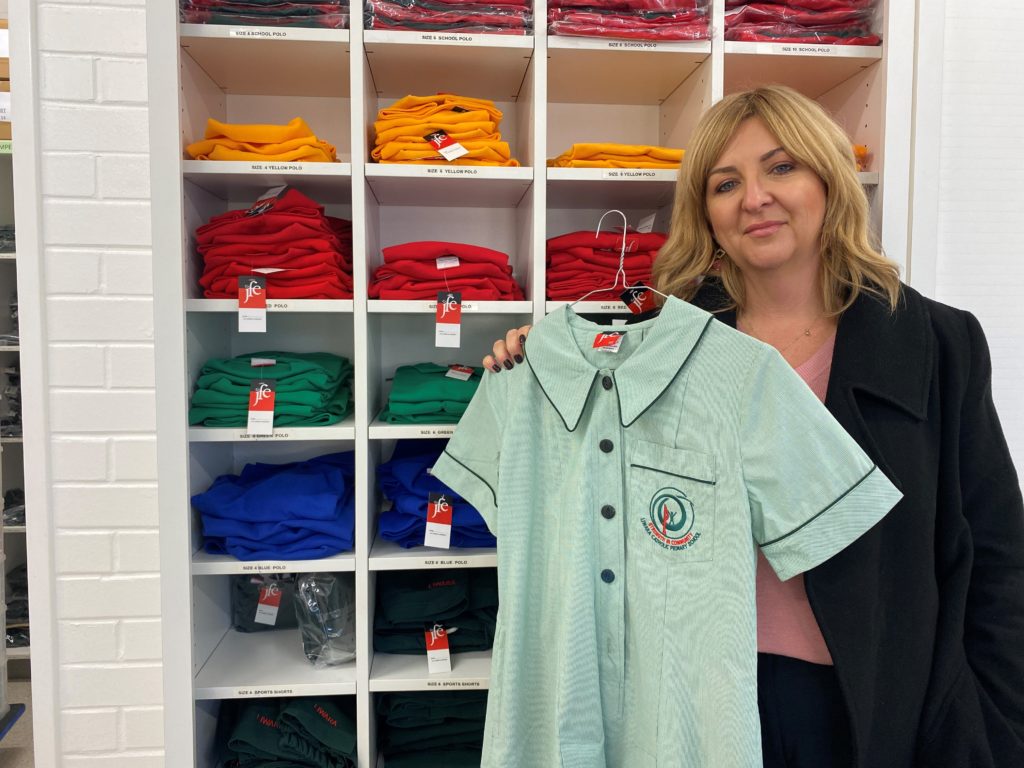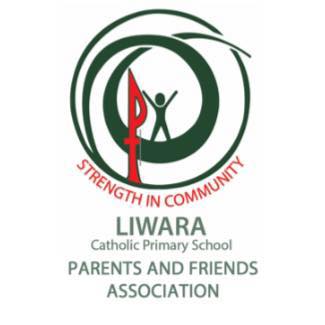 To read this weeks P & F Newsletter, click here.
Please see our current Try Bookings Form and Reimbursement Form below:
To keep up to date, head to our private Facebook page by clicking here.
ALL SAINTS GREENWOOD
7 Liwara Place
Greenwood, WA
6024
PARISH PRIEST
Father Elver Delicano
REGULAR MASS TIMES
Monday – Friday 6am & 9am
Saturdays 6pm
Sundays 7:30am, 9:30am & 5:30pm
Anointing every 2nd Saturday of the month
OFFICE OPEN TIMES
Monday, Wednesday and Friday 10am - 3pm
CONTACT
m: 0466604754
e: greenwood@perthcatholic.org.au
PERTH ARCHDIOCESE WEBSITE
www.perthcatholic.org.au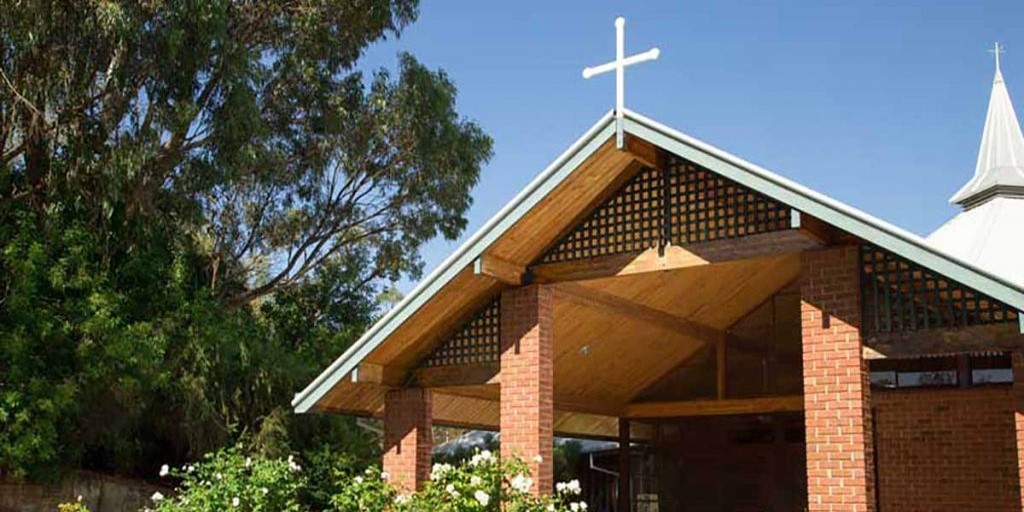 PARISH YOUTH MINISTRY NEWS

Youth Group Goals 
20 youth to attend.
To give our young people the opportunity to share their gifts and talents.
To create a safe and engaging space for our young people.
Goal Status 
We achieved our goal as we had an attendance of 32 this week.
We were able to do this as we had our Talent Show this week and had a number of young people taking part.
We were able to achieve this as our leaders were able to spend time engaging and relating with the young people
Youth Group Talk / Focus 
Talent Show Night
We had a talent show where the youth and leaders were able to share their talents with each other, and were able to encourage and support one another.
Next Youth Group Theme 
Next youth group we will be continuing looking at the Armour of God as we will have a guest speaker share about another piece of armour.
This Past Week's Non-Youth Group Activities/Masses/External Involvement 
The youth attended Mass over the weekend and helped out at the parish morning tea after Mass on Sunday.
Parish/Newsletter Promotion 
24:7 Greenwood Youth Group
For Youth in Years 9 - 12
Youth group is an amazing way to engage in faith, meet new friends, have fun playing games and enjoy yummy food.
Sunday nights from 6:30 - 8pm in the Parish Centre.
Contact Lucy on 0466329400 and Jesse on 0424840460 for more information.

Dental Health Services
Greenwood Dental Therapy Centre 
Greenwood Primary School | Merivale Way, Greenwood,Wa,6024
Ph: (08) 92035611 |  
E: GreenwoodDTC@health.wa.gov.au 
VOLUNTEERS WANTED TO ASSIST THE HOMELESS AND DISADVANTAGED AT GRACE CAFE IN JOONDALUP
The Anglican Grace Chapel in Joondalup and St Vincent De Paul Northern Conferences jointly open a drop-in centre for the homeless and disadvantaged each Monday and Friday at the Grace Chapel.  Volunteers offer and serve a heated meal, tea and coffee and hampers of donated food for the guests.
More volunteers are desperately needed.  If you would like to volunteer, please contact Peter on 0491 048 207 or email:  ryansite@tpg.com.au.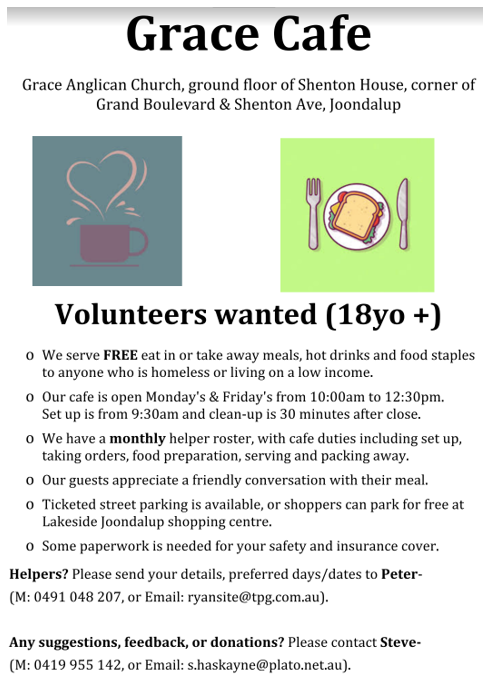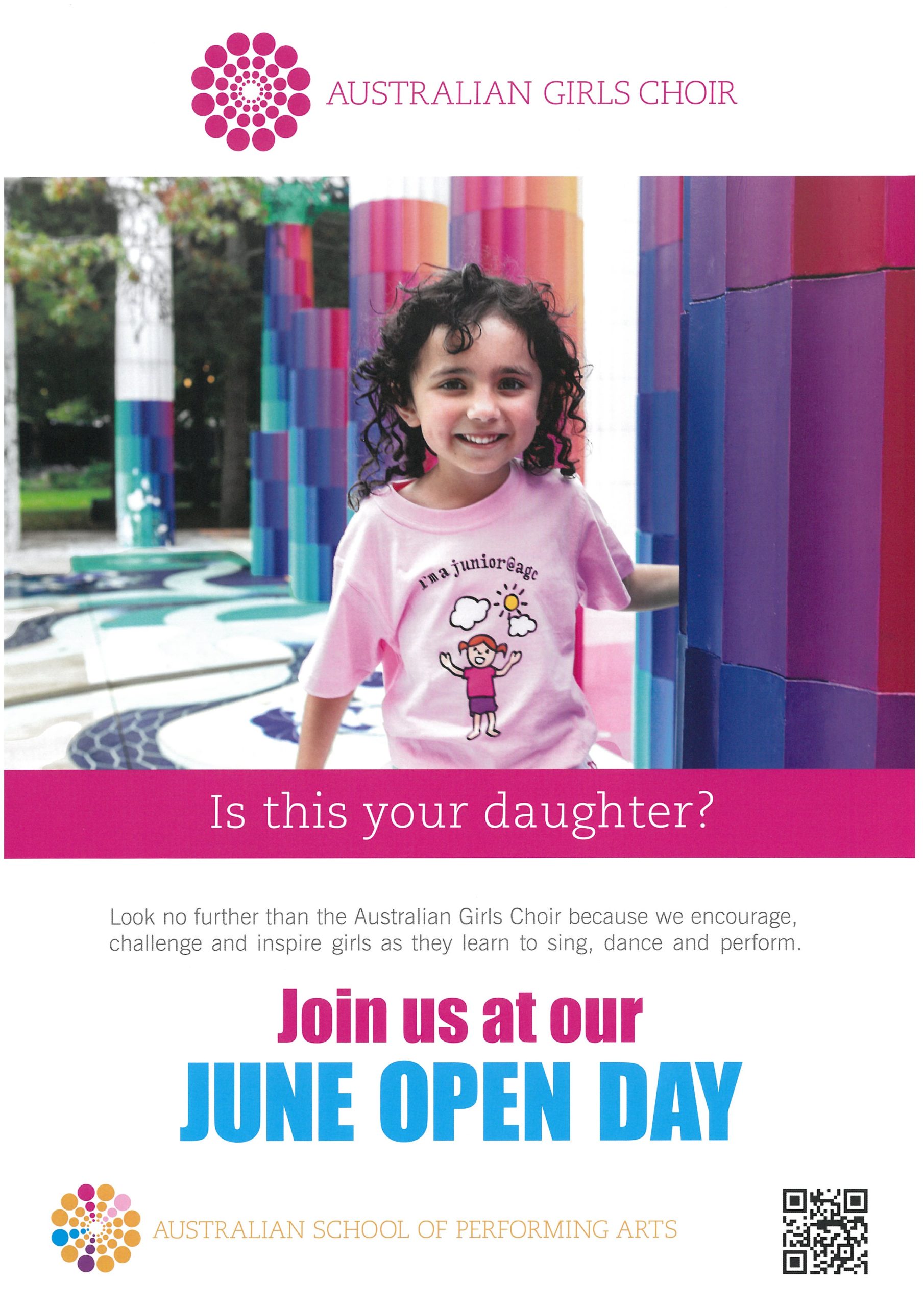 ELLENBROOK FENCING CLUB
We are a not-for-profit sporting club, that teaches the Olympic sport of epee fencing.
We train at Priestley Hall at Guildford Grammar Preparatory School, on Tuesday 5.45-7.15pm and Saturday 9-11am.
We are offering your students and staff a $15 per session discount from our normal Club session price (so pay $15 instead of $30), for the first 4 weeks. They would just need to mention that they are coming to the Club because of the SCHOOLS PROMOTION. Just call or text Bruce on 0413688300 to make arrangements.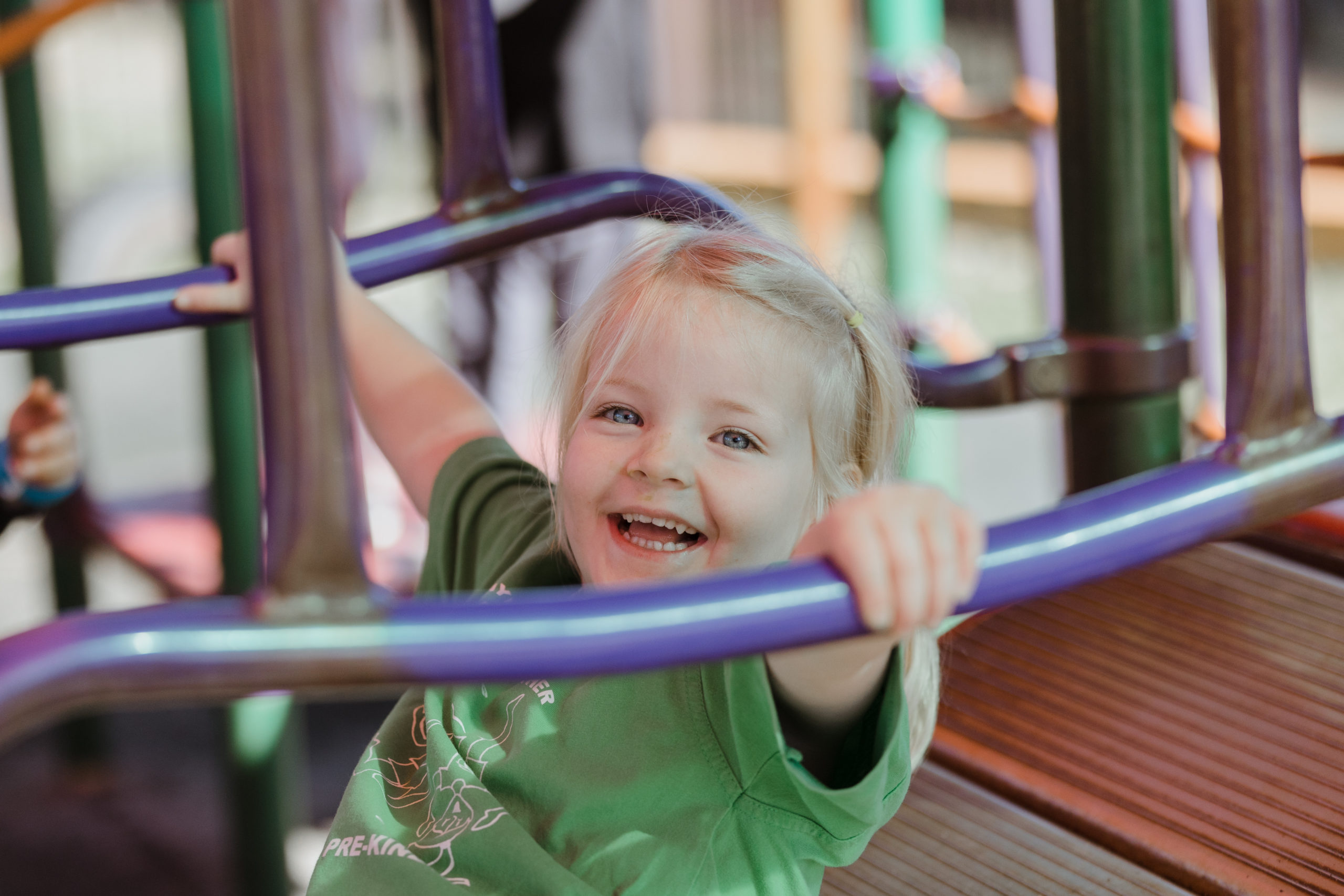 We are now accepting Pre Kindy - Year 6 enrolments for 2023 as well as 2024 & 2025.  Please contact  the school if you have any questions or for  more information.