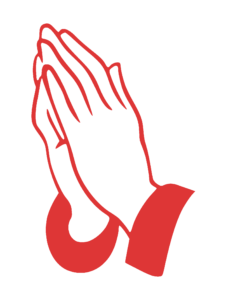 A PRAYER FOR OUR LENTEN JOURNEY
Forgive those things we have done
which have caused you sadness,
and those things we should have done
that would have brought you joy.
In both we have failed ourselves, and you.
Bring us back to that place
where our journey began,
When we said that we would follow the way
that you first trod.
Lead us to the Cross and meet us there.
Amen

The Liwara Newsletter, Volume 5

  In this week's newsletter:
Palm Sunday
Winter Uniform
P & F Easter Egg Raffle
Interschool Swimming Carnival
Harmony & Friendship Days
and more...
Dear Parents and Caregivers
One more week of school!  It's hard to believe we are so close to the End of Term One already!
PALM SUNDAY
On Sunday 2 April we celebrate Palm Sunday. Palm Sunday recalls an event in the New Testament of Jesus entering Jerusalem and being greeted by the people waving palm branches. For Christians, it is a reminder of the welcoming of Jesus into our hearts and of our willingness to follow him. Palm Sunday, also called Passion Sunday, in the Christian tradition, the first day of Holy Week and the Sunday before Easter, commemorating Jesus' entry into Jerusalem. What does the palm symbolise? The palm branch, or palm frond, is a symbol of victory, triumph, peace, and eternal life originating in the ancient Near East and Mediterranean world. The palm was sacred in Mesopotamian religions, and in ancient Egypt represented immortality.
WINTER UNIFORM
Term 2 is fast approaching and students will be required to dress in their winter uniform on their return to school.  Please place your order for your winter uniforms as soon as possible to ensure that you are able to pick up your required size.  Please note that the uniform shop will be open this Thursday 30 March from 8.15-10.00am and will reopen again on Thursday 27 April.  All orders after this can be done online. To support all our families and students in the changeover from summer to winter uniforms we have a grace period of two weeks to ensure they are all 'kitted' out in the correct winter uniform.
EASTER EGG RAFFLE
Our wonderful P&F are once again organising the Easter Raffle and from what I have seen in the white baskets dotted around the school, there have been plenty of donations coming in from our parent community. Hopefully you have all purchased tickets for the exciting draw which will be held on Friday, after hymn singing. Good luck!
INTERSCHOOL SWIMMING CARNIVAL
Some of our students from Years Four to Six took part in the Interschool Swimming Carnival last week. Another big event for our students and Mr Sanders.  Congratulations to all the participants for their efforts during the day and for putting in 100% in all individual and team events. A special thank you to the many parents who attended, those who volunteered to help as marshals and timing and for all the others who were there to cheer the participants on, with gusto, from the stands.
HARMONY & FRIENDSHIP DAYS
A lovely day was held last Tuesday when we celebrated Harmony Week as a school community, with our students and staff wearing orange accessories to represent our families' rich cultures and identities. We shared stories and time with our buddies and focused on inclusiveness, respect and a sense of belonging for everyone.  On Wednesday we celebrated the joys of friendship within our school and those whom we have bonds with outside of school. Friendship Day is a day in several countries for simply celebrating friendships.
STAFF CHANGES FOR TERM TWO
I would like to inform the Liwara community that Mrs Renee Haynes will be leaving our school at the end of this term, as she will be moving back into the profession she worked in, pre-children and as one of our SSN EAs at Liwara Catholic Primary School.  Renee has been approached by the firm she used to work at many years ago as a draftsperson, to re-join their team and she has requested to take leave for twelve months to make sure the move back into her prior profession gives her as much fulfillment as the role she has with our beautiful students.  On behalf or the staff and school community, and especially the many students who have been cared for by Renee over the years, I would like to congratulate her on her renewed position.  It has been an honour to have worked alongside Renee for her vast contributions not only to the SSN Team but to the entire staff group.  We will think of her with fond memories as she will be leaving a lasting impact on our community as her qualities and commitment to her work are truly inspirational. It has been an honour to have worked with Renee over the last few years. She will be truly missed by us all.
I will be taking System Leaders Professional Renewal Leave (SLPRL) from Week 3 next term to the end of Term 2 with a group of other Catholic school Principals, to join a group of travellers from all corners of the world at a pilgrimage in the Holy Land, starting in Cairo and travelling down the Nile for some of the journey. Some of the significant places we will be travelling through are Petra, Caesarea, Nazareth, Cana, Tiberias, Sea of Galilee, Jerusalem, Bethlehem, Jericho,  Mount of Olives and the Church of the Holy Sepulchre.  The second leg of my SLPRL will be a pilgrimage starting in Lisbon and includes Fatima, Spain, Lourdes & Paris.  I will also be accessing some of my Long Service Leave to travel to Scotland and Ireland, with my husband.  In my absence, Ms Angela Leddin will be the Short Term Principal and Mrs McGavigan will step into the Short Term Assistant Principal role with two days out of the classroom.  Ms Meg Stewart will be working in the 5R classroom alongside Mr Scott Varady – 5G, on Mrs McGavigan's office days.
Wishing you God's blessings as we journey towards Easter and a lovely holiday period.
Andrea Millar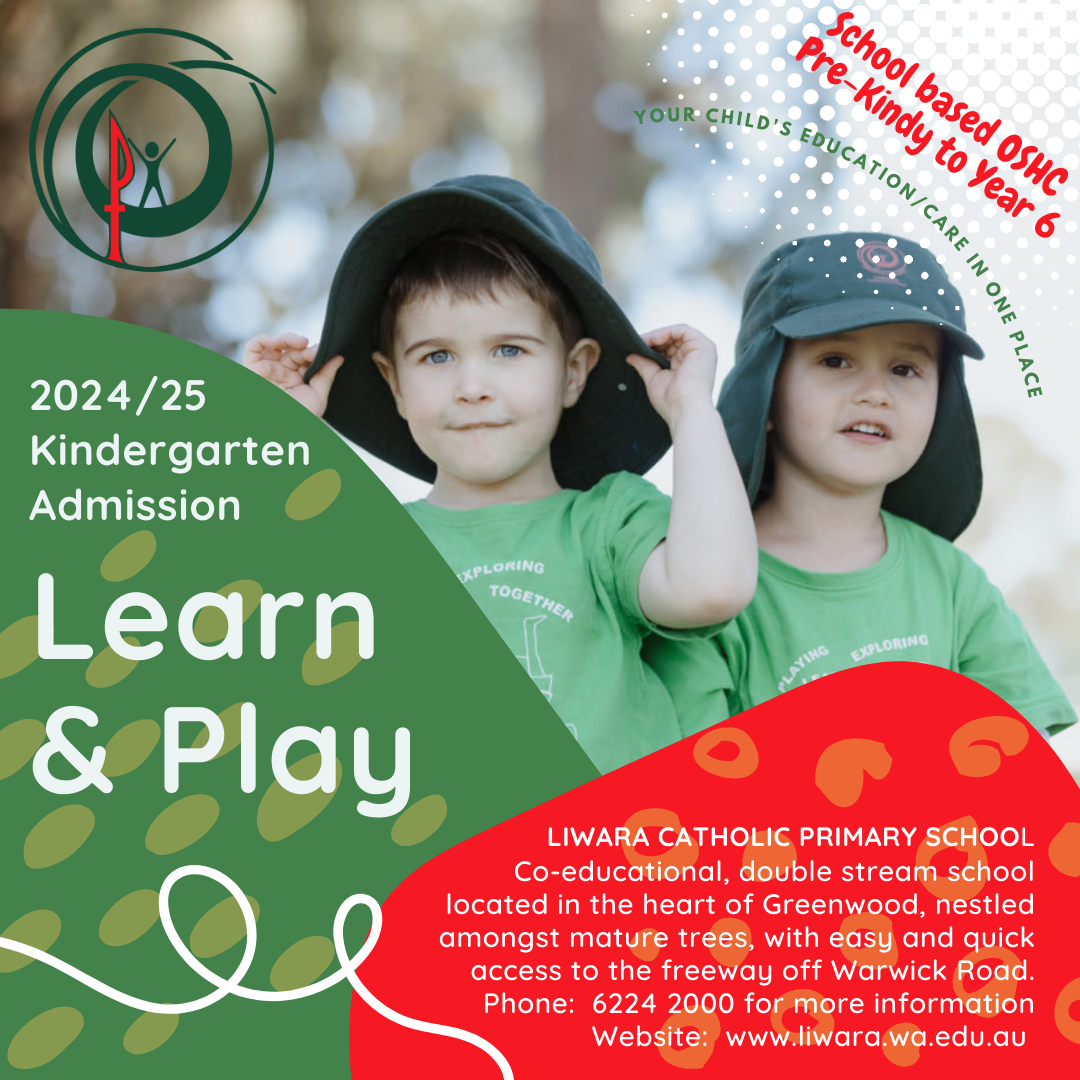 ENROLMENTS FOR CHILDREN STARTING SCHOOL IN KINDY 2023/2024/2025 AND PRE KINDY 2023/2024
We currently have a limited number of vacancies for Kindy 2023, I urge you to contact our enrolment officer, Mrs Karen Rosser as soon as possible, to discuss the enrolment process. I am currently meeting with future and current parents for our 2024 Kindy and Pre Kindy placements. Enrolment information and applications can be downloaded from our school website HERE or a paper copy can be collected from the school office.
If you would like to join a tour, registrations are essential and available via our school website.
Wishing you God's blessings and a wonderful weekend!
Mrs Andrea Millar
Principal
FROM THE ASSISTANT PRINCIPALS
MAKING JESUS REAL
Our current MJR focus is Finding God Moments. God Moments are everywhere; we just need to pay attention and look for them. God Moments are seen when someone is being kind, gentle and compassionate. Jesus is using us as his special agents to get his message across to people. We encourage everyone to look around and find acts of 'goodness' that go unnoticed. Talk about, recognise and welcome these God Moments with a smile, a wink, a wave, or thumbs up. Liwara is full of God Moments, how many can you find?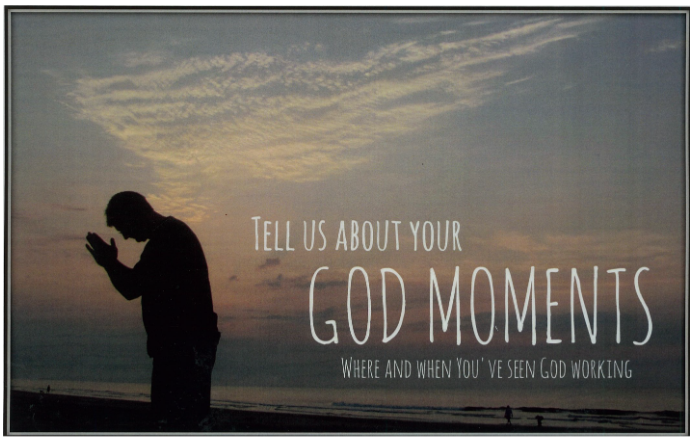 P & F EASTER RAFFLE
On Friday the 31st of March the P&F will draw the Easter Raffle in the Liwara Hall at 2:40pm. 
HOLY WEEK PARALITURGIES
We will celebrate Holy Week in Week 10 with daily, Holy Week Paraliturgies in the Liwara Hall. The date, time and theme for each of paraliturgy is as follows: 
Monday 3rd of April - Year 1 & 6 Palm Sunday 9am 
Tuesday 4th of April- Year 5 & PP Holy Thursday 9am     
Wednesday 5th of April- Year 2 & 4 Good Friday 2:40pm 
Thursday 6th of April – Year 3 Resurrection 9am  
Please note that due to Year 6 being on school camp during Week 10 they will instead pre-record their paraliturgy and will not present it in person on the 3rd of April. 
END OF TERM MASS
Our End of Term Mass, led by Year 5, will take place on Wednesday the 5th of April at 9am in the All Saints Parish. At the conclusion of mass, we will present the Respect Value Award.  We welcome all families to join us.  
Miss Angela Leddin & Mrs Jesseca Francis
Assistant Principals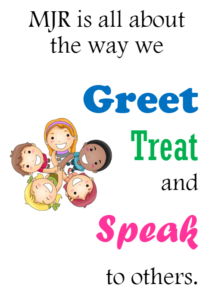 GREET, TREAT, SPEAK
At Liwara, we model Jesus' actions and words by 'Making Jesus Real' every day through our words and actions. 
Jesus spoke to everyone. Following in His footsteps, we will model that when you greet, treat and speak to people, it can open positive doors for you and/or help others with their day.  
IMPORTANT DATES 2023
TERM  1 DATES: Wednesday, 1 February – Thursday, 6 April
Week 9
Friday 31 P & F Easter Raffle Draw
Week 10
April 3-6 Year 6 Camp
April 3-6 Holy Week Paraliturgy
April 5 End of Term Mass @ 9.00am
April 6 Last Day of Term 1
TERM 2 DATES:  Wednesday, 26 April - Thursday, 29 June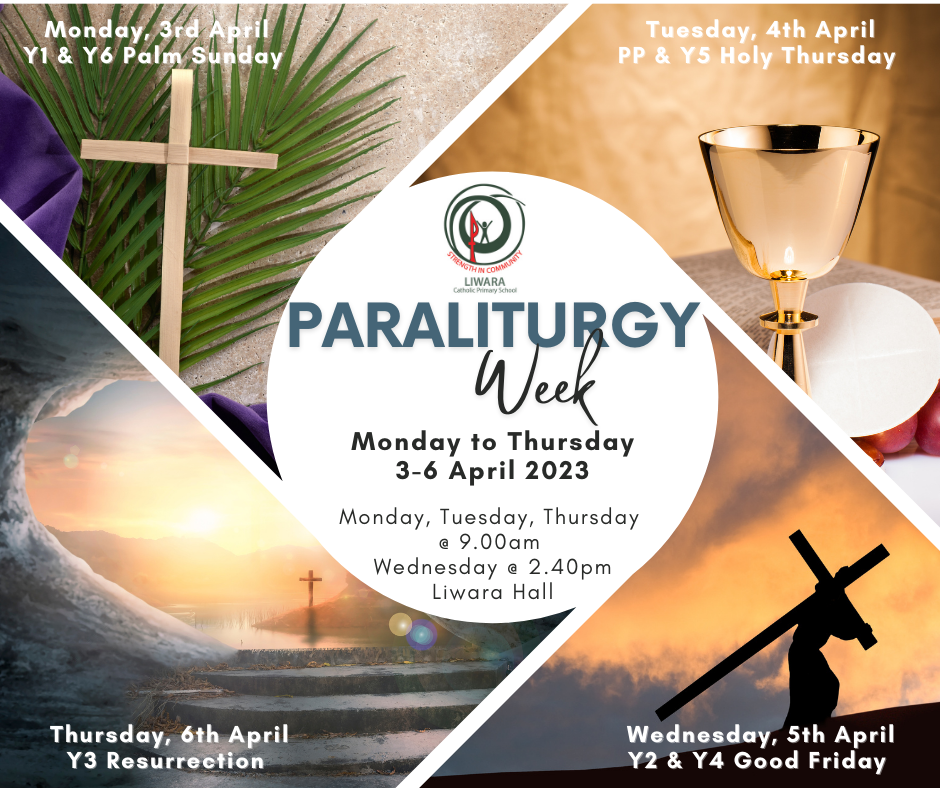 MINISTRIES & ACTS OF SERVICE NEWS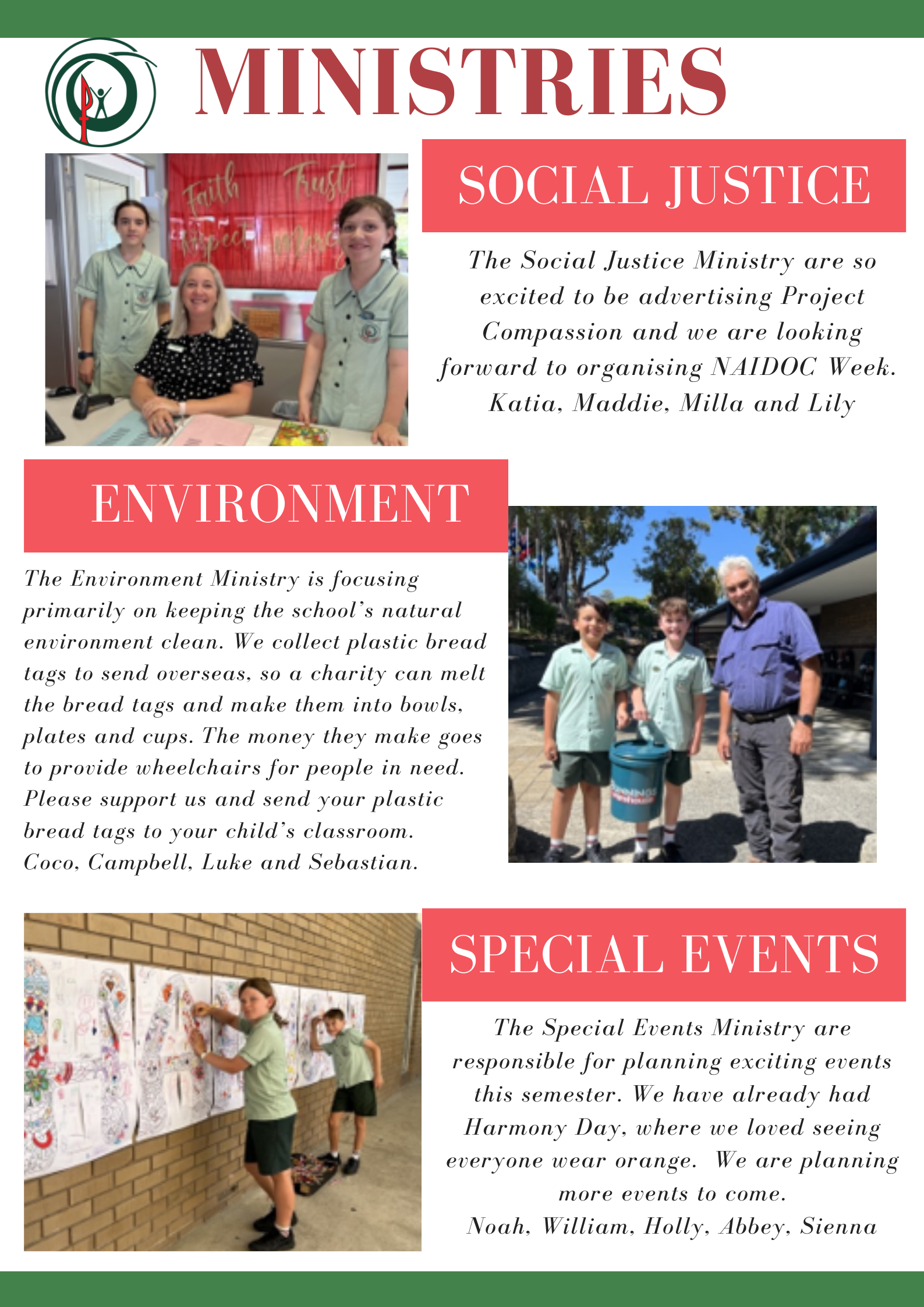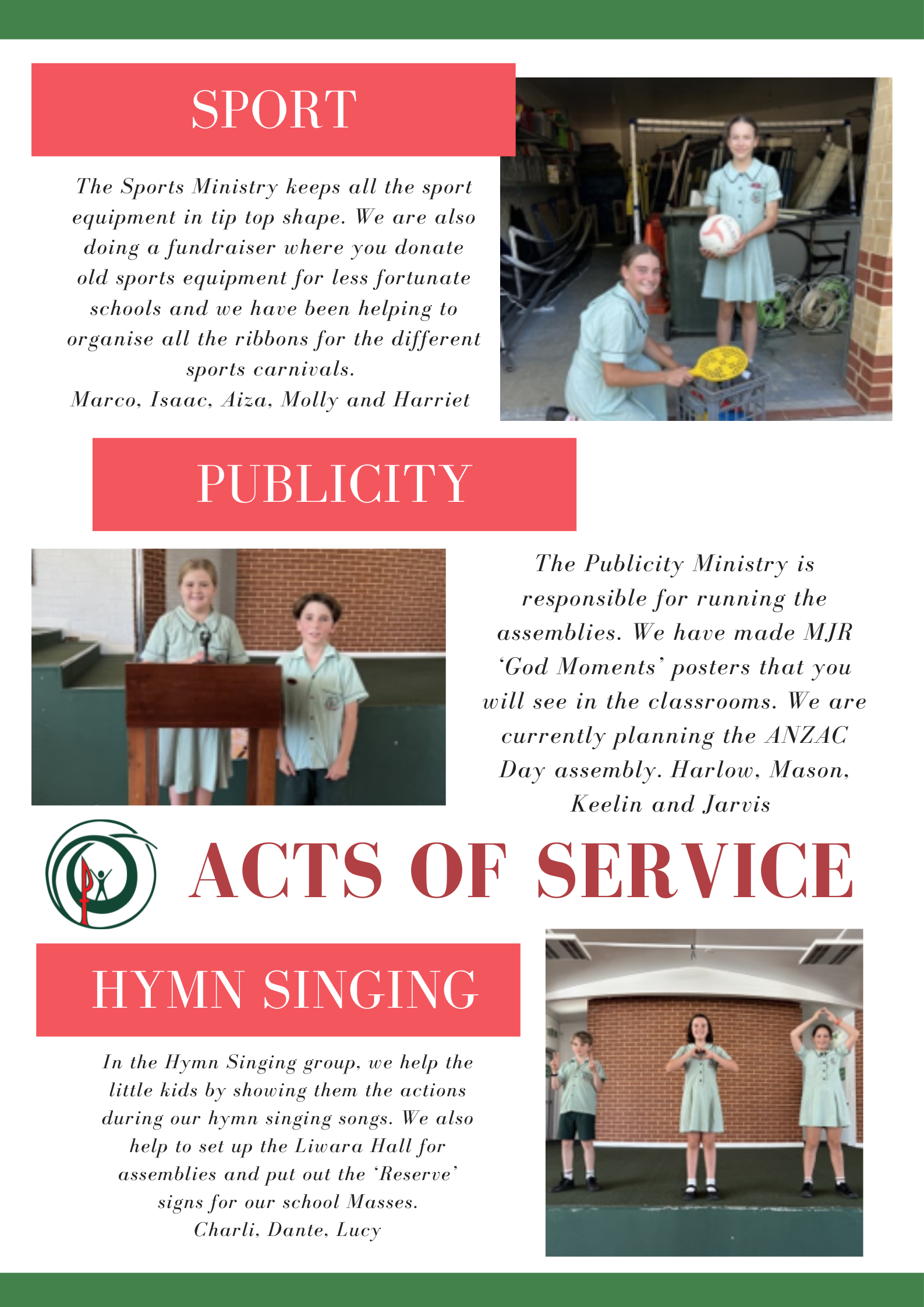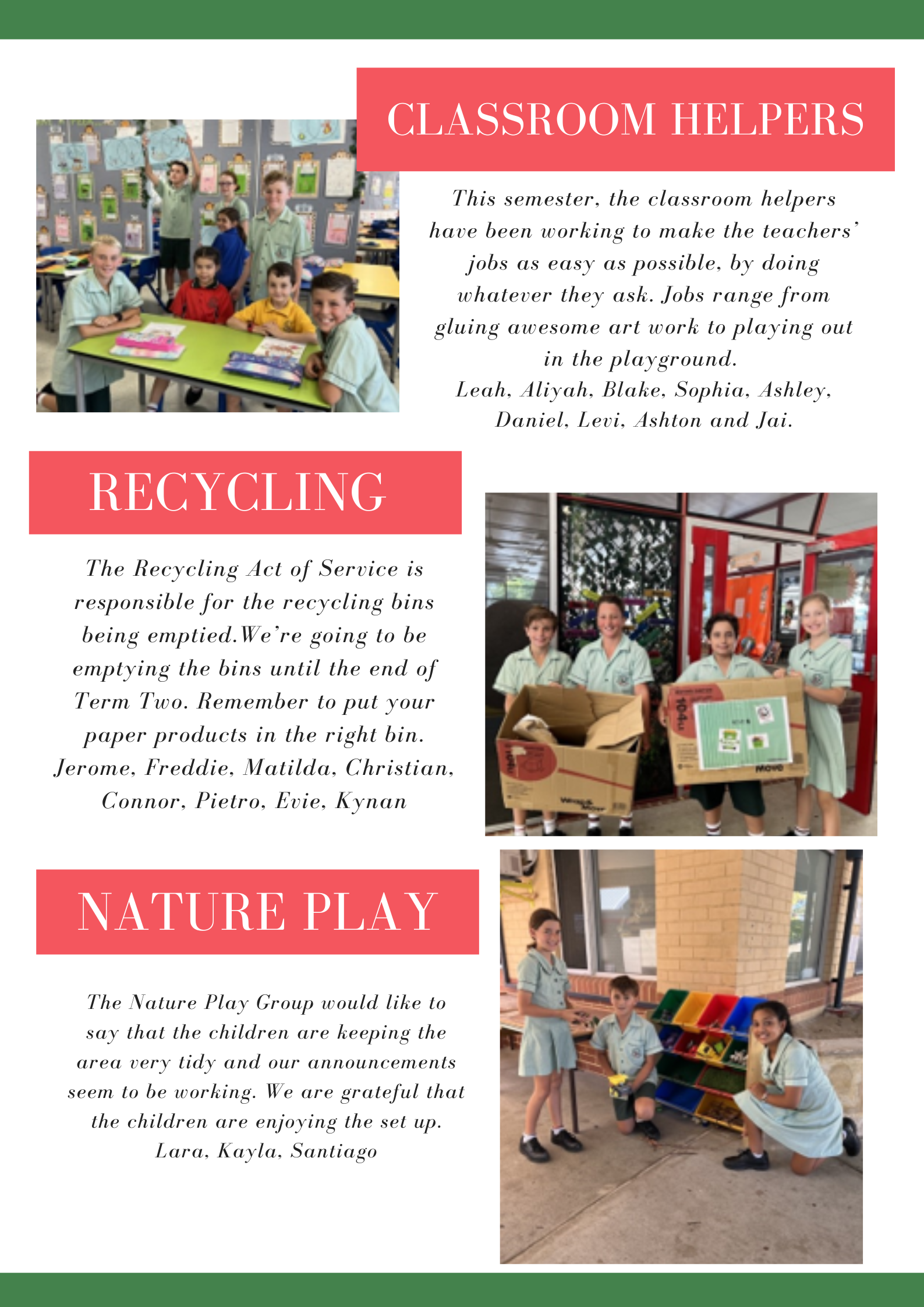 INTERSCHOOL SWIMMING NEWS
Last week, selected students from Years Four to Six took part in the Interschool Swimming Carnival. The boys and girls came up against some tough competition from the other schools but many of our swimmers enjoyed individual success receiving a ribbon for a top 4 finish as well as strong performances in each of the relays. The team finished 3rd overall with the exemplary sportsmanship extended to the students from other schools very pleasing to see. 
Congratulations to all the swimmers for their efforts during the event which they can be very proud of. A big thank you to the wonderful parents who volunteered to help with timing and marshalling on the day as well as those who came along to cheer from the stands.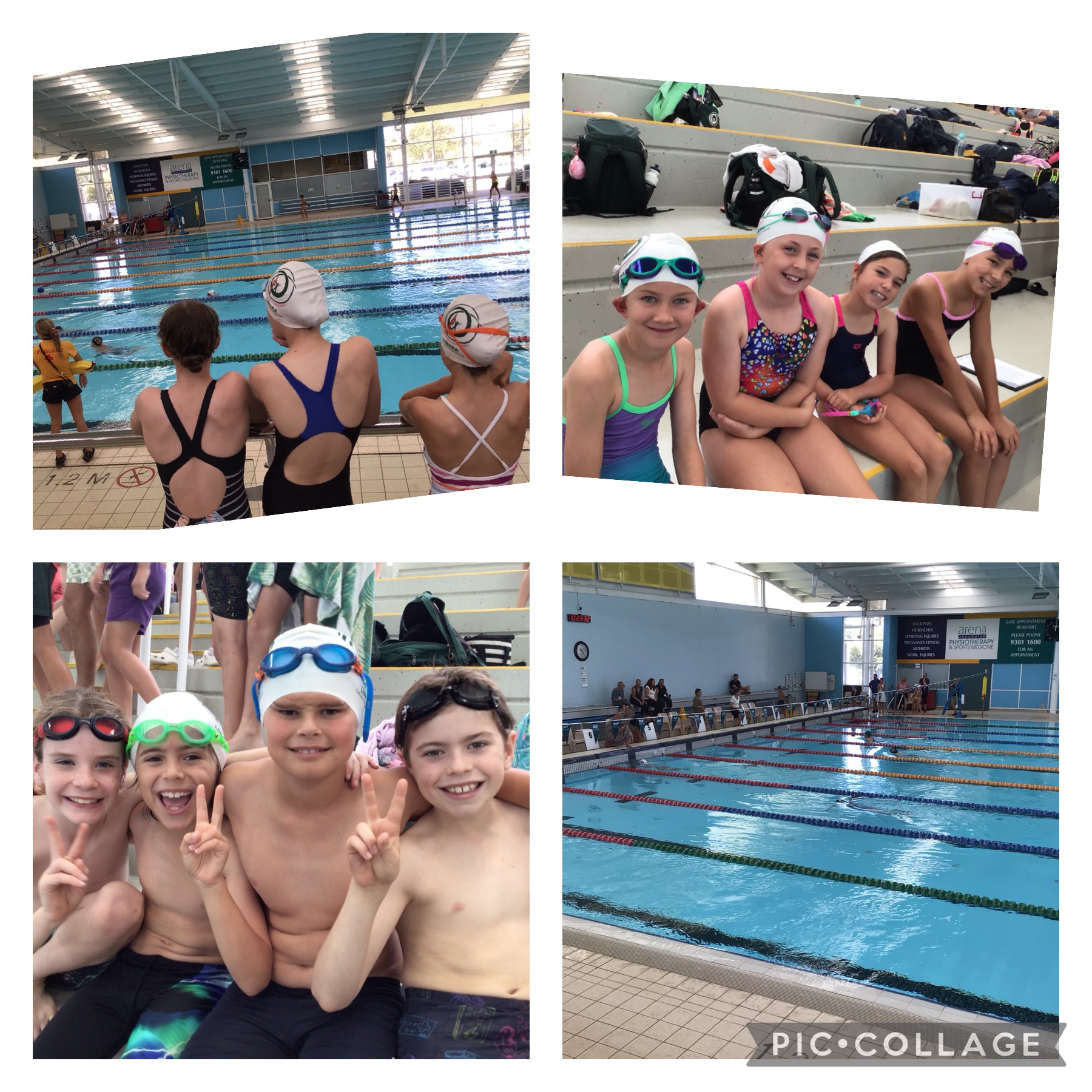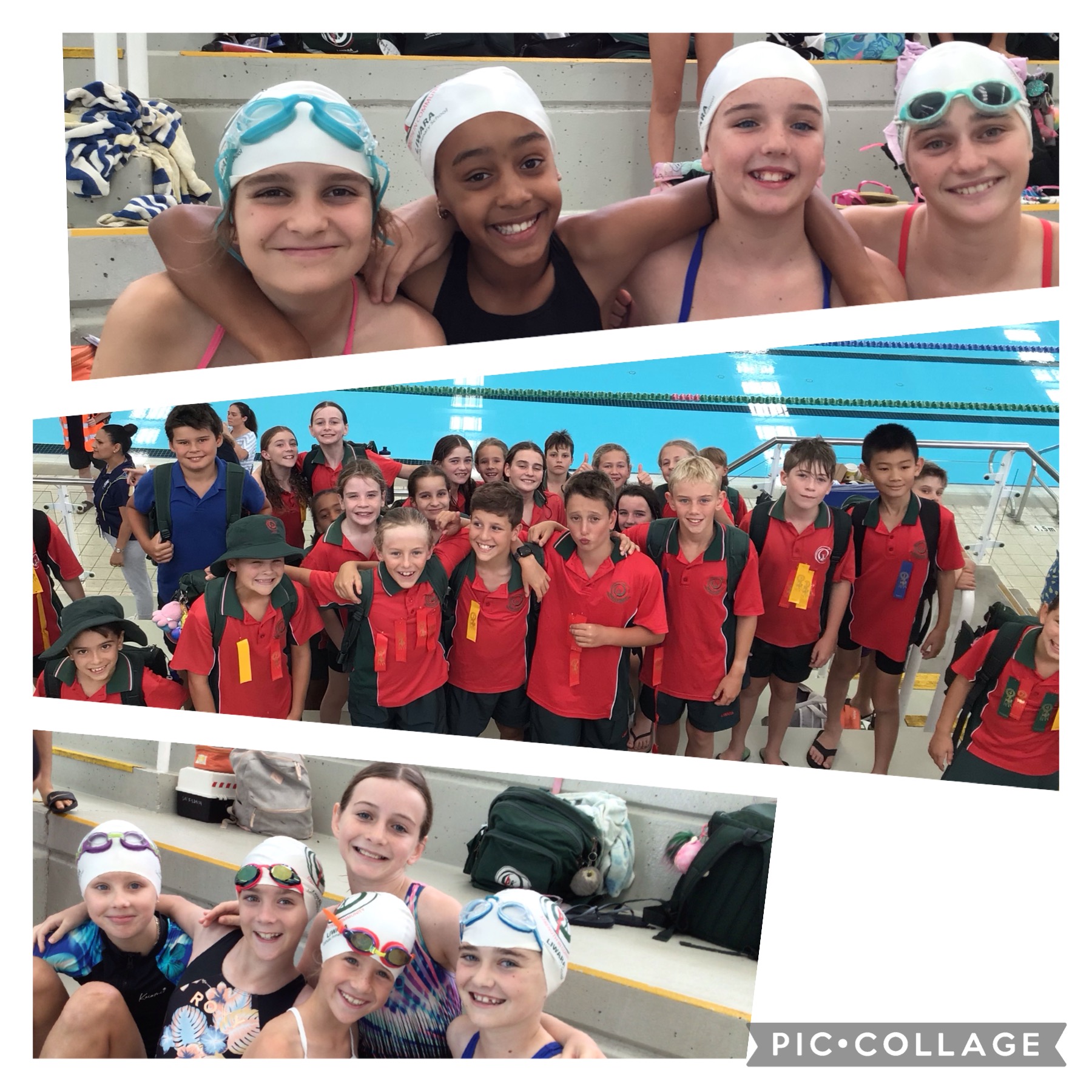 Dear Parents, Carers and Friends 
It is difficult to stay informed of our ever-changing cyber world, and busy parents and caregivers can sometimes make assumptions about games our children are playing online as "being safe and appropriate" when the reality is that they are not. 
I was talking with some of our younger students (age 7) and they mentioned they like to play "Rainbow Friends" and my initial thought was, "Oh that sounds like a nice game". After doing some of my own research I realised my initial assumption was wrong! 
Rainbow Friends is described as a horror experience that combines popular games such as "Five Nights at Freddy's" and "Poppy's Playtime". Rainbow Friends takes place over a five-day loop and players take on challenges. While doing so, players must avoid enemies. You play as a kidnapped child taken to an amusement park called "Odd World" and are stalked by scary characters.  
Some children are finding the characters from this game extremely frightening, whilst other students are becoming increasingly desensitised to the content. The game suggested age is 10+.  
We want to make parents and carers aware of the game so you can discuss with your child any concerns they may have about the game or issues that have arisen from it. Please make your own decisions about the appropriateness of your child playing this game.  
Thank you for your support.
Mrs Jane Evans
Social Worker
All students are encouraged to return their borrowed books before school from 8.15am to go into the weekly raffle draw. 
Library Days 
Tuesday – Years 3 & 4 
Wednesday – Years 2, 5 & 6 
Thursday – Kindy, Pre-Primary & Year 1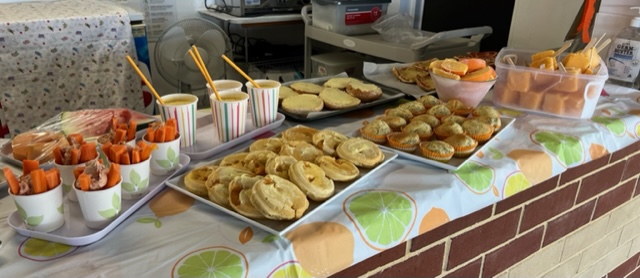 Last Tuesday for Harmony Week, we provided a selection of healthy 'orange' food for recess. We sold peach pikelets, orange and poppyseed muffins, pumpkin scones, mango smoothies, tropical ice cubes, melon cups, frozen oranges and our usual recess items. Thank you to all the students for supporting us on the day.
Our focaccias may be in short supply as we get to the end of this term but, we will be ordering them back in for Term 2.
As the end of term is fast approaching, could all families please pay any outstanding amounts to the canteen please.  This can be done through the canteen or the office.
We hope that you have a safe and happy Easter and school holidays.

The Uniform Shop is open Thursdays from 8.15am - 9am for all your uniform needs! 
The Uniform Shop will be closed on Thursday, 6 April.
JFE Details
Phone: 9204 1701
Email: saes@jfe.net.au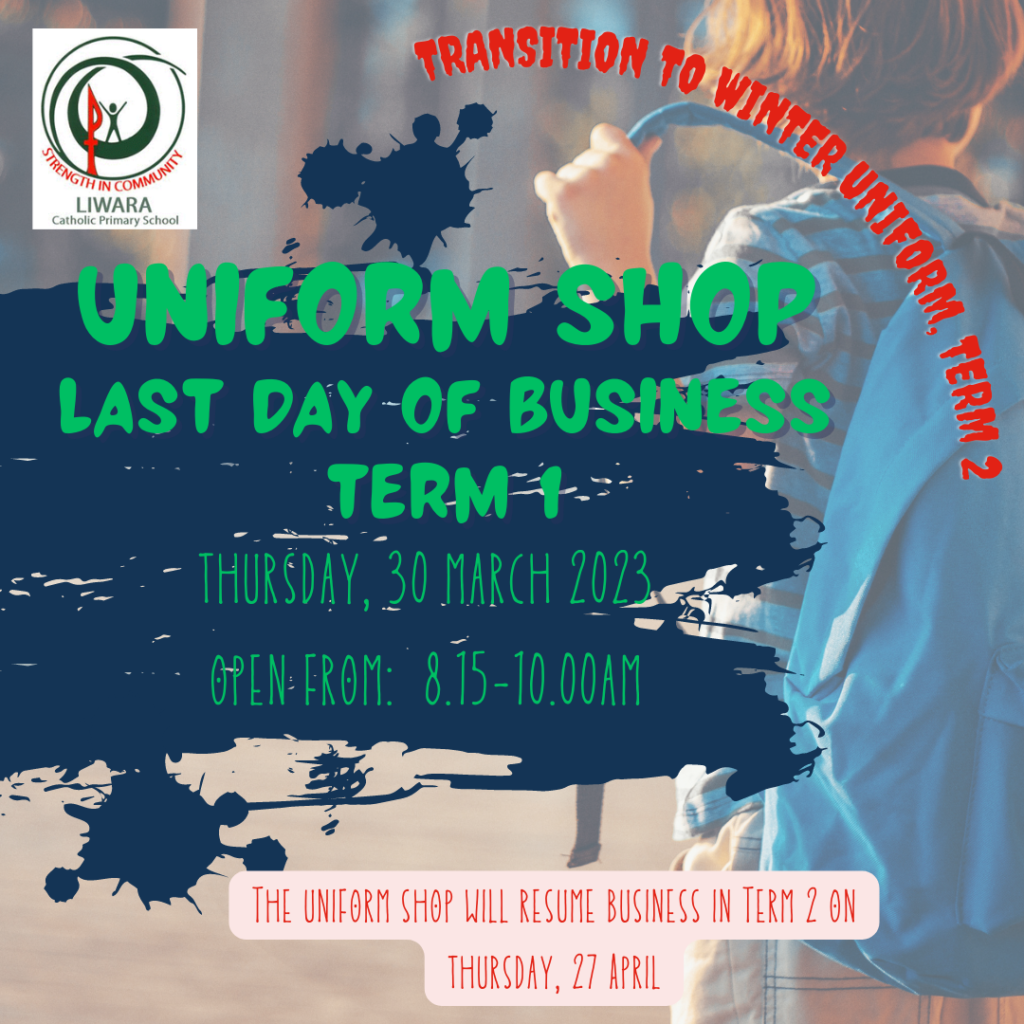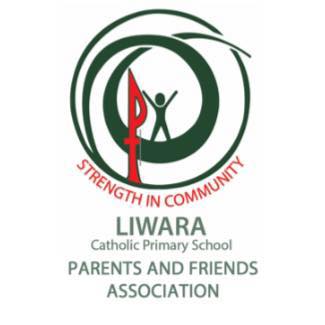 To read this weeks P & F Newsletter, click here.
Please see our current Try Bookings Form and Reimbursement Form below:
To keep up to date, head to our private Facebook page by clicking here.
ALL SAINTS GREENWOOD
7 Liwara Place
Greenwood, WA
6024
PARISH PRIEST
Father Elver Delicano
REGULAR MASS TIMES
Monday – Friday 6am & 9am
Saturdays 6pm
Sundays 7:30am, 9:30am & 5:30pm
Anointing every 2nd Saturday of the month
OFFICE OPEN TIMES
Monday, Wednesday and Friday 10am - 3pm
CONTACT
m: 0466604754
e: greenwood@perthcatholic.org.au
PERTH ARCHDIOCESE WEBSITE
www.perthcatholic.org.au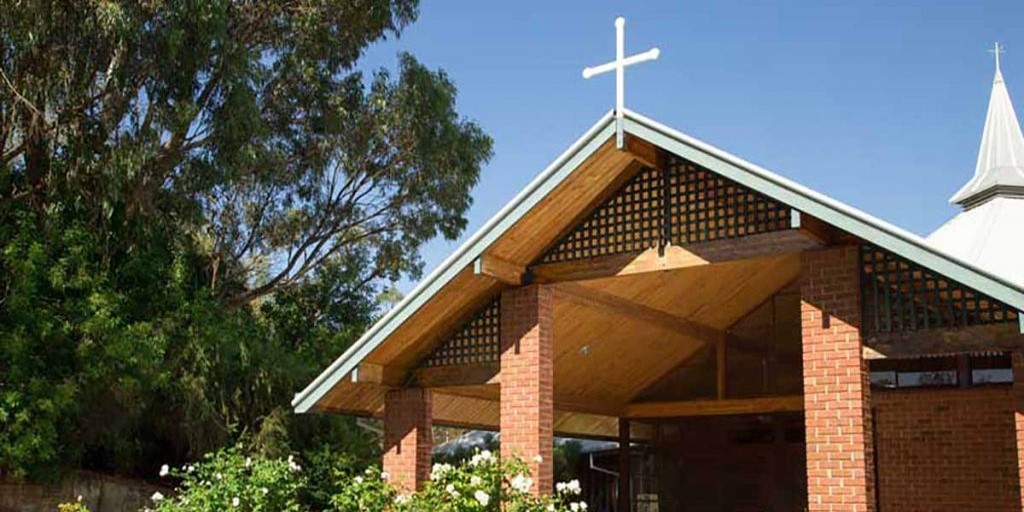 PARISH YOUTH MINISTRY NEWS

Youth Group Goals 
20 youth to attend.
To allow our young people to enjoy a Games Night before our Encounter next week.
3. To create a safe and engaging space for our young people.
Goal Status 
We managed to achieve this goal as we had exactly 20 young people on the night.
We achieved this goal by having a games night to allow our young people to have a relaxed and fun night.
We were able to do this by having our leaders get around the young people on the night.
Youth Group Talk / Focus 
Games Night!
This week we had a games night to give our young people a chill and relaxed night before our Encounter Night next week. We played some crowd favourites Commando and Wink Murder.
Next Youth Group Theme 
Encounter Night!
Next week we will be joined by the amazing Youth Mission Team as we wrap up our term theme of Faith Through Film with our Encounter Night. We will also be using this time to look forward to Easter the following weekend.
This Past Week's Non-Youth Group Activities/Masses/External Involvement 
Leaders and youth attending Mass across the weekend.
Parish/Newsletter Promotion 
24:7 Greenwood Youth Group
For Youth in Years 9 - 12
Youth group is an amazing way to engage in faith, meet new friends, have fun playing games and enjoy yummy food.
Sunday nights from 6:30 - 8pm in the Parish Centre.
No Youth Group on Easter Sunday night.
Contact Lucy on 0466329400 and Jesse on 0424840460 for more information.

GREENWOOD DENTAL THERAPY CENTRE
Week 1
Closed Monday, 10 April, Tuesday, 11 April
Open Wednesday, 12 April
Closed Thursday, 13 April, Friday, 14 April
Week 2
Open Monday to Friday
Dental Health Services
Greenwood Dental Therapy Centre 
Greenwood Primary School | Merivale Way, Greenwood,Wa,6024
Ph: (08) 92035611 |  
E: GreenwoodDTC@health.wa.gov.au 
VOLUNTEERS WANTED TO ASSIST THE HOMELESS AND DISADVANTAGED AT GRACE CAFE IN JOONDALUP
The Anglican Grace Chapel in Joondalup and St Vincent De Paul Northern Conferences jointly open a drop-in centre for the homeless and disadvantaged each Monday and Friday at the Grace Chapel.  Volunteers offer and serve a heated meal, tea and coffee and hampers of donated food for the guests.
More volunteers are desperately needed.  If you would like to volunteer, please contact Peter on 0491 048 207 or email:  ryansite@tpg.com.au.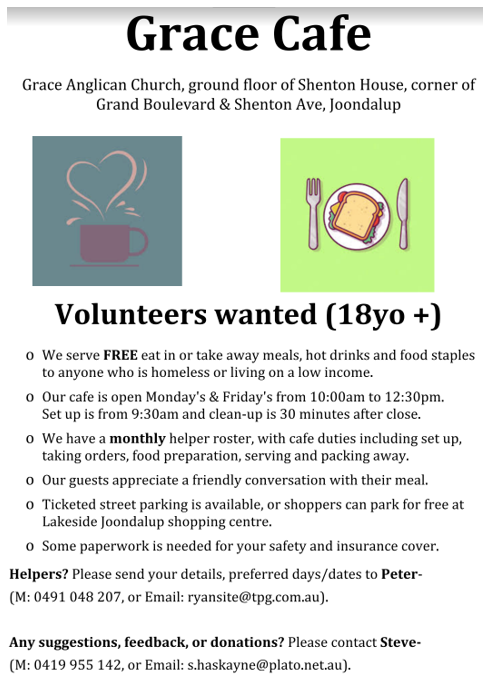 MARRIAGE ENRICHMENT WEEKEND
Looking for an Easter Gift for your spouse.  Give yourselves time together at the end of the school holidays. Your wedding was one day in your life, but your marriage is forever.  A Marriage Encounter Weekend can put the newness back into your relationship.    Come and join us on either 22-23 April 2023  at Corpus Christi College, Bateman.  (This is a Live-out weekend where couples go back to their own homes on Saturday evening) or 27-29 October 2023 at Salvatorian Spirituality Centre, Currambine (Live-in from Friday evening to Sunday afternoon).  Book online at  www.wwme.org.au  or contact Brendon & Valerie on  0493534865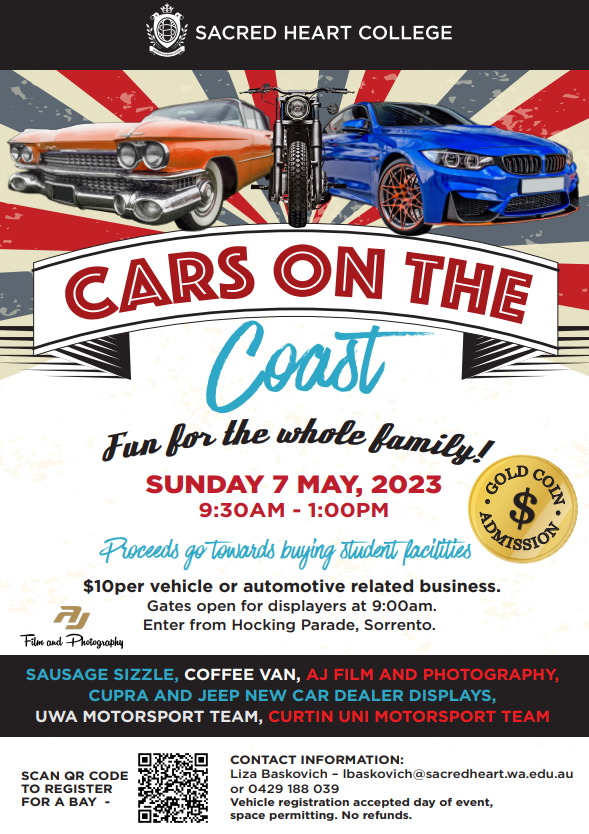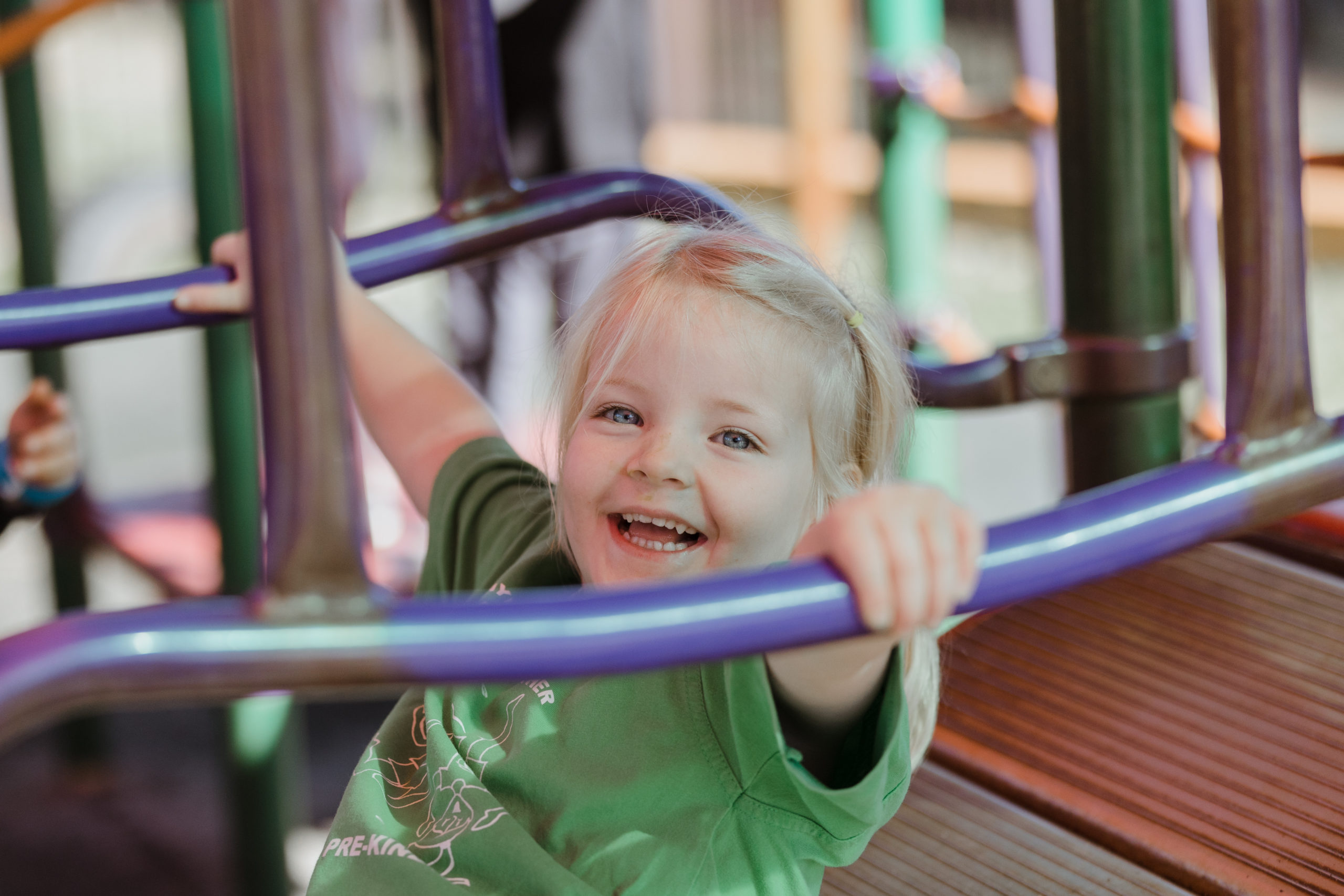 We are now accepting Pre Kindy - Year 6 enrolments for 2023 as well as 2024 & 2025.  Please contact  the school if you have any questions or for  more information.