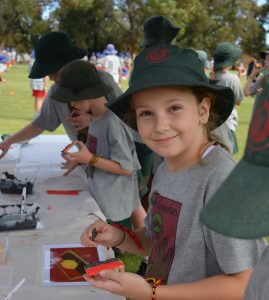 Today our students took part in an amazing reconciliation initiative encouraging Year 5 students from a number of Catholic Schools in our surrounding suburbs, to learn about and celebrate Aboriginal histories and cultures. The project was instigated by Mater Dei staff who relied on students of the College to organise in the lead up and coordinate on the day.
Year 5 students designed a logo for an Aboriginal Nation in Western Australia and voted on the design that best represented that region and community. 2019 was the first year that the 'Stolen Generation 'were recognised amongst our community' and Liwara student Harrison G had the honour of being chosen to represent victims, family and friends touched by these events in our history. Other artworks by students from Liwara chosen for the combined artwork were Zadie T, Tayla B.P and Jamie S.
The combined artwork for all students chosen is on display in the breezeway at the school.