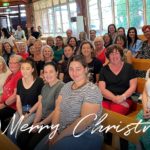 Dear Parents, Caregivers, Staff and Students,
As the year comes to a close, I send you my warmest wishes and blessings. May the miracle of Christmas bring you joy and happiness. I wish you contentment and peace among you and your family.
As I reflect on the 2021 year and how much we have accomplished, it is my firm belief that education is a shared commitment between dedicated teachers, motivated students and enthusiastic parents with high expectations. So I would like to thank you, parents, for providing a vital support system between the teachers to help our students flourish. As it is when both groups work together, toward the same goal, that one sees significant growth in a child's developmental and educational outcomes. Therefore, my message to our parents as we end the year is to continue to 'be a helping hand in the students' learning journeys and travel with them as a true inspiration' in the years ahead.
Read More